5 WWE Superstars We'd Like to See in a Bra and Panties Match
Though most would probably argue it's an era best forgotten, WWE Superstar Alexa Bliss brought up the fabled Bra and Panties Match era of WWE in a recent interview, noting that the work those women did helped pave the way for the Women's Evolution, saying, "you gotta respect that because they did that for us to be able to do what we do now." Well said, Alexa.
And while the shameless exploitation of women as nothing more the sex objects in wrestling isn't something Bleeding Cool advocates revisiting, we do think that it's a shame to throw the baby out with the bathwater. The Bra and Panties match, in which a competitor must strip their opponent down to their underwear to win, is a perfectly serviceable match type that could bring more variety to WWE programming, and there's one way WWE could make it work in the modern era: by having the men do it. So here's…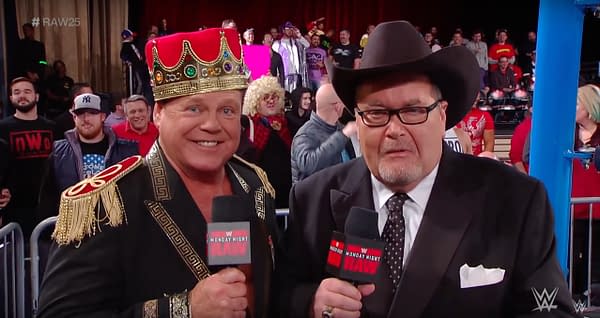 Five WWE Superstars We'd like to See in a Bra and Panties Match
Stone Cold Steve Austin: It's well known that ol' Stone Cold can't really go in the ring anymore, thanks to the neck injuries that took him out of the game for good. But while Austin may not be able to take a bump, the Bra and Panties Match could be the perfect vehicle for him to get back into the ring without worrying about putting his body on the line. Can't you just picture it? "Listen to me, ya sumbitch piece o' trailer park trash! When we get into the ring this Sunday, Stone Cold Steve Austin is gonna strip ya down to nuthin' but your little panties and there ain't a damn thing you can do about it, and that's the bottom line!"
Roman Reigns: For years, we've all been wondering what the hell is under that vest. Now, we can find out through a match which is uniquely suited to removing The Big Dog's clothes. Reigns has been wearing his Shield costume for years after the group broke up, so not only could this exciting bout main-event a PPV, but it could even help revamp Roman's character by giving him a fresh new look afterward.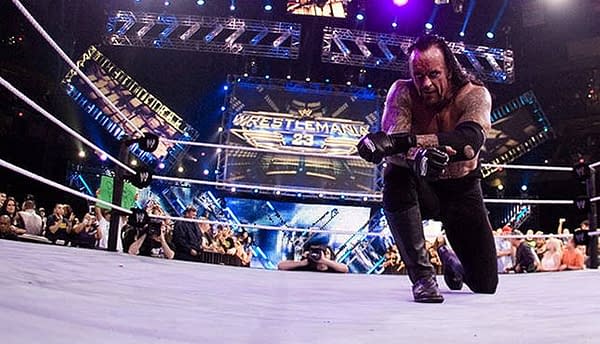 The Undertaker: Yeah, we know that The Undertaker is supposably retired now, as laid out in The Last Ride documentary. But have we really seen the last of The Dead Man? The Undertaker has competed in pretty much all of WWE's marquee match types. The Boneyard Match. The Coffin Match. The Buried Alive Match. Hell in a Cell. But there's one match type The Undertaker has never competed in, and that's the Bra and Panties Match. Can Mark Calloway resist coming back for one more match to solidify his legacy and strip his opponent down to nothing but a Bra and Panties? I think not. Make it a cinematic Bra and Panties match, and it could make for the best possible retirement match. In an added bonus, assuming he loses, Taker won't have to take off his hat, coat, and gloves to leave them in the middle of the ring like he did during his fifth or sixth retirement match because his opponent will have already done it for him!
Baron Corbin: Sure, nobody is clamoring to see Baron Corbin in any kind of match, much less one that involves getting nearly naked. But we know that Vince McMahon loves him some Baron Corbin, and that he sees Corbin as the kind of guy women are really into (seriously, that's a thing that made its way through the dirt sheets last year), and if we're going to bring back the Bra and Panties match, we need something that will sell Vince on in it. Plus, Bleeding Cool's own Chad McMahon would be really upset with us if we didn't include "The Ratings King of Friday Nights" on the list.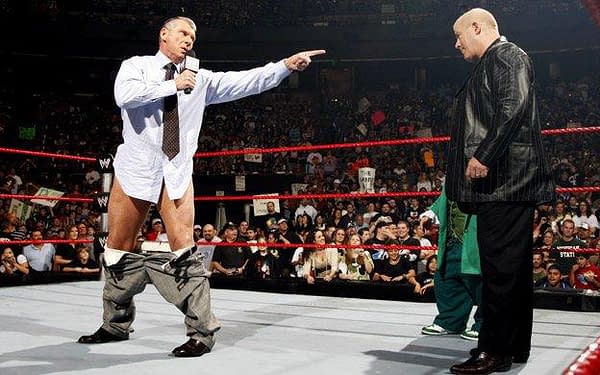 Vince McMahon: Speaking of the WWE Chairman, who better to take the final spot on our list than ol' Vinnie Mac himself? Vince used to be all about showing his ass on television, so much so that he even had his own long-running segment, also stemming from the same era as the Bra and Panties Match: the Vince McMahon Kiss My Ass Club. On a regular basis, Vince would pull down his pants on television and try to force one of his cronies or a wrestler he was feuding with to plant their lips right where the sun don't shine. Vince kept up a finely-honed regiment of using special cosmetic treatments like "ass cream" to keep his butt in pristine condition, and it would be a shame to let all of that go to waste. Besides, ratings are down, and we all know that when ratings are down in WWE, that means a McMahon has to get on camera, pronto! So let's bring back the Mr. McMahon character for one more match, and this time, there's no chance in hell someone isn't leaving the ring in anything but their underwear.
What do you think of our choices for WWE Superstars to appear in a Bra and Panties Match? Did we get all your favorites? Let us know who you'd like to see in the comments.
---
---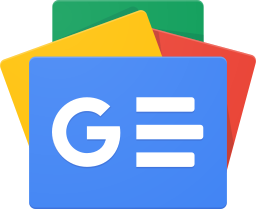 Stay up-to-date and support the site by following Bleeding Cool on Google News today!