Alexa Bliss: Bras and Panties Matches Paved the Way for Women in WWE
Alexa Bliss was interviewed by Charlotte Wilder for Fox, and the topic of WWE's legendary bras and panties matches came up while discussing the Evolution PPV and WWE's trademarked Women's Evolution, a movement to treat women as legitimate competitors rather than using them for sexual titillation. Despite WWE legend Virgil's plans to purchase WWE and bring back the company's legendary "bras and panties" matches. The matches had two female competitors who would compete to see who could strip their opponent down to their underwear first; it seems those kinds of matches are best left in the past. Even so, Alexa Bliss doesn't look down on the women that did them.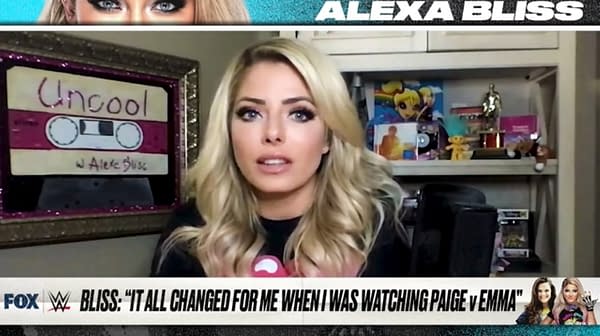 "There are ideas that the Evolution started with the Four Horsewoman," Bliss said in the interview. "I respect the Four Horsewomen, but I think it started before them. Our Evolution started when the first women's match ever happened. It took the Attitude Era. It took the NXT era. It took Paige and Emam having the NXT Women's Championship match. It took all these moments to get here."
"The Evolution and Women's Revolution has been everything," Bliss continued. "When I first started at NXT, there were certain moves that weren't required to learn because we were never gonna do them. The idea was like a catfight kind of thing. It all changed for me when I watched the match between Paige and Emma."
"It showed that our women are athletic. Our women can do what the men do. And our women can be seen in a different light as we should be. Obviously, I respect the women who had to do the bra and panties match. I could never do it," Bliss said. "Kudos, because I couldn't do it. I would be so… Oh my gosh. I couldn't do it. But you gotta respect that because they did that for us to be able to do what we do now."
At least one woman who was forced to compete in one of those matches was surprised to hear that. "Never looked at it that way," Gail Kim said on Twitter. "I just have to say out loud that this, along with some other gimmick matches similar in nature were some of the most traumatic moments of my life that I have to live with, feeling like I never had a choice."
Canadian wrestler LuFisto, who recently spoke out about women's wrestling being exploited for titillation even today, commented, "And unfortunately, most women who said not to matches like that were called 'difficult'." LuFisto wasn't the only one to chime in. "You know what NOBODY mentions?" asked April Hunter. "That it's taken second-gen wrestlers – females of the males who are still "in" with the company – in order for WWE to allow real women's wrestling to go anywhere. Because these guys don't want THEIR daughters doing T&A matches. Oh, hell to the no." So, in a way, whatever Alexa Bliss says, it really was Charlotte Flair who finally put a stop to bras and panties matches after all, even if some people do say Stephanie McMahon started the Women's Evolution.