Agent Carter Star Enver Gjokaj Is Happy About Peggy's Endgame Ending
This week's episode of ABC's Marvel's Agents of S.H.I.E.L.D. finds our Agents pulled into another time jump, which means it's time for a new decade and a location known for being very "UFO friendly." To continue securing their future, our heroes find themselves heading into the heart of a major S.H.I.E.L.D. But that's not going to happen without crossing paths with a very familiar face to Agent Carter fans. Though news broke earlier this year that Enver Gjokaj's Daniel Sousa would be appearing on the show's final season, Gjokaj is finally letting viewers know how he feels about Agent Peggy Carter's (Hayley Atwell) Avengers: Endgame "happily ever after" with Steve Rogers (Chris Evans). In the ABC series, Carter and Sousa appeared set for a future together but in the blockbuster film, fans learned otherwise.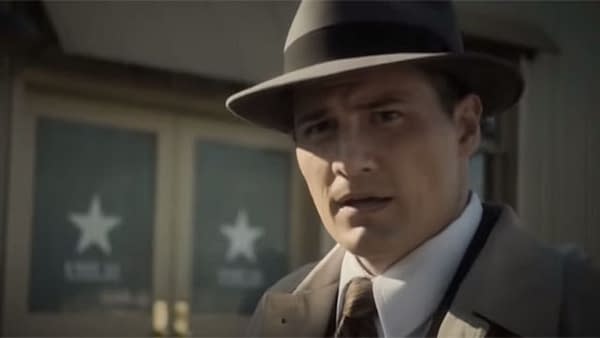 Putting aside the issue that Carter and Rogers' marriage wouldn't take place in the same timeline as Agent Carter, Gjokaj is not only fine with Carter's Endgame future but he explains to EW that he feels it actually fits more in line with where the ABC series was giving:
"To be honest, it's so clear in the writing and it's so clear in the way Hayley plays it that [Steve] was never gonna be replaced. I think that was the beautiful tragedy of his attraction to her is that he knew that and he wanted to be with her anyway. He knew he was always going to be second place, and I think that's a little heartbreaking about Sousa."
"Alien Commies from the Future!": A surprise leap forward in time has stranded Enoch in 1931 and landed the team in yet another unfamiliar decade. Now, in order to stop the chronicoms from launching their newest future-dismantling plan, the agents will have to infiltrate one of SHIELD's most secure bases. They won't be able to succeed without help from a familiar face or two. Enver Gjokaj, Tobias Jelinek, Julian Acosta, Michael Gaston, and Tamara Taylor guest star. Written by Nora Zuckerman & Lilla Zuckerman and directed by Nina Lopez-Corrado.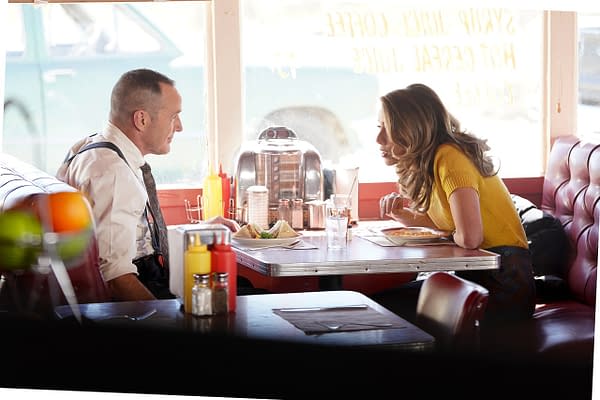 The ABC series stars Clark Gregg as Agent Phil Coulson, Ming-Na Wen as Agent Melinda May, Chloe Bennet as Daisy Johnson, Elizabeth Henstridge as Agent Jemma Simmons, Iain De Caestecker as Agent Leopold Fitz, Henry Simmons as Director Alphonso "Mack" MacKenzie, Natalia Cordova-Buckley as Elena "Yo-Yo" Rodriguez, and Jeff Ward as Deke Shaw. Enver Gjokaj, Joel Stoffer, Tobias Jelinek, Joe Reegan, Nora Zehetner, Greg Finley, Luke Baines, and Patton Oswalt guest star. Produced by ABC Studios and Marvel Television, the series was co-created by Joss Whedon, Jed Whedon, and Tancharoen, who also serve as executive producers alongside Jeffrey Bell and Jeph Loeb. ABC Studios is a part of Disney Television Studios, alongside Twentieth Century Fox Television and Fox 21 Television Studios.