We're now looking at the most surprising moments in the recently concluded (except for Supergirl) seasons of the big superhero shows. Each show has multiple surprise moments, some bigger than others, but I'm judging based on how much the surprise affected the series, a single character or was just out of the blue. Here we take a look at Marvel's Agents of SHIELD.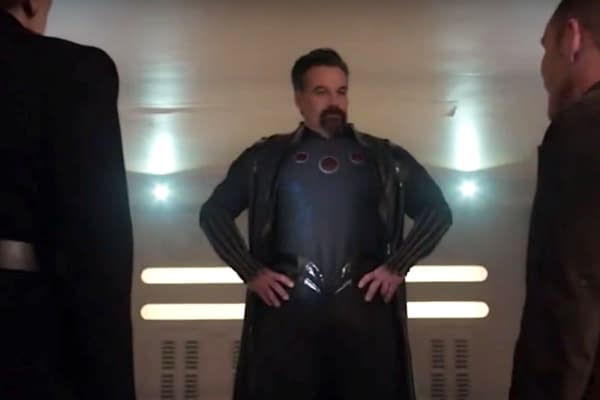 This season started with a big surprise, the team ending up in the future where the Earth has been destroyed and it just kept doing twist after twist. Finding out that it was Daisy Johnson (Chloe Bennet) who destroyed the Earth or at least that is what everyone believes. That the sole survivors of humanity live in a SHIELD bunker called the Lighthouse, that Yo-Yo (Natalia Cordova-Buckley) is still alive and giving away secrets to the enemy and that someone how they all go back and make the end happen in some bizarre time loop. There were so many surprise twists and turns but all of them fell in line over the season making their significance less and less. Which leads me to the one I think was the biggest, Glenn Talbot (Adrian Pasdar) using the particle fusion chamber to take all the gravitonium into his own system and becoming super powered and getting twisted into becoming a villain.
Part of why this was surprising is of course, Talbot has been around a while and been through a lot. His mental condition was already questionable from being shot in the head by an LMD. But what happened paid off a set up from very early in the first season of the series. When the first introduced gravitonium in the third episode of the series, they also introduced the character of Franklin Hall (Ian Hart) who eventually got pulled into the metal and absorbed. In the comics Franklin Hall is the villain Graviton and fans thought they were going to get that villain… turns out they did, only four and a half seasons later in the form of Glenn Talbot. But the show went even further and gave Talbot a pretty close to comic costume and the hair and beard to match.
Now the writers of the series didn't know if they would be back for another season so they wanted to pay off everything, but who knew they would go back to episode 103 to finally give us Graviton in all of his overpowered glory. It was a huge surprise and now that the series is coming back… maybe he will too.
Enjoyed this article? Share it!