Remember when Marvel was the grounded, down-to-Earth television series and DC did the ones about time travel and multiple dimensions? Where DC was putting Green Arrow, the Flash, Supergirl, and Firestorm into costumes, Marvel was telling stories about government agents and female private detectives? Sure, there was a super powered person now again again, but it was always done with the most realistic take. And then Marvel's Agents of SHIELD got into season four, introduced Ghost Rider, and all bets were off. (Spoilers below.)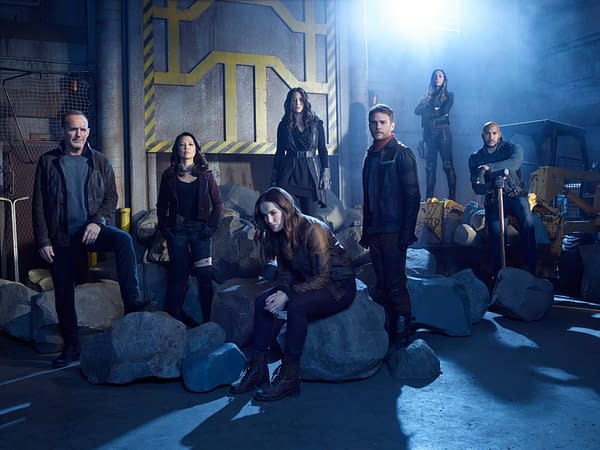 Now we're into the fifth season of the series that has already introduced aliens, demons, Norse gods, and a genetic offshoot of man that lives on the moon. What do they do for an encore? They pull a page from The Flash and start playing with time travel. Coulson and the crew are teleported to the future where the Earth is destroyed and what's left of humanity is under the rule of the Kree. It's not a very nice place, really. The interesting thing is, one of the agents got left behind… Fitz. Now, if they were going to leave one behind, I would've suggested Daisy instead… because her being there creates another thing that The Flash likes to deal with… Multiple Earths.
See, the history books say that Quake is the one who destroyed the planet. But if Daisy is on the station in the future, hasn't already destroyed the Earth, then how is it destroyed? This is a conversation that Daisy has with her new "friend" Deke. And it might be the most important question of the season… or maybe the important question is, if they get back to their own time, will something happen to cause Daisy to go ahead and destroy the Earth.
I'm telling you, as soon as you introduce multiple time lines and Earth, you end up trying to think like Grant Morrison and writing on the walls with a Sharpie.
Marvel's Agents of SHIELD airs Fridays at 9 p.m. ET on ABC.
Enjoyed this article? Share it!