Rejoice, 'It's Always Sunny' Fans: Rob McElhenney Is on Instagram!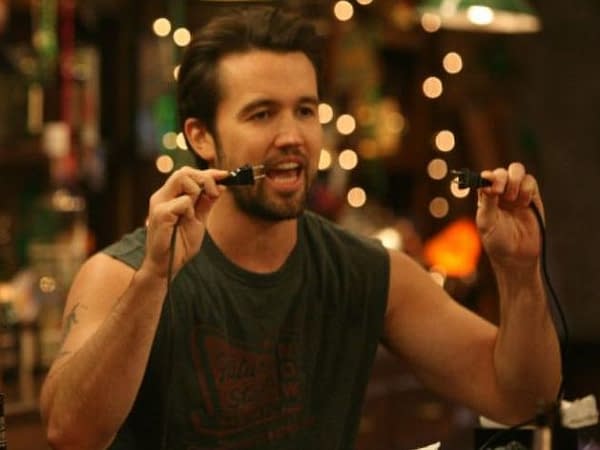 To say that the offseason between seasons 12 and 13 of FXX's long-running hit comedy series It's Always Sunny in Philadelphia has been a crazy one for the show's original four of Glenn Howerton (Dennis), Rob McElhenney (Mac), Kaitlin Olson (Dee), and Charlie Day (Charlie) would be a dramatic understatement (nothing personal, Danny DeVito's Frank).
On the plus side, Day's sitcom pilot The Cool Kids — executive produced by Howerton and McElhenney — received a series order from Fox, while Howerton's A.P. Bio received a second-season renewal from NBC after a strong season finale showing and social media following. The latter actually sparked a furor online among Sunny fans who were concerned that Howerton's new series would take him away from his original series (Howerton will be back next season in an unspecified number of episodes). Along with that, Fox opted to not bring back Olson's sitcom The Mick for a third season.
But now the gang's turning their attention back to the mean streets of "Brotherly Love," with production currently underway on what they're hoping will be their lucky 13th season. So what's different going into the new season? Let's just say that McElhenney's got himself an Instagram account, and he's not afraid to use it — even if it involves giving away major plot points and character appearances from the upcoming season:
McElhenney even references his "Fat Mac" days in one post, jokingly admitting that that version of him was actually portrayed Philadelphia Eagles' Jason Kelce — but are we actually getting a "Fat Mac" flashback?
In another post, McElhenney introduced viewers to the new stage that houses the series — a new lot that has a pretty serious comedic pedigree… not that there's anything wrong with that!
Olson also took to Instagram to express her excitement at starting work on the new season, while still processing that other matter at the time:
The last post actually comes from the good folks at E! News, who tweeted a video of Olson and Day calling out McElhenney for his lack of Instagram Story-making skills:
It's Always Sunny in Philadelphia is expected to return to FXX for its 13th season in late 2018.