The Twelve Days of 'Sunny': Season 1, Episode 3 'Underage Drinking: A National Concern' (Day #1)
On The First Day of 'Sunny,' the Gang from Paddy's gave to me…Dee Reynolds in a pear tree.
For the past thirteen years and thirteen seasons, the gang from Paddy's Pub–Charlie (Charlie Day), Mac (Rob McElhenney), Dee (Kaitlin Olson), Frank (Danny DeVito), and Dennis (Glenn Howerton) – have quietly turned FX/FXX's It's Always Sunny in Philadelphia into one of the most shocking, tasteless, and subversive sitcoms to ever hit the airwaves. Did I mention it's also one of the best? Because for nearly 1-1/2 decades, The Gang's put themselves on the frontlines of major social and political issues with all the satirical subtlety of a hand grenade–with Dennis, Dee, Charlie, Mac and Frank usually finding a way to blow themselves up in the process.
"We immediately escalate everything to a ten… somebody comes in with some preposterous plan or idea, then all of a sudden everyone's on the gas, nobody's on the brakes, nobody's thinking, everyone's just talking over each other with one idiotic idea after another! Until, finally, we find ourselves in a situation where we've broken into somebody's house – and the homeowner is home!"

– Dennis (s07e09 'The Gang Gets Trapped')
So with the holidays being a time to spend wih family and friends, the fine folks at Bleeding Cool are honoring South Philly's favorite sons (and daughter) with a rundown of our 12 favorite It's Always Sunny in Philadelphia episodes–one per season (sorry, season 13: you're sitting this one out until next year) in a little something we're calling…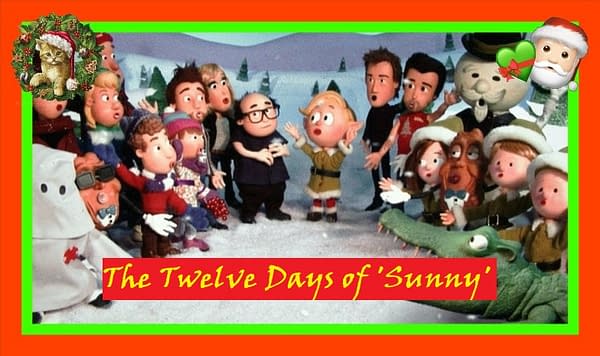 It's Always Sunny in Philadelphia s01e03 'Underage Drinking: A National Concern': The gang sells alcohol to minors; and Sweet Dee, Dennis, and Charlie get asked to the prom. Writer: Rob McElhenney / Director: Dan Attias
This P.F. (Pre-Frank) episode that starts to show us aspects of The Gang's personalities that we'll grow to love-lovingly loathe over the seasons: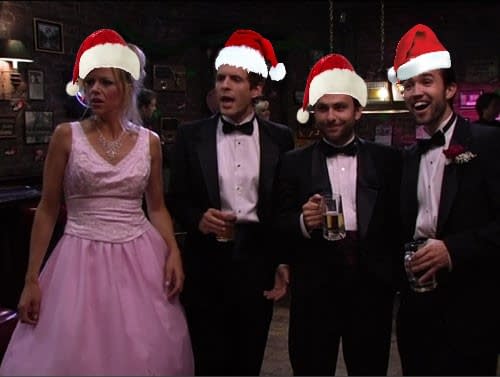 ● The Gang's ability to rationalize away their narcissistic choices begin to rear its beautifully sociopathic head in this episode, as Dennis, Dee, Charlie, and Mac see nothing wrong with having high school students drink at Paddy's so they have a safe environment–and pay jacked-up prices for watered down drinks.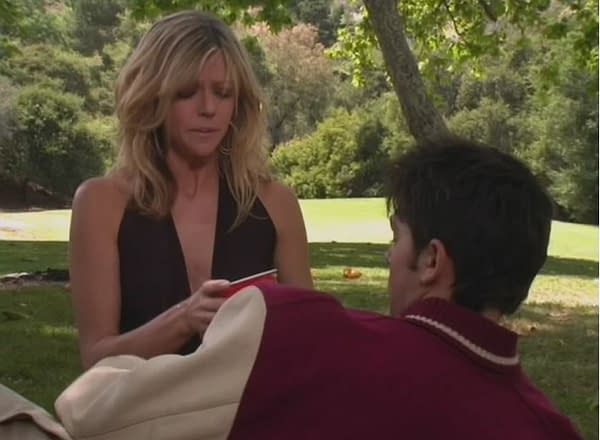 ● Dee demonstrates her rightous need to be socially accepted by playing into the hands of high school stud and guy-we're-not-convinced-she-didn't-sleep-with Trey (Robert Adamson). It appears her years as "The Aluminum Monster" took their toll. Both she and Dennis find themselves pawns in his "High School Prom Confidential" situation with Tammy (Jaimie Alexander), and though a pre-D.E.N.N.I.S. System Dennis has to be blackmailed into this one. Remember that whole "letting under-agers drink" part, right? So does Tammy.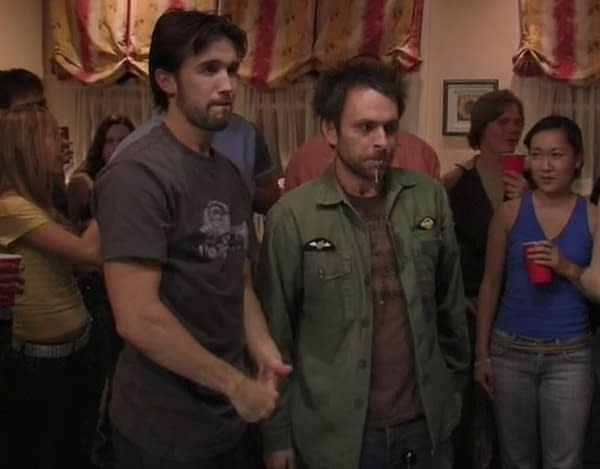 ● Two things we pick up about Charlie that definitely come into play in later seasons: his need to huff anything that he can get up his nose (Elmer's Glue is edible paste compared to what's to come…); and the guy who puts the "idiot" in "idiot savant" is a heart-on-his-sleeve hopeless romantic. If the sight of Charlie dancing by himself at the prom to Alphaville's "Forever Young" doesn't remind you that you have a heart, then knowing he ended up that way after helping his date rekindle her romance with her former boyfriend should drive the point home–before curbing your cockles into a million pieces.
● Mac has serious, serious, anger and acceptance issues: they are pretty much on display during his post-beer game "In Your Face!" celebration…that, and the fact that he crashed a high school prom. Stag. Now with that said, it's interesting to see how Mac's journey first began–especially when we now know how it ended/began anew.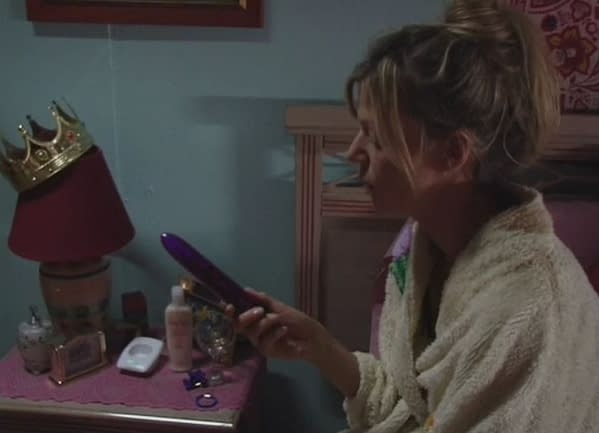 ● Dee's dildo is named Stephen. For whatever reason, just felt like the right note to end on.