The Twelve Days of 'Sunny': Season 4, Episode 13 'The Nightman Cometh' (Day #4)
On The Fourth Day of 'Sunny,' The Gang from Paddy's gave to me…
…four times Charlie lost it…
…three huffs of spray paint…
…two months community service…
…and Dee Reynolds in a pear tree!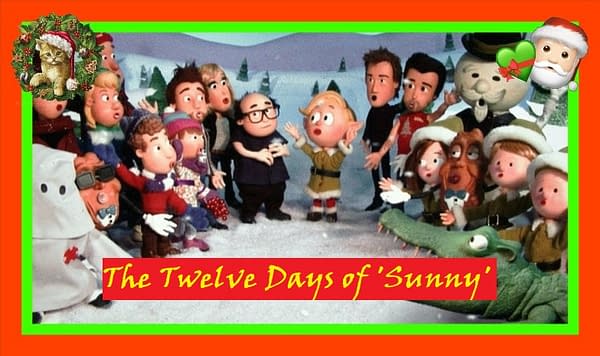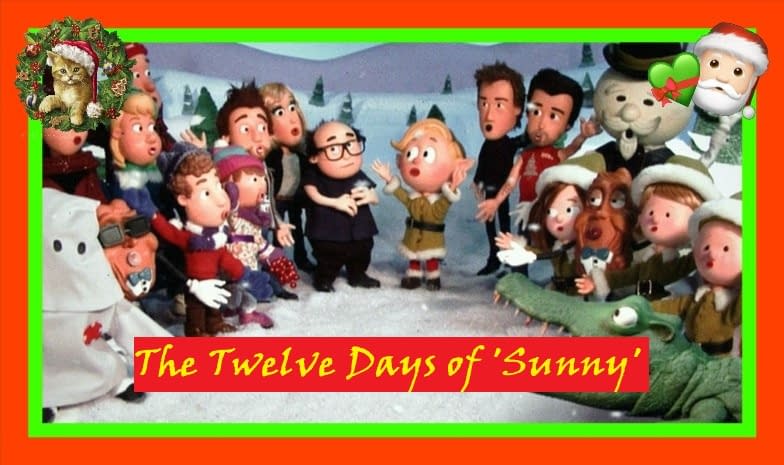 For the past thirteen years and thirteen seasons, The Gang from Paddy's Pub–Charlie (Charlie Day), Mac (Rob McElhenney), Dee (Kaitlin Olson), Frank (Danny DeVito), and Dennis (Glenn Howerton) – have quietly turned FX/FXX's It's Always Sunny in Philadelphia into one of the most shocking, tasteless, and subversive sitcoms to ever hit the airwaves. It's also one of the best.
Because for nearly 1-1/2 decades, The Gang's put themselves on the frontlines of major social and political issues with all the satirical subtlety of a hand grenade–with Dennis, Dee, Charlie, Mac and Frank usually finding a way to blow themselves up in the process.
"We immediately escalate everything to a ten… somebody comes in with some preposterous plan or idea, then all of a sudden everyone's on the gas, nobody's on the brakes, nobody's thinking, everyone's just talking over each other with one idiotic idea after another! Until, finally, we find ourselves in a situation where we've broken into somebody's house – and the homeowner is home!"

– Dennis (s07e09 'The Gang Gets Trapped')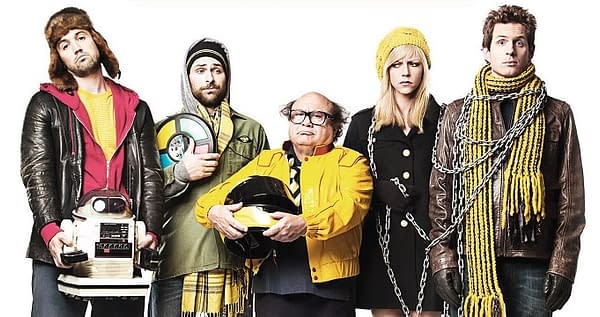 With the holidays being a time to spend with family and friends, the fine folks at Bleeding Cool are honoring South Philly's favorite sons (and daughter) with a rundown of our 12 favorite It's Always Sunny in Philadelphia episodes–one per season (sorry, season 13: you're sitting this one out until next year) – with "The Big Present" on Christmas Day as we crown an overall champ – and dump a little coal in your stocking in the form of the worst It's Always Sunny in Philadelphia episode of the first 12 seasons (spoiler: it'll probably hold the crown next year, too).
https://youtu.be/OR4zefzP7d0
It's Always Sunny in Philadelphia s04e13 'The Nightman Cometh': With the gang's help, Charlie stages a rock opera based on his song "Nightman." Writer: Charlie Day, Glenn Howerton, Rob McElhenney / Director: Matt Shalman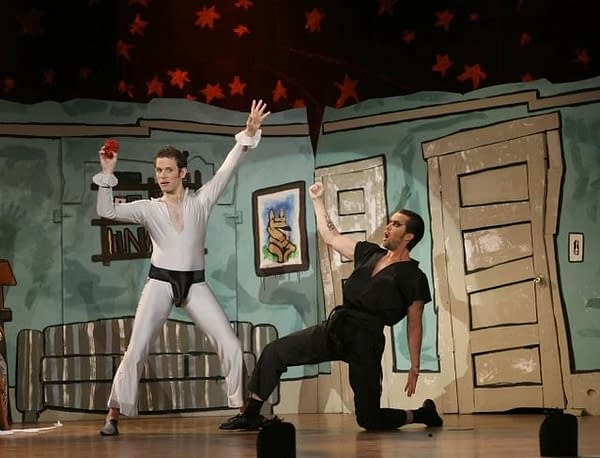 What's more to be said about an episode that's still being discussed and debated–and sung loudly–among Sunny fans? Was it great to see "alpha Charlie" in full-on singer/songwriter/Bob Fosse mode? Sure! Was it nice seeing Artemis (Artemis Pebdani) prove once again why she's the real unofficial member of The Gang? Of course! How nice was it to see the adorable Mae Laborde's piano-playing Gladys hold her own with The Gang? Words cannot describe! Did The Waitress really not see that ending coming from a mile away? She had to, right?
But all of that is just wonderful window dressing for the true star of the episode: Charlie's amazingly twisted and revealing musical that clearly shows he needs years of therapy and a witness relocation program (sorry, Uncle Jack), The Nightman Cometh (lyrics by Day, Howerton, Cormac Bluestone, Scott Marder, & Robert Rosell).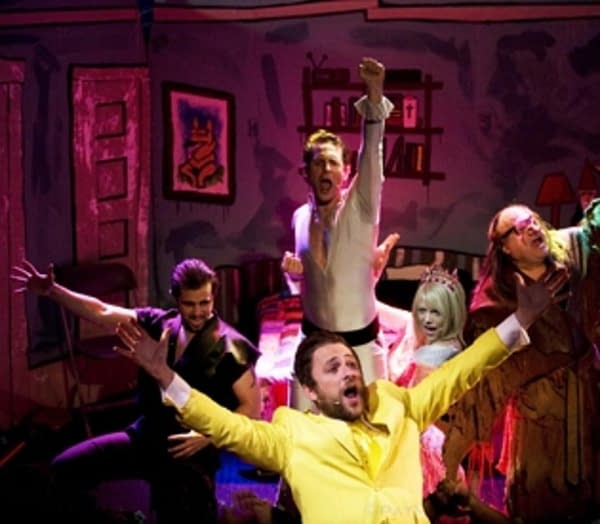 They just don't do musicals the way they used to anymore…which is great, because I'll take this over Mamma Mia! any day of the week:
"Dayman (ah-ah-ah)
Fighter of the Nightman (ah-ah-ah)
Champion of the Sun! (ah-ah-ah)
You're a Master of Karate
And Friendship
For Everyone
Dayman (ah-ah-ah)
Fighter of the Nightman (ah-ah-ah)
Champion of the Sun (ah-ah-ah)
You're a Master of Karate
And Friendship
For Everyone!
Dayman!"

FXX

Charlie: "I was that little boy, that little baby boy was me! I once was a boy, but now I am a man! I fought the Nightman, lived as Dayman, now I'm here to ask for your hand, so if you want to marry men, will you marry me? Will you come on stage and join me in this thing called matrimony? Please say yes and do not bone me, please just marry me!"
Now feel free to thank me later for getting that song stuck in your heads…