When I saw the previews for Dietland I (very wrongfully) assumed it was going to be some sort of slightly darker Sex and the City for slightly larger women. Turns out it's more like Fight Club for women. Based on the novel of the same name by Sarai Walker, Dietland's first two episodes give us a glimpse into the somewhat sad, isolated life of protagonist Plum Kettle (Joy Nash).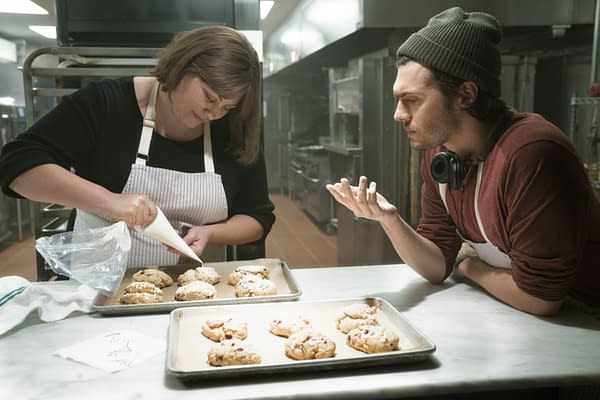 Plum works as a ghostwriter for women's magazine Daisy Chain, which is like a horrifying mashup of Cosmo, People, Tatler, and more.. but for teens. It's run by Kitty Montgomery (Julianna Marguiles), who is either the most self-absorbed, oblivious, and cruel character ever, or a diabolical genius mastermind. We'll probably have to wait until later in the season to find out, but Marguiles's performance has me hooked.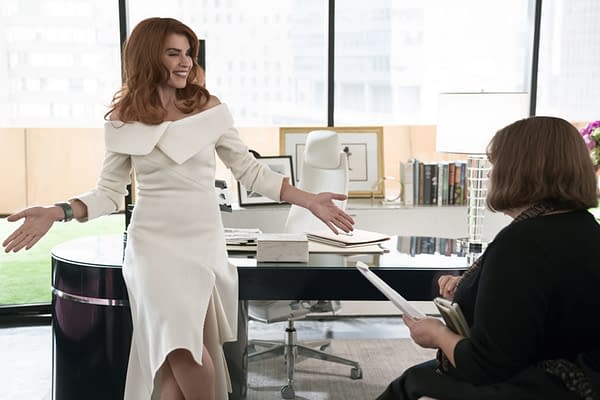 Plum writes responses for the "Dear Kitty" column of the magazine, which receives a bevy of upsetting and frighteningly realistic incoming mail. The show, which was created by Marti Noxon, looks like it's ready to cover some pretty heady topics. Noxon is also responsible for one of my other favorite shows on television right now, Unreal, which takes place on a fake Bachelor-esque set and has not shied away from incredibly topical storylines. Dietland looks poised to do the same.
In a bizarre twist of fate, Plum finds herself falling in with a group known as "Calliope House", whose goal seems to be to promote self-acceptance… but further goals are likely to be revealed. We're introduced to them through Julia Smith (Tamara Tunie — my beloved M.E. Warner on Law and Order: SVU), Verna Baptist (Robin Weigert), and Leeta Albridge (Erin Darke).
Meanwhile we get whiffs of what seems like it's going to be a radical activist group. While we don't know their exact intentions yet, it seems like #MeToo is on their agenda. The big mystery of the season seems to be: will Plum be sucked into their cause?
The show has surreal elements that remind me a bit of Pushing Daisies or Wonderfalls, or even Legion. The tone with which it handles weight issues, sexual harassment, and misogyny all within the first two episodes makes Dietland a show to look out for this season. I'm looking forward to seeing where this dark comedy goes.
Enjoyed this article? Share it!