American Horror Story Co-Creator Ryan Murphy Posts Rubber Man Teaser
With production on the tenth season of Ryan Murphy and Brad Falchuk's American Horror Story still in mothballs (like dozens of other productions) over continued coronavirus pandemic concerns, fans have seen what was starting to be a steady flow of news and fun rumors grinding to a screeching halt. First, there was the cast announcement video that showed Murphy was keeping his promise of an "all-star" season (more on that below) followed by reports that filming would be taking place in and around Provincetown. We even had Murphy sharing some thematic teaser fan art to further fuel speculation (with the tagline "Things are beginning to wash up on shore").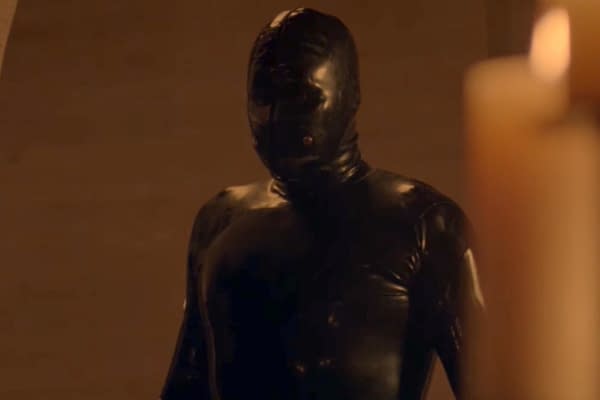 So when Murphy took to Instagram on Sunday to post an image of Rubber Man with the simple caption, "Coming soon…", you have to know we're going to start speculating. Is the rational part of my brain telling us Murphy's making a subtle joke about that being the new clothing we'll have to wear after self-isolation is over? Yes, that's what that part of my mental landscape is saying. But then there's the fun side of my brain that isn't having any of that. That part of my brain already has its Charlie/Always Sunny conspiracy board going? Is this a signal that production will be resuming soon? Is Murphy telling us Rubber Man is set to return? If that's the case, does that mean more Murder House and Michael Langdon (Cody Fern)? If that's the case, does that mean another appearance from our Coven? Could this be hinting at something to do with the Coven spinoff? Have we decided to stop pretending that all the seasons won't necessarily be connected in some way? Well-played, Murphy. Well-played.
Earlier this month, Murphy offered fans an update during an event to promote his upcoming Netflix series Hollywood (check out our preview here). While confirming that AHS was supposed to begin filming the tenth season in early April, he also shared production updates on American Crime Story: Impeachment, Halston, and Pose and emphasized what's important for him right now: "I was supposed to start shooting the new season of "American Horror Story" and the new season of 'American Crime Story: Impeachment' this week. That obviously is not happening. I had shot one episode of my limited series with Ewan McGregor, 'Halston.' That got shut down. I had shot an episode-and-a-half of 'Pose.' That shut down."
While Murphy sees his show's temporarily suffering, that's not his major concern: "So, yeah, I had four or five things that were impacted. That doesn't bother me. What I'm trying to do is make sure that my cast and crew hear from me and feel taken care of and know that there's someplace they can turn, because it's a dark time and a scary time for so many people. I just want to make sure all my people feel safe."The following cast announcement video is presented to the tune of Orville Peck's Dead of Night and confirms the return of AHS alums Sarah Paulson, Evan Peters, Kathy Bates, Leslie Grossman, Billie Lourd, Adina Porter, Lily Rabe, Angelica Ross, and Finn Wittrock are set to return – with Home Alone star Macaulay Culkin set to join the AHS universe.