A.P. Bio Season 1, Episode 13 'Drenching Dallas' Review: I Am Jack's Karmic Justice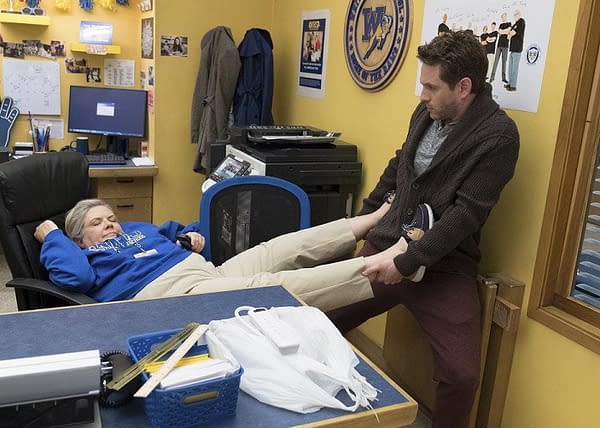 Welcome back to Bleeding Cool's recap/review of NBC's Thursday night comedy series A.P. Bio, starring It's Always in Sunny in Philadelphia's Glenn Howerton and Happy!'s Patton Oswalt. With last episode's surprising turn of events for Jack (Howerton) – in a good way for once – we're back with the season finale 'Drenching Dallas.' And from the looks of things, Jack is channeling the stress of indecision into another revenge plans; but this time, it might not have anything to do with Miles (Tom Bennett) – or does it?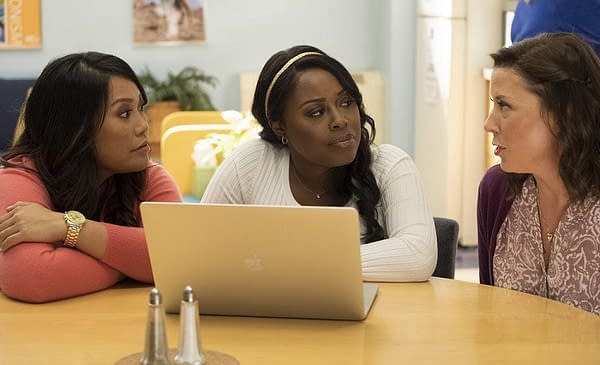 But first, here's a highlight and overview of this week's episode, 'Drenching Dallas':
A.P. Bio s01e13 'Drenching Dallas': Jack (Glenn Howerton) takes interest in a revenge mission on behalf of the A.P. Bio kids. Mary (Mary Sohn), Stef (Lyric Lewis) and Michelle (Jean Villepique) believe they've discovered an otherworldly presence at Whitlock. So our A.P. Bio "revaps" (recaps/reviews) are going to cover both the "nitty" and the "gritty" of the episode, along with some of our thoughts on what worked and what should've been left unseen by sane eyes. So I guess what we're trying to say is that you're wading into a potential "spoiler minefield"…so tread carefully. You can check out our recap/review of A.P. Bio Episode 12: 'Walleye' here:
Here's a look back at a highlight from last week's episode 'Walleye':
Here's a look back at the A.P. Bio livestream from the Teacher's Lounge, featuring Mary Sohn, Lyric Lewis, and Jean Villepique taking questions; as well as an overview of the series:
When disgraced Harvard philosophy scholar Jack Griffin (Glenn Howerton) loses out on his dream job, he is forced to return to Toledo, Ohio, and work as a high school Advanced Placement biology teacher. As he comes crashing in to Whitlock High School, Jack makes it absolutely clear he will not be teaching any biology. Realizing he has a room full of honor roll students at his disposal, Jack decides instead to use the kids for his own benefit. Eager to prove that he is still king of the castle, Principal Durbin (Patton Oswalt) struggles to control the force of nature that is Jack Griffin.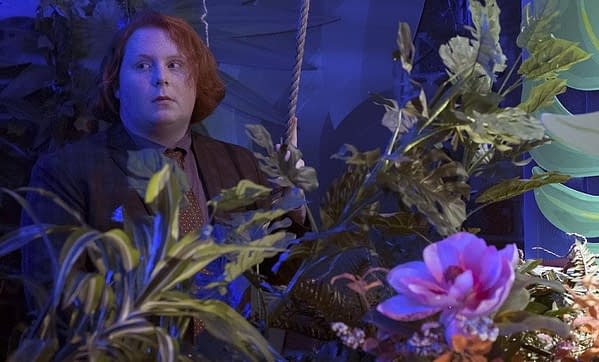 NBC's A.P. Bio also stars Jacob McCarthy, Aparna Brielle and Paula Pell; and written by Mike O'Brien, who also serves as executive producer alongside Lorne Michaels, Seth Meyers, Andrew Singer and Mike Shoemaker. Universal Television, Broadway Video and Sethmaker Shoemeyers are producing.