The mind of Sterling Archer (H. John Benjamin) has never been the most stable place, and its been even less so since he went into a coma a while back. The series has been genre-hopping since last season's Archer: Dreamland story arc, and now Sterling and his associates find themselves in deep space.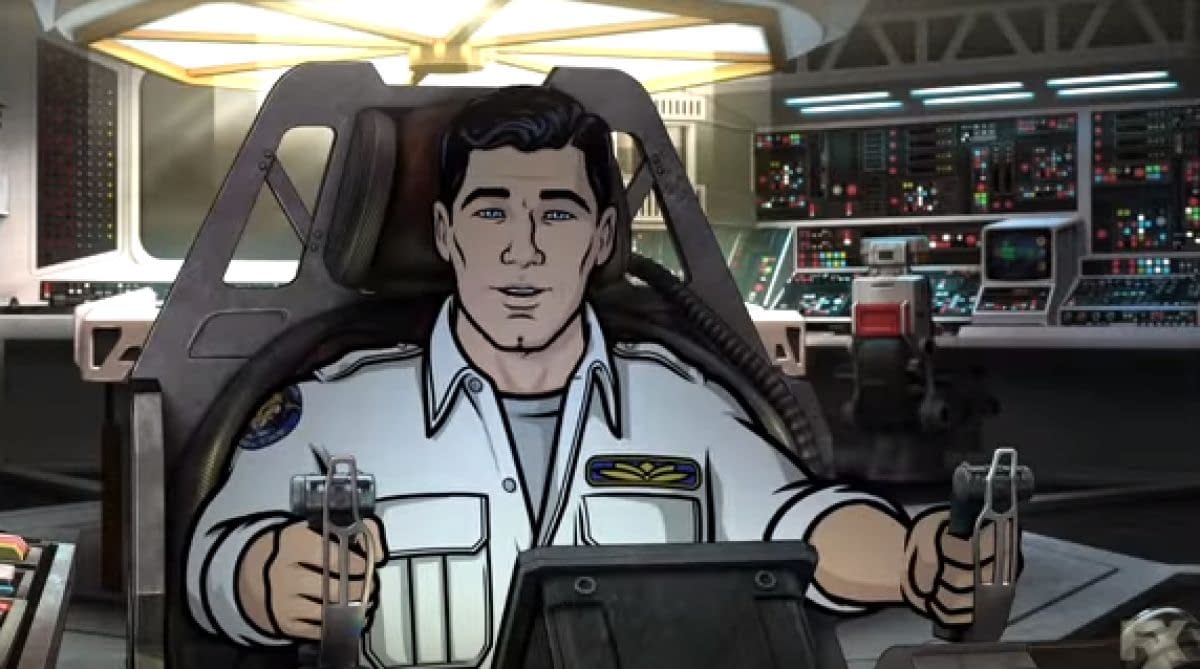 Archer is an FXX animated comedy that, in Season 10, follows Sterling Archer, Lana Kane, and their crew of acid-tongued misfits onboard the M/V Seamus salvage ship. An important question arises as they explore deep space and try to outsmart giant aliens, intergalactic pirates, and vicious bounty hunters: how do they survive each other? Welcome to the space-tastic world of Archer: 1999.
Season Ten, dubbed Archer: 1999, kicks off with Archer coming out of cryonic sleep and scheming with the ship's AI, Mother (Jessica Walter), to cash in on a salvage job without waking up the rest of the crew. Archer being, well, Archer, screws things up royally, and the crew is brought about just in time to get in a fire-fight with pirates.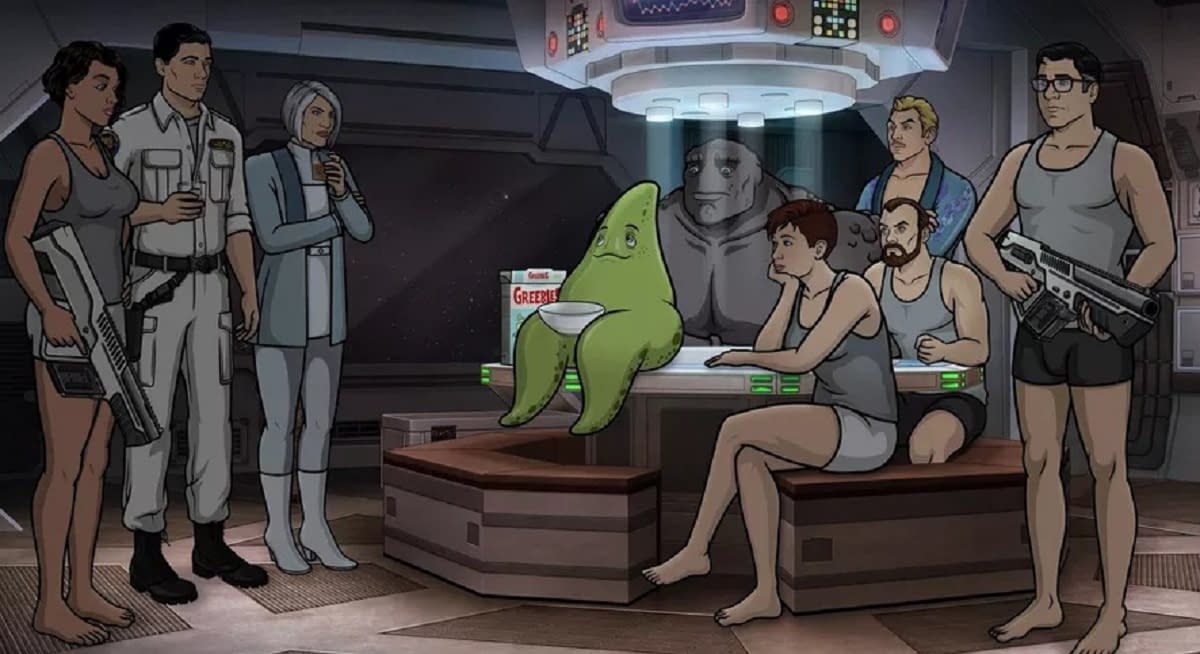 This season's manifestation of the former ISIS crew has made some interesting changes: Kreiger (Lucky Yates) is the ship's android; Pam (Amber Nash) is a giant rock monster; Carol (Judy Greer) is a hotshot fighter pilot; Lana (Aisha Taylor) is Archer's pain in the ass ex-wife and co-captain; Cyril Figgis (Chris Parnell) is the whiny first mate; and Ray (Adam Reed) is the ship's courtesan- think Inara on Firefly, but very Ray.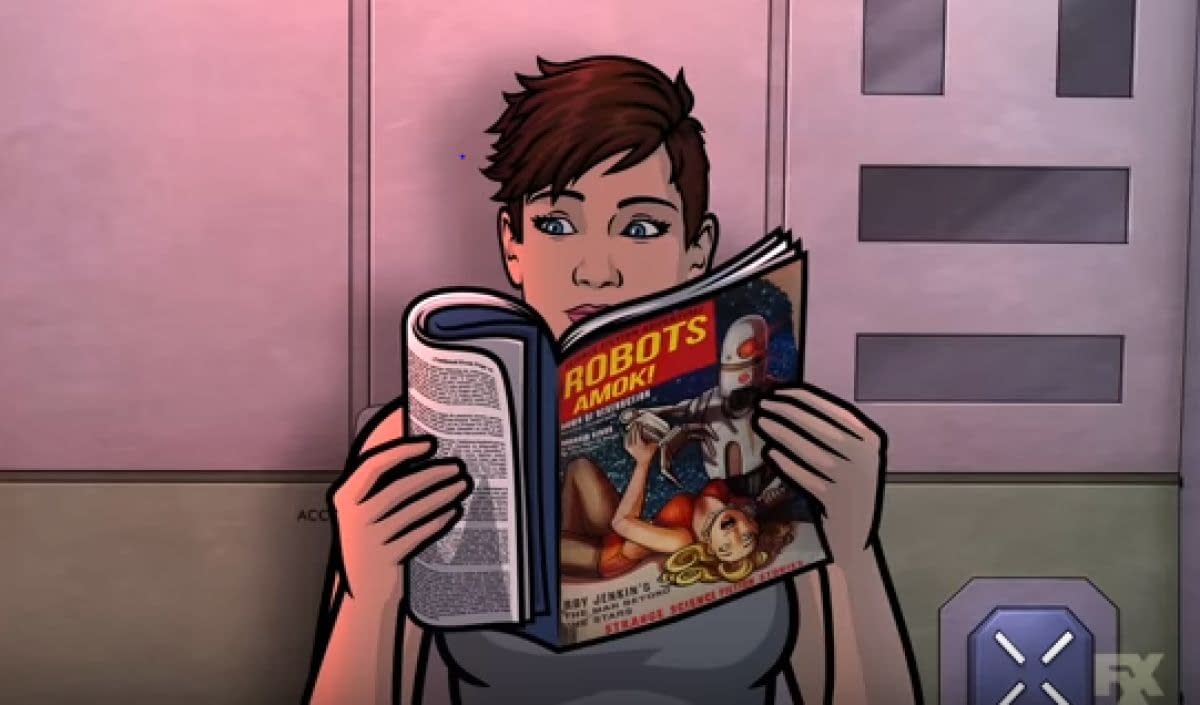 A New Beginning (of sorts) For Archer
The jokes on the season premiere of Archer 1999, and yes, the show claims to take place in 1999, don't quite hit as hard and fast as they used to, but the easy-going nature of the cast, coupled with the new life the setting imbues the animation with, makes this new take on Archer a lot of fun to watch.
When the jokes do hit, however, they hit hard as hell.
The character animation is the same as always, which works really well for the series. The new space setting, however, really takes the animation to a new level. The ship designs may be a pastiche of classic sci-fi elements, but they come together beautifully. There are a couple of Big Space Battles that look fantastic, and I found myself hoping that someone takes this approach to animating a traditional science fiction show. It could work really well!
In Space, No One Can Make a Final Verdict
Overall, this new take on Archer was fun, but not overwhelmingly great. Some of the character interactions have gotten pretty stale over the last 10 seasons, but that's bound to happen. The new story setting may have been bogged down in the premiere with trying to set up this new version of the show. It feels more like a pilot, working through the how and why of the different story elements instead of jumping right in.
The toughest part of assessing this season, though, is that there looks like a really good genre show is hiding under the comedy. The comedy on Archer has always been its strong suit, but here and there glimpses of a really compelling sci-fi show keep popping up, and that's almost distracting. The character and ship designs are top-notch, especially with the pirate crew that shows up at the end of the episode.
We'll have a better idea next week, when the crew of the M/V Seamus find themselves on a hostile planet, fighting in the gladiator rings. Here's a peek at that silliness:

Archer was originally released on the FX Network in 2009, and was created by Frisky Dingo and Sealab: 2021 dynamic duo Adam Reed and Matt Thompson. Archer has a pretty great voice cast, featuring the talents of H. Jon Benjamin, Jessica Walter, Aisha Tyler, Judy Greer, Amber Nash, Chris Parnell, Lucky Yates, and Adam Reed.
In 2017, Archer moved to the newly formed FXX Network to help consolidate an animation heavy programming block.
Since its release in 2006, Archer has won multiple Emmy Awards and Annie Awards, as well as numerous other accolades in the animation field.
Enjoyed this article? Share it!