Arrow Season 6: Echo Kellum on Mr. Terrific's Romantic Future
Mr. Terrific has had better days. Echo Kellum's character of Curtis Holt has been going through a lot over the last few seasons of Arrow. He went from being just a resident genius for Palmer Tech, to helping out Team Arrow and creating a chip that allowed Felicity (Emily Bett Rickards) to walk again. He decided to become a costumed vigilante and invented his amazing T-Spheres. But at the same time, his husband Paul left him, and now the team has split in half. And with how drunk he got at Oliver (Stephen Amell) and Felicity's wedding reception… he's not quite over all of it.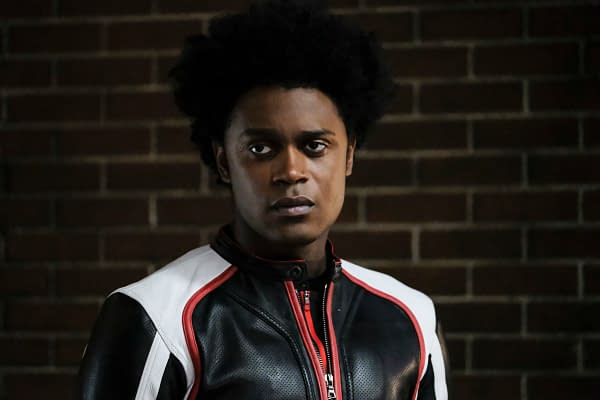 Kellum talked with TVLine about where Curtis is emotionally and if Paul might come back:
I definitely hope so. I really like Curtis and Paul's relationship, there's a lot of love there. But I do feel like Curtis needs to 'play the field' in a different sense right now — to kind of do his own thing and find out where he needs to be in life. He's dealing with too many breakups recently! I definitely want to see him out there making strides in his own world, not necessarily needing someone else.
The biggest question having to do with the Mr. Terrific character remains: just how does he get his hair done so quickly?
Arrow airs Thursdays at 9 p.m. ET on the CW.