So last week's episode of the CW's Arrow was one of those that left you feeling… nah, let's go with hoping that the writers don't believe in that whole "fixed points in time that can't be changed" concept because right now? The future's not too bright for our folks on Team Arrow – shades will definitely not be necessary. Now while "Star City 2040" gave us some answers – and some hope, at least – this week's episode "Inheritance" takes us back to the here-and-now… and starts stepping up the clues as to how's and and why's to it all falling apart.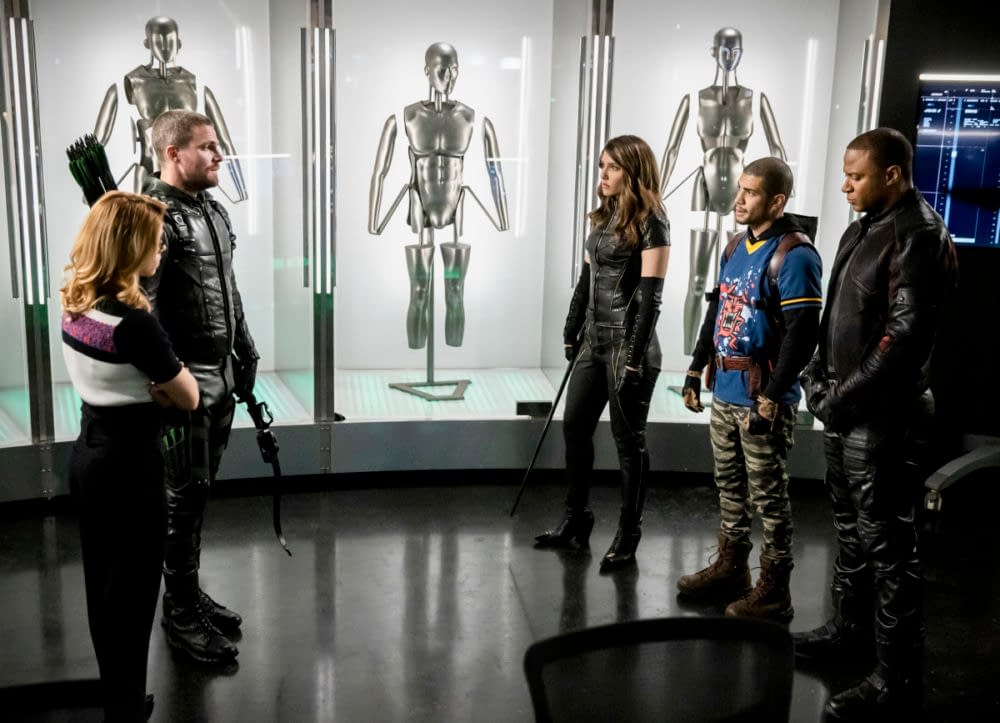 Here's a look at a sneak preview and promo for this week's new episode, "Inheritance":
https://youtu.be/GuhVFsyzmIc
Arrow s07e17 "Inheritance": LAUREL TEAMS UP WITH OLIVER — Laurel (Katie Cassidy) learns about some damaging information that affects Emiko (Sea Shimooka). Always looking to protect his sister, Oliver (Stephen Amell) invites Laurel to help investigate, which makes Felicity (Emily Bett Rickards) happy as her friend is now working with the team. However, when things go awry, Felicity is forced to make a choice between the team and Laurel. Patia Prouty directed the episode, written by Sarah Tarkhoff & Elizabeth Kim.
https://www.youtube.com/watch?v=Elhs5Ul8xZs
If those previous previews weren't enough to get you feeling a little more grounded in the here-and-now (at least for now), take a look at the official image gallery for this week's new episode of the CW's Arrow, "Inheritance":
CW's Arrow stars Stephen Amell as Oliver Queen/Green Arrow, David Ramsey as John Diggle/Spartan, Emily Bett Rickards as Felicity Smoak, Echo Kellum as Curtis Holt/Mr. Terrific, Katie Cassidy as Laurel/Black Siren, Rick Gonzalez as Rene Ramirez/Wild Dog, Juliana Harkavy as Dinah Drake/Black Canary, Colton Haynes as Roy Harper, and Kirk Acevedo as Ricardo Diaz. Greg Berlanti, Marc Guggenheim, Beth Schwartz, and Sarah Schechter serve as executive producers.
The CW's Arrow airs Monday nights at 8 p.m. ET / 7 p.m. CT.
Enjoyed this article? Share it!