Stephen Amell was at the CW Upfronts presentation on Thursday where he made the announcement that Batwoman was coming to the Arrowverse as part of the four-series crossover event in the new season. But at the time of his appearance, the season finale of Arrow had yet to air, so when he was interviewed by TVLine, he tried to remain a it coy at first, not revealing anything. But as the interview went on he was a bit more open about how the season wrapped up and what the show is going to do with season 7 and how he is excited by the possibilities — and a new storytelling technique.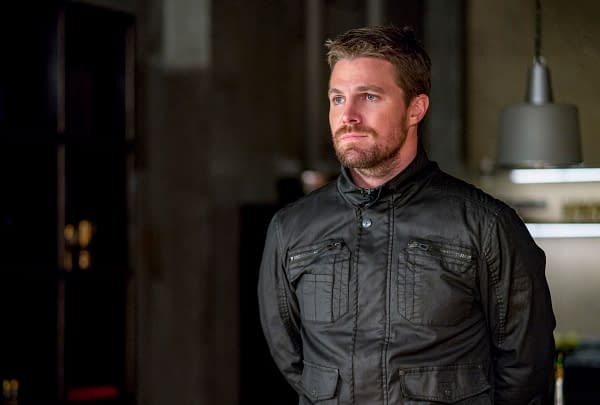 What we've learned so far is that there will be a new character introduced and that Oliver will be in the supermax prison as the series enters. And while he could escape, in Amell's opinion, Oliver is staying there as part of the deal to protect those he cares about. But as you listen to the interview, you definitely get the impression that he will only be in prison for the first part of the season, which is expected — it seems he would need to be out of prison to take part in the crossover event.
He talks about how excited he is for the new season, how he likes the frenemies status between Oliver and Laurel (Katie Cassidy), and that he looks forward to seeing what the writers come up with for the Longbow Hunters. The name drop in the season finale was a setup for something rather than just an Easter egg for fans.
The thing he mentioned in the interview that jumped out at me was saying that they would be introducing a new storytelling technique to the show. This is a series that spent five years doing flashbacks that led up to where the series began. It was a clever storytelling technique, but one that went away with season 6. He gives no indication what the new technique is nor if it's completely new or just new to the series. Hopefully we'll hear more about this new technique at the San Diego Comic-Con in July.
Here is the interview in its entirety:
Enjoyed this article? Share it!