"Better Call Saul": Kim Wexler Shows You How to Be a Better Lawyer (Take Notes, Jimmy) [VIDEO]
Vince Gilligan and Peter Gould's Better Call Saul started off its fifth and penultimate season like a rocket, with Jimmy (Bob Odenkirk) becoming Saul Goodman – in both the past and present. Kim (Rhea Seehorn) continues finding herself repulsed by Saul – while attracted to his barely legal way of getting things done. Lalo (Tony Dalton) and Gus' (Giancarlo Esposito) battle of wills continued – while Mike (Mike Ehrmantraut) lost his cool in a very bad way and Nacho (Michael Mando) proved himself to Lalo… but can he do the same for Gus?
Which leads us into this week's episode "The Guy For This" – but before we offer you a preview of Saul's next move?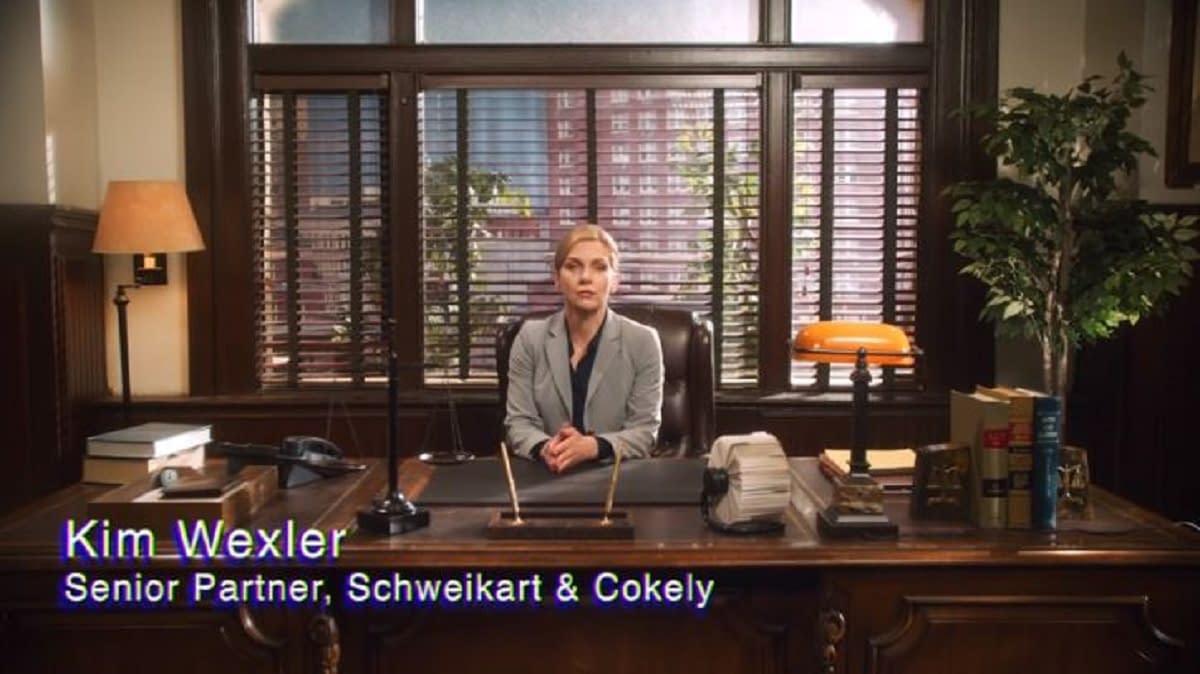 Let's put aside the drama for a moment for a "little learnin'" as Schweikart & Cokely Senior Partner Kim Wexler offers us an online legal education course on how to be a better lawyer (we're bypassing the irony there). What follows are the first two installments, focusing on the importance of properly (and legally) branding your practice to attract new clients; and how to make sure your communication is clear, effective… and not misleading:
Now that you've sharpened up on your marketing and communication skills, why not take a look at next episode, "The Guy For This"… with Saul ready to take on a new client – whether he wants to or not (and make sure to check out our reviews of "Magic Man" and "50% Off" here and here):
"Better Call Saul" season 5, episode 3 "The Guy For This": Jimmy's business enters uncharted territory; Kim's confidence is tested when she's faced with a legal problem only she can solve; Nacho navigates increased pressure from Gus; Mike continues to spiral.

In season five of the critically acclaimed drama, Better Call Saul, Jimmy McGill's decision to practice law as "Saul Goodman" creates unexpected and profound waves of change throughout Albuquerque's legal and illegal circles. Kim Wexler finds herself at a crossroads as her connection with Jimmy deepens. Wracked with guilt and regret, Mike Ehrmantraut hits rock bottom. Meanwhile, Nacho Varga tries to survive as Gus Fring's covert war on the cartel becomes a life-and-death chess match with the mercurial and relentless Lalo Salamanca