"Better Call Saul" Season 5 "50% Off": No Discounted Affair [SPOILER REVIEW]
With "Magic Man", Vince Gilligan and Peter Gould's Better Call Saul smoothed-talked its way back into our lives for a fifth (and penultimate) season. Jimmy (Bob Odenkirk) legally became Saul Goodman – and then in a flash-forward, Gene was forced to become Saul… or did we see Saul doing away with his "Jimmy" and "Gene" masks? Kim (Rhea Seehorn) continued distancing herself from Jimmy's metamorphosis – while making a Saul-like decision.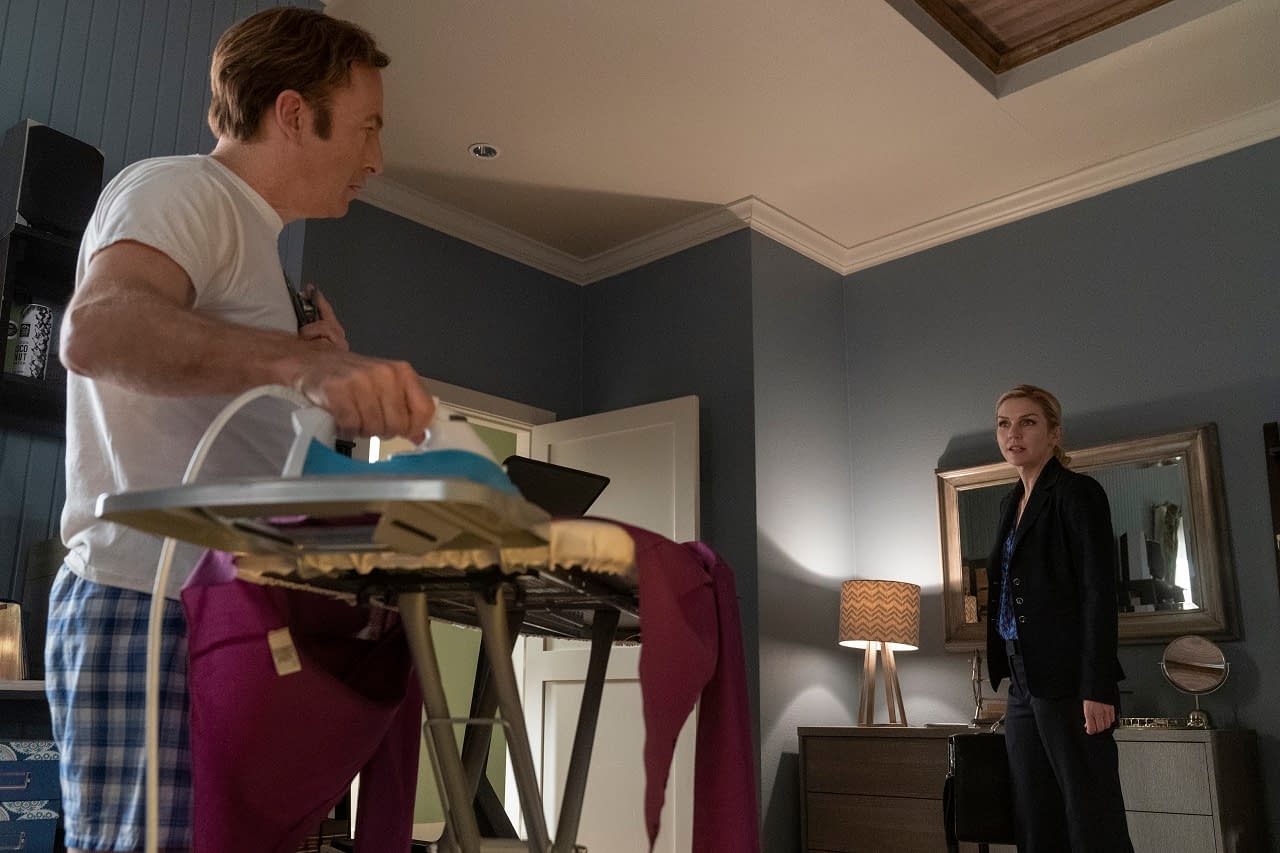 Meanwhile, Lalo (Tony Dalton) and Gus' (Giancarlo Esposito) "feeling-out stage" is over: they don't like each other, and want each other out of the way. Mike's (Mike Ehrmantraut) starting to spiral – and not a big fan of Gus – while Nacho (Michael Mando) continued walking a very fine line between Gus and Lalo.
Which brings us to the second-half of the two-part premiere event, "50% Off" – written by Alison Tatlock and directed by Norberto Barba. Did it keep Sunday night's momentum going? Let's dive right in, with our thoughts below – and remember: MAJOR SPOILERS AHEAD!
[rwp_box id="0"]
● Now that "The Era of Saul Goodman " is underway, it's time for Jimmy to take "Saul" out for a spin – and by the time our "Magic Man" is done spinning spells and starts enjoying an ice cream cone (until Nacho's can't-say-no offer of a ride), we see everything we need to see about what makes Saul…well… Saul. Once again, props to the show's writers room for still finding creative and unique ways to "reintroduce" us to a character we think we know…
● Odenkirk's skill at conveying street smarts with everyday naiveté continues to shine. Saul can argue whether fake blood can be an argument against a charge of brandishing a knife (great elevator scene that I'm going to address in a minute), yet be so certain that offering a discount on non-felony legal services won't result in some of his more questionable potential-clients believing they have a "GET OUR OF JAIL CHEAP" card.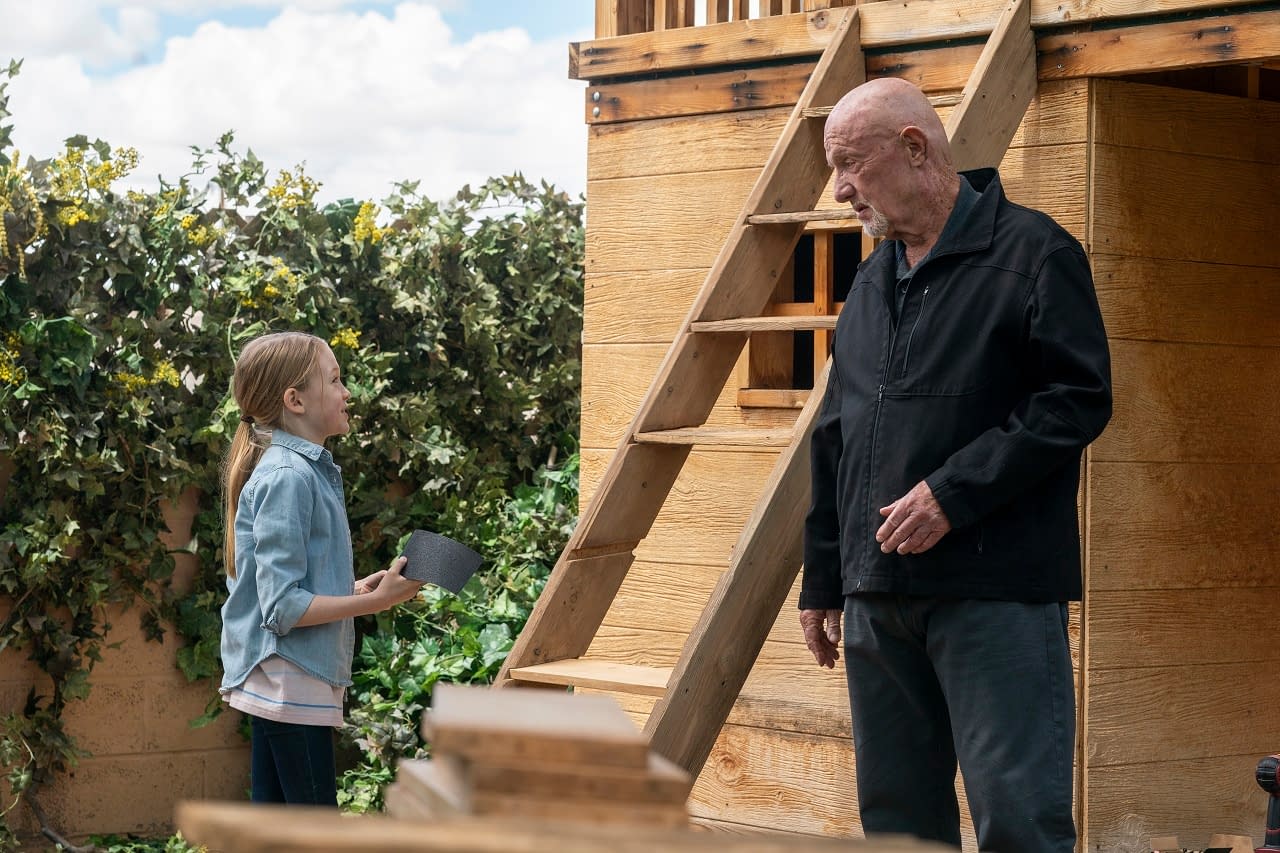 Because the episode opener pretty much made the "counter-argument" to that idea – and btw, how much did that opening sequence look like it was lifted directly from a Breaking Bad episode? Amazingly intense and in-your-face – you find yourself laughing, cringing, disgusted, and saddened – all in one emotional swirl.
● Is the "busted gnome" the new "pizza-on-the-roof" or "stuffy-in-swimming-pool"?
● As I mentioned in my previous review, the slow death of Jimmy and Kim's relationship is a tragedy filled with missed opportunities and words unspoken. The more Jimmy tries to reassure Kim that Saul will work, the further she slips away from him. Jimmy believe there's room for "three" in their relationship (just look at that closet!), but Kim knows better – and she's not sure she would be the choice Jimmy would make if it came down to it. The promise of "house-n-home" won't be enough to make that fear go away – even if it does numb it for awhile.
● Rhetorical Question: Bigger… louder… bolder… just how messed up is Jimmy after everything he went through with his brother that he's going this far to prove himself a "real lawyer"?
● Gus and Lalo handed over the spotlight to Nacho for this episode – and holy hell did Mando kill it! From his reaction to Gus "encouraging" him to get closer to Lalo, to the way he handles getting the drugs back to accomplish that very thing – Nacho is a man in control finding himself in an out-of-control situation, doing what he needs to do to at least control some of it… even if it's fleeting. But it looks like its long enough to be in Lalo's good graces – and to be the catalyst for Saul to enter the picture again. I mean, Krazy 8's gonna' need a criminal attorney… right?
● Mike yelling at the little one? Awww, Mike… our man needs some help – some focus. Or someone to take his rage out on who deserves it…
● Then there's the great Saul Goodman "dance number" at the end – or that's how it felt/looked to us, as Saul worked the corridors like a great violinist. You're either his friend or a potential friend – you're either someone who can do him a favor or he can do a favor for you (so you owe him down the road).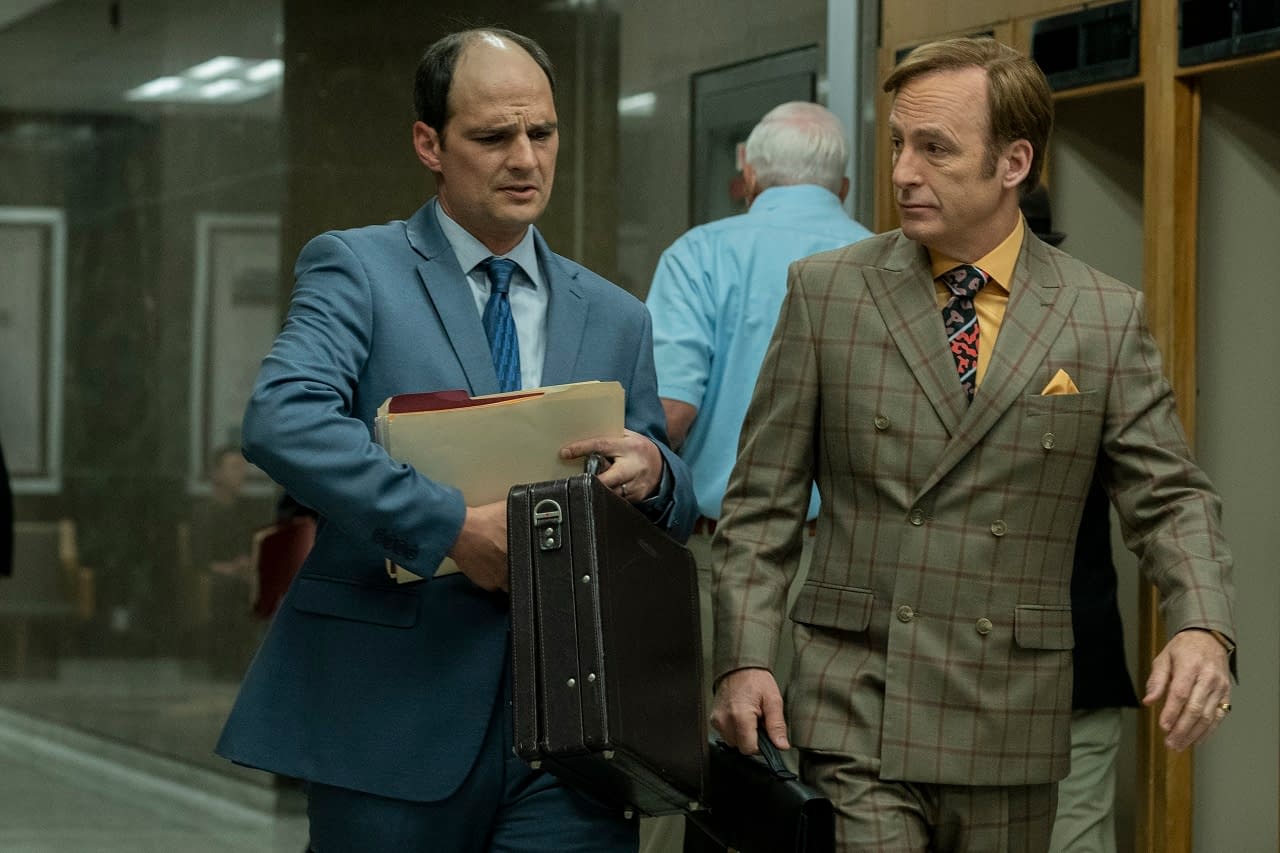 ● How impressive is Saul's cult of personality? He even gets a DA from last season who – surprisingly – doesn't have the best opinion of Jimmy to "bang out" some plea agreements. Is Saul doing it so he can maximize his profits and rollover cases quicker? Sure – he doesn't even really put up much of a defense against theat accusation.
But when we see him at the bargaining table, we see why he's so good for his client: he plays long-ball – able to know when to give a little and when to hold the line. We even see the DA respond with surprise when Saul agrees on some offers she expected there to be a fight over – and just like the end of the season-opener, we see the seductiveness of Saul. He can rationalize anything and everything – and have you believing it just enough for him to win you over.
● Helps when you bribe the maintenance dude to "create" the unexpected elevator mishap… though Karma has a way of evening the playing field. For Saul, it comes in the form of a slow-rolling Nacho – who's going to need some help on the legal-front.
From the preview for next week's episode, Saul's going to be "The Guy For This"…
"Better Call Saul" season 5, episode 3 "The Guy For This": Jimmy's business enters uncharted territory; Kim's confidence is tested when she's faced with a legal problem only she can solve; Nacho navigates increased pressure from Gus; Mike continues to spiral.

In season five of the critically acclaimed drama, Better Call Saul, Jimmy McGill's decision to practice law as "Saul Goodman" creates unexpected and profound waves of change throughout Albuquerque's legal and illegal circles. Kim Wexler finds herself at a crossroads as her connection with Jimmy deepens. Wracked with guilt and regret, Mike Ehrmantraut hits rock bottom. Meanwhile, Nacho Varga tries to survive as Gus Fring's covert war on the cartel becomes a life-and-death chess match with the mercurial and relentless Lalo Salamanca