Billions: Damian Lewis Confirms Bobby Axelrod Return (Video)
As Showtime expands the Billions universe, Damian Lewis confirmed to Stephen Colbert that Bobby Axelrod is coming back to the franchise.
---
Earlier this month, we learned that Showtime (soon to be Paramount+ with Showtime) had given a green light to a major expansion of the "Billions" universe. Series co-creators Brian Koppelman & David Levien are developing a Miami-set spinoff. In addition, the duo will oversee the development of a potential London spinoff, plus "Millions" (focusing on a young cast learning the harsh realities of finance) and "Trillions" (a soap opera-like look at the seriously rich). Well, thanks to Stephen Colbert's The Late Show with Stephen Colbert, we learned that a very familiar face will be returning to the franchise. When we last left Damian Lewis' Bobby Axelrod, he had fled to Switzerland to avoid Chuck's (Paul Giamatti) legal reach in "No Direction Home," marking the end of Lewis' five-season run on the series. But last night, Lewis confimed during his visit to CBS' late-night talk show that "Bobby's back. Of course, Lewsi couldn't offer details (spoilers and all), but we could definitely see Bobby brought back through the main series as a set-up to the London-based spinoff.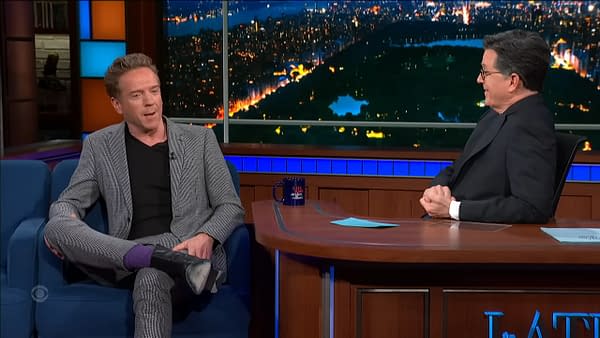 Here's a look back at Lews discussing the character before announcing his return to the franchise (with the announcement clocking in at around the 4:25 mark):
And here's a look at the teaser that was released this morning:
Damian Lewis on Leaving "Billions"
Back in Ocrober 2021, Lewis took to Twitter to address his leaving and the love he has forKoppelman and Levien's (co-created with Andrew Ross Sorkin) series. Thank you ['Billions'] thank you [Brian Koppelman] [David Levien]. A pleasure and a privilege to play Axe for 5 seasons with some of the smartest, funniest most talented cast and crew I've worked with. I'll miss the Billions family. Yep, some jobs are more than just a job…. Love," Lewis wrote in his tweet, adding more in an interview with The New York Times. "There's an opportunity maybe for me to return. But for now, broadly speaking, Axe has been vanquished," Lewis explained. "I don't like closing chapters, but it does feel like it's the end of that for now." Though feeling he's said everything he needs to say about Bobby ("It's difficult to keep mining, creatively. We know who he is"), he's proud of the impact the character and the series had on the bigger societal conversations. "We did somehow make him a thing in the culture," Lewis revealed. "And that's always fun to achieve." Here's a look at Lewis' tweet from that same day: