'Birdgirl': HA-HA! Adult Swim Orders Up 'Harvey Birdman' Spinoff with Paget Brewster
"Did you get that thing I sent ya?"
If that "thing" is a season of all-new series Birdgirl, then yes! Adult Swim confirmed on Thursday that the Cartoon Network nighttime programming wing has ordered a full season of the Harvey Birdman: Attorney at Law spinoff, with Paget Brewster (American Dad!, Criminal Minds) set to star as the eponymous hero.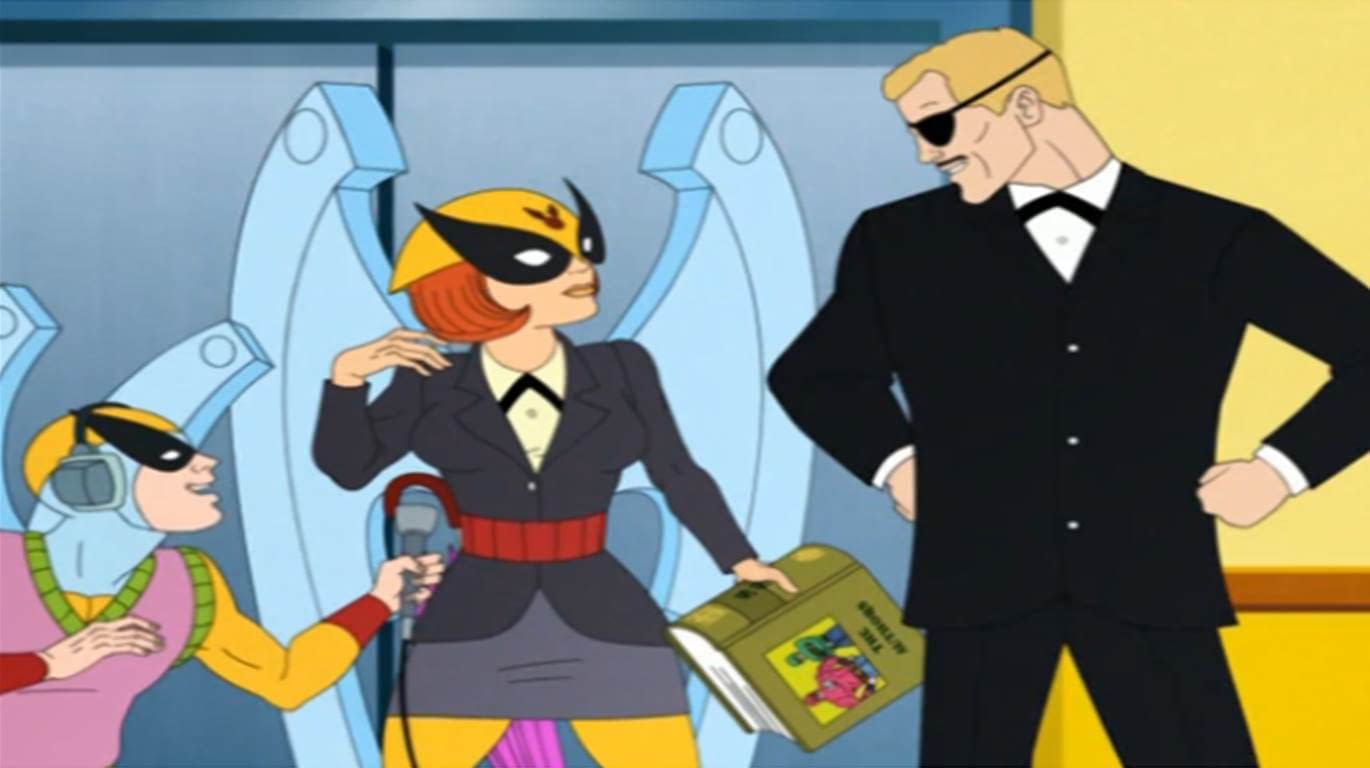 Last seen in the special Harvey Birdman: Attorney General in October 2018, Birdgirl aka Judy Ken Sebben will now be the CEO of "the world's largest and most non-sensical corporation, Sebben & Sebben" and has to learn how "to maintain her work/superhero life balance." (How very 2019!)
While further casting was omitted from the announcement (we need to know if Stephen Colbert will be back! Ha ha!), we do know that the show will revolve around former sidekick Birdgirl assembling her own "Birdteam" from the company's employee roster and will "[by] day, try to drag the company into this century." This is great news, as the original Harvey Birdman: Attorney-at-Law always worked best as a workplace comedy where the legal procedural aspect and superhero hijinks were secondary.
It's also great to see Brewster get more time in the spotlight to shine. Always underutilized in the series (and in so many other animated roles), it will be exciting to see her take the lead. While she is most recognized for her dramatic work on Criminal Minds, I've always loved Brewster's versatility and comedic skills: any episode with Birdgirl was a better episode for it. Here's hoping they also draw from her amazing and under-recognized work running a similar ridiculously excessive corporation in Andy Richter Controls the Universe.
No airdate or other information was made available by Adult Swim, the the project is created and executive produced by ME Productions, produced by Susan Shipsky and directed by Rich Ferguson-Hull, who directed most of the original Harvey Birdman: Attorney-at-Law series. Birdgirl originate from animation house Awesome, Inc, who also animated the original Harvey Birdman series as well as Adult Swim animation mainstays Aqua Teen Hunger Force and Squidbillies and live-action sitcom Your Pretty Face is Going to Hell.