Black Lightning Season 1, Episode 10 Recap: Sins of the Father
This article contains spoilers for Black Lightning season 1 episode 'Sins of the Father: The Book of Redemption'.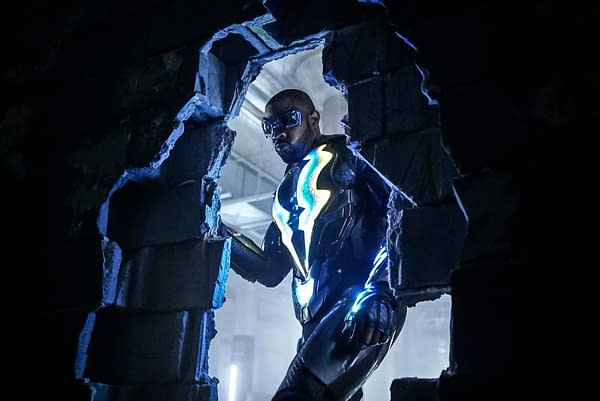 The episode starts with our new favorite reformed drug dealer Two-Bits (Jason Louder), who is now selling DVDs and baby clothes. He sees a a kid from Garfield High take some Green Light and suddenly start giving off a fiery glow. Then a white van pulls up — two guys get out, stun the girl, and take her away in the van before Two-Bits can do anything.
Meanwhile Anissa (Nafessa Williams) follows up on the tip she got from Gambi (James Remar). She finds the kids in the pods and realizes they're alive. She is about to smash one of the pods but decides to go get Jefferson (Cress Williams) instead. And over at Club 100, Lala (William Catlett) is still seeing dead people, but this time it's his cousin Will (Dabier), whom he killed in episode 2. Lala gets upset that his boys are just hanging around and not out selling product. One of them tells him that no one is interested in anything but Green Light, and since the supplier is down, no one's buying. It turns to a confrontation and Lala rips the dude's ear off and then kills him. The other guys do whatever Lala says at that point.
Black Lightning and Thunder return to find the warehouse empty of the pods, but a group of armed ASA operatives are waiting for them. The father/daughter team use some impressive moves to take out the troops and then leave. Back at the house, Jefferson explains to Anissa about how Gambi used to work for the ASA and why he can't trust him anymore. The next morning Two-Bits comes to see Jefferson and tells him about the girl being taken. Jefferson is worried — he tells Jennifer (China Ann McClain) to stay home and has Anissa stay with her. Jennifer gets upset and while talking to Anissa, her powers surface and she turns into her lightning form, burning the cushions on the couch.
Lala meets with a supplier, asking for a large amount of drugs. The guy is hesitant, knowing sales are down because of Green Light and not being sure about where Lala had disappeared to. Lala puts his mother's life up as collateral. Jefferson goes back to see Lynn (Christine Adams), who urges him to get Gambi's help. He tells her he'll check with Two-Bits and use his "electric vision". The latter leads to the two flirting a bit.
While over at the tailor shop, Proctor (Gregg Henry) and a few ASA agents show up and take Gambi. The know that Gambi found those pods and that Black Lightning found them soon after, so they figure Gambi told Black Lightning. They start beating him to find out who Black Lightning is. When he won't talk, Proctor sends them to get Jefferson, whom Gambi has been protecting for years.
Lynn uses an MRI to figure out that Jennifer is like a human generator. Where Jefferson works like a battery, pulling in energy and the sending it out again, Jennifer creates her own energy. The ASA scoops up Jefferson and takes him to where Gambi is. He causes a blackout, giving Gambi the chance to take out the two agents. Jefferson gets Gambi to safety, and they mend some fences. Gambi tells him he needs to find the ASA's spotter, their new version of what he used to do — someone in the community who keeps an eye on the kids to see who gets the abilities from Green Light.
The episode ends with Proctor talking to his spotter, and we see the little girl that had been taken is now in a pod. The spotter turns out to be Kara Fowdy (Skye P Marshall), Garfield High's vice principal. Proctor then tells her that Jefferson is Black Lightning — something she doesn't believe at first, but Proctor explains about the blackout that happened. Kara assures Proctor she can take Jefferson down.
The scene with Black Lightning talking to Two-Bits with the lady dropping appliances was just brilliant. I could watch that scene multiple times and still laugh. Gambi continues to be a badass even when getting beaten. I like that they're doing a lot of callbacks to early episodes like with Will, Neema, and Malik. The early fight scene with Thunder and Black Lightning was awesome.
But the thing that got my attention the most was the thing with Fowdy. Early interviews and scenes from the pilot showed a different Fowdy, who was called a Council Woman at one point and seemed to be more than a friend with Jefferson. And interviews say that she was his new girlfriend, but it was cut. That makes me wonder if the long-term plan has always been to make her an agent for the ASA or if this was a change to justify keeping the character around. How even more interesting would it be if she had been romantically involved with Jefferson not knowing he was Black Lightning?
Next week things get turned up a notch or three as Jefferson Pierce is arrested.
https://youtu.be/pPr_rj9eJlU