Black Lightning Season 1: New Clip Shows Black Lightning and Thunder in Action
The CW has released a clip from tonight's new episode of Black Lightning and we get to see Black Lightning and Thunder in action again. The 10th episode of the season is called Sins of the Father: The Book of Redemption. The clip has a bit of a spoiler in it, so don't read on if you don't want to know.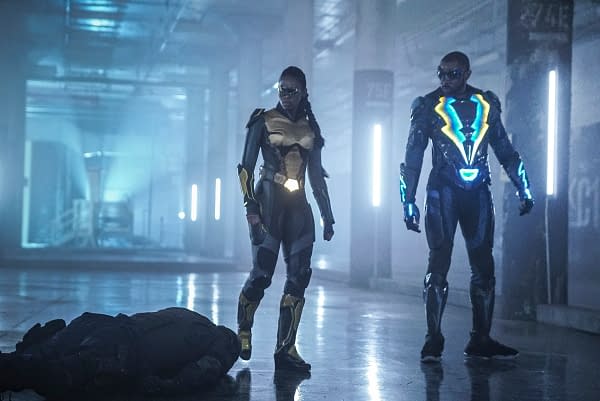 The clip below is a little spoilery in that it tells us that the kids in the tank that Gambi (James Remar) discovered last episode and that we've seen in the trailer for tonight that Thunder (Nafessa Williams) finds have been moved. But the scene has me wondering just how much training have they been doing. These two work like a well oiled machine here, and it's really damn impressive. Accenting each other's powers. Black Lighitng (Cress Williams) giving Thunder a boost so that she can come down harder and shake the ground more. Her standing in front of her father to protect him from bullets as he fires electricity around her. And no words spoken, they just have the timing down. It's a really well put together action scene.
Black Lightning airs tonight at 9 PM on the CW.
https://youtu.be/r9PVaHObNnI