Posted in: Netflix, Review, TV | Tagged: black mirror, netflix, topher grace
---
"Black Mirror" S05, Ep02: "Smithereens" Reflects on Digital Addiction
[rwp_box_recap id="0"]
There is a subtle, sinister subtlety to "Smithereens", with a slow boiling psychological dissection that runs through the second episode of Black Mirror's abbreviated fifth season.
Chris Gillhaney (Andrew Scott) is a driver for a ride-share service called Hitcher. He tries to relax by meditating between rides, but he's having a hard time getting into the "zone" before his next fare arrives. For the second day in a row, he finds himself picking up a fare from a business called Smithereen… but that's all by design.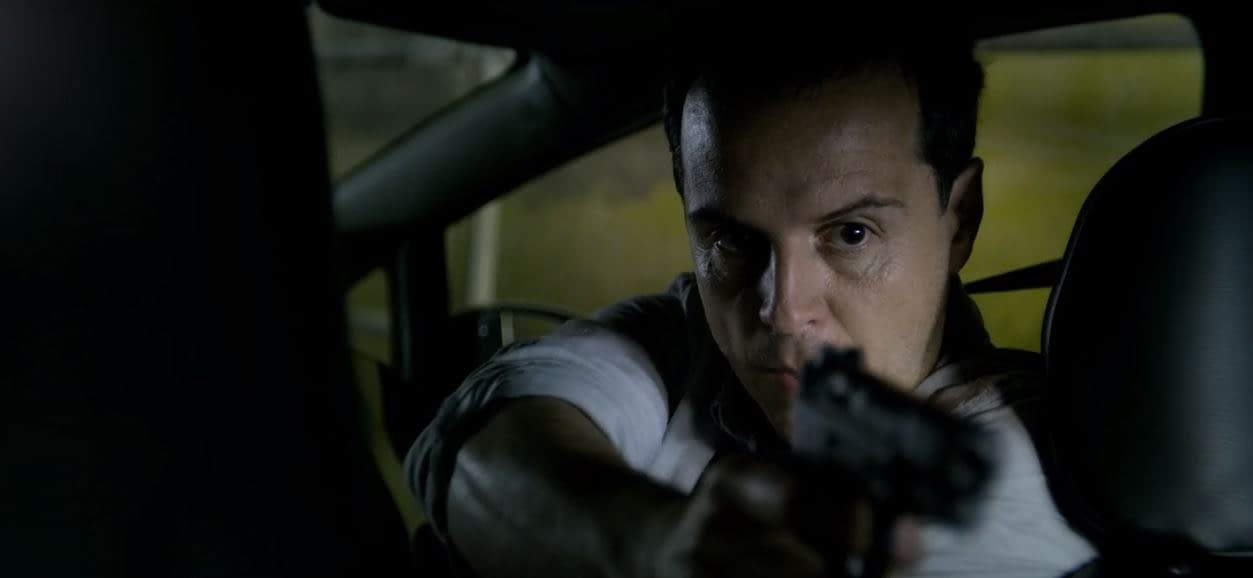 Chris appears to have trouble with the ambient noise from people's texting. He's seen in a cafe, where the sound of people tapping away at their devices starts to chip away at his resolve. He picks up Jaden (Damson Idris), a Smithereen employee, and takes him to a secluded area, where he zip-ties the man and starts yelling at him.
Chris melts down over how young all of the employees are, and how hooked they appear to be to their smart phones. Chris puts Jaden in the back seat of his car with a sack over his head, which draws the attention of the police.
He stalls his car out in a field trying to evade the police, and threatens to kill Jaden if they don't leave him alone. Chris wants to speak with Billy Bauer (Topher Grace), the owner of Smithereen.
There's an interesting visual juxtaposition, with Chris, who is obviously disturbed by the proliferation of mass communication, in a stalled out car surrounded by phone lines. It's a lonely, desperate scene.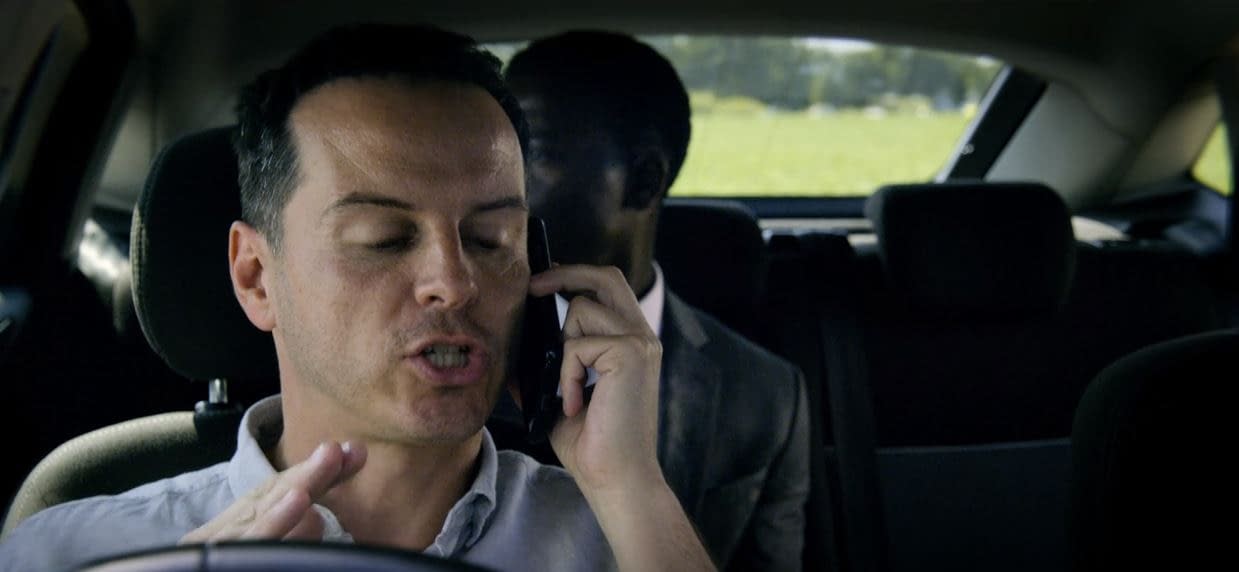 A tense stand off ensues, with Chris and Jaden in the field, surrounded by police sharp-shooters as the higher-ups at Smithereen try to assess the situation.
The whole situation starts to play out on social media, with nearby teens posting updates to their feeds. Police find Chris' mom's home, and the evidence board that he's keeping on Smithereen and how many people are linked together through the social media service.
"Smithereens" dives into the kind of information that giant tech companies can gather on a person, and how easily companies like Smithereen can pry into the private history of their users. Chris lost his fiance to a drunk driving incident in 2015, and Smithereen knows all about it before the police do, just by scanning his online profile.
Nothing in Chris' life is private. Nothing in anyone's life is private.
Even the hostage negotiations are handled via smartphone, with Smithereen listening in the background. It's terrifically well acted, and the tension keeps building with a slow burn that would be hard to pull off, especially when your main character spends 80% of his screen time in the front seat of a car.
"Can't take my eyes off of you" keeps playing in the background of this episode of Black Mirror, and it's chilling. It repeats throughout the episode, and I don't think the song will play out for me the way it used to now. We can't keep our eyes off of our phones.
Pardon the way that I stare
There's nothing else to compare
The sight of you leaves me weak
There are no words left to speak
But if you feel like I feel
Please let me know that is real
You're just too good to be true
I can't take my eyes off you
Programmers built social media to be addictive, according to former Facebook executive Chamath Palihapitya. He spoke at length at a talk for Stanford Graduate School of Business students in 2017:
"It literally is a point now where I think we have created tools that are ripping apart the social fabric of how society works. That is truly where we are," he said. "The short-term, dopamine-driven feedback loops that we have created are destroying how society works: no civil discourse, no cooperation, misinformation, mistruth. And it's not an American problem. This is not about Russian ads. This is a global problem."
That is the absolute root of the matter in "Smithereens", as Chris finally gets his moment with Billy on the phone. That dopamine feedback loop of instant gratification, and the consequences of how hard wired we've become in our quest for that "fix", comes to light at the same time as Chris' tragic history does.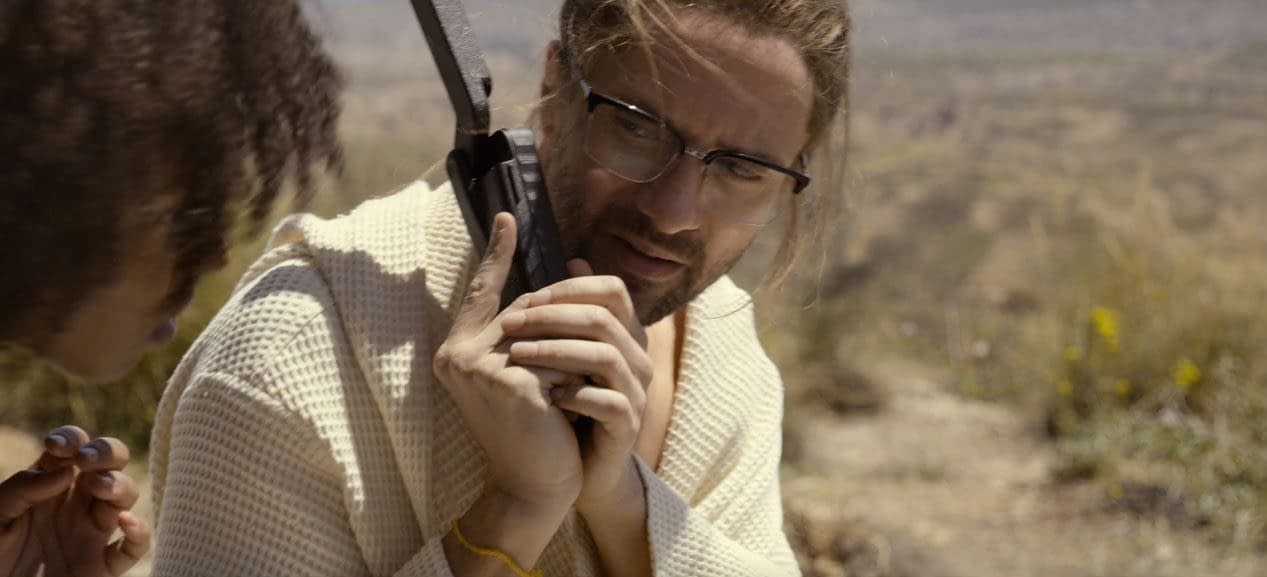 I have seen a lot of complaints about this season of Black Mirror, with people claiming that the show has lost its edge- I'm afraid I wholeheartedly disagree. There may not be many twists or sudden turns, but there is a subtle, intensely sinister tone to the warning signs that the show likes to impart on its viewers.
We are, at our core now, addicted to our social media. Most of use tune in daily, if not hourly, afraid to miss that vital piece of information from a friend, or that cute dog video that helps make the grinding hell of work just a little easier to get through.
There's even a good chance that you found this review through a social media link, and that your clicking on this article is giving me that little boost of dopamine that keeps me going. When I look at this episode of Black Mirror through that lens, I'm afraid the edge is all too sharp.
---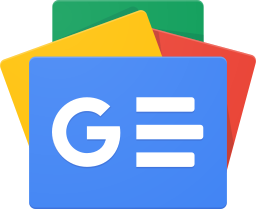 Stay up-to-date and support the site by following Bleeding Cool on Google News today!