It's possible that Netflix is now just trolling their viewers. They've released yet another trailer for an episode of the upcoming fourth season of Black Mirror without giving a release date. I've seen folks asking online, and the best answer has been "2018… I hope." They're definitely working up the anticipation for the new episodes. Today's trailer is for Metalhead, an episode written by series creator Charlie Brooker and directed by David Slade (American Gods, Breaking Bad, 30 Days of Night). The episode appears to be in black & white and stars Maxine Peake (Silk), Jake Davies (The Missing) and Clint Dyer (Hope Springs).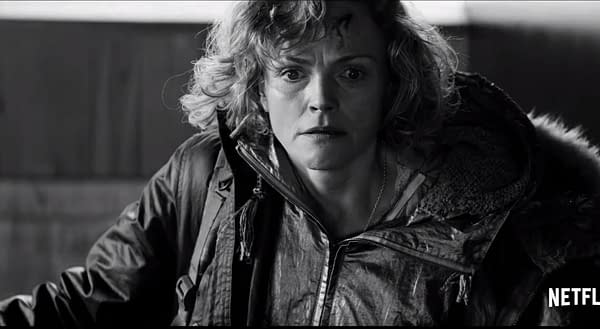 The clip shows Peake calling someone for help and explaining that they had found a dog in the warehouse. We see someone fall off a ladder and Peake runs in terror. Then she talks about how she's "lost it for now," and believes it's "still operational". We then see her car being forced off the road and she says, "If I don't make it back, I've always loved you all."
This is the fifth trailer released for the new season without giving a release date. Fans had been hoping to see the new series this month, but it was not listed on the streaming services December arrivals. I'd think it would be likely to see the show released with the new year, unless they're taking a similar approach to what they had originally planned with Marvel's The Punisher and just suddenly release the series. The Vegas shooting made Netflix scrap that idea, but they might be pulling that out here and releasing it as a surprise on, say, Christmas day or New Years Eve.
Enjoyed this article? Share it!