Breaking Bad Starring Penn Badgley? You Star Tested for Jesse Pinkman
Surrounded by puppies, You star Penn Badgley confirmed that he had tested for the role of Jesse Pinkman (Aaron Paul) for Breaking Bad.
---
It seems like folks just can't get enough of Vince Gilligan's and Peter Gould's Breaking Bad/Better Call Saul/"El Camino" universe. Frito-Lay's PopCorners brought back Bryan Cranston (Walter White, aka Heisenberg) & Aaron Paul (Jesse Pinkman) to resume their award-winning roles for one of the rare standout Super Bowl ads from last weekend. And when buzz builds for a beloved show, you usually get to find out some interesting facts about the series you never knew before. For example, we had no idea that You & Gossip Girl star Penn Badgley was pretty close to being the one reuniting with Cranston over snack chips instead of Paul.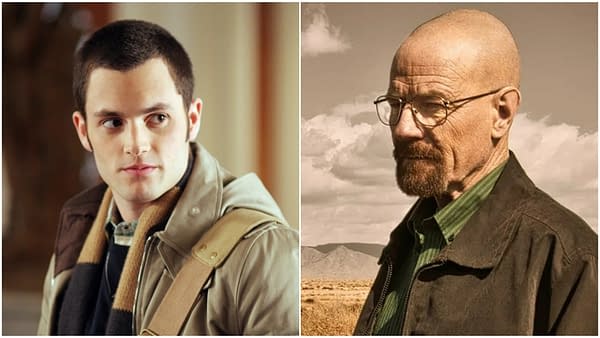 In BuzzFeed Celeb's "The Puppy Interview," Badgley revealed the fact while under the influence of… puppies! "One I got so close on was 'Breaking Bad.' It was between me and Aaron Paul. We tested. And actually that was the best television script I'd read at that point. That was the one that got away," the actor revealed. Four year prior, Badgley's Gossip Girl co-star Chace Crawford (Amazon's The Boys) shared with The Independent that Badgley was up for both the role of Jesse Pinkman and Dan Humphrey (Gossip Girl) at the same time. "If you want an interesting story, Penn screen-tested for Jesse. He didn't even test for 'Gossip Girl;' they offered it to him – but I remember him telling me he screen-tested for Jesse. He would have been kind of a different choice, but right around the time 'Gossip Girl' was getting cast, he screen-tested, but Aaron Paul got it instead," Crawford revealed. Here's a look at Badgley's puppy-fueled BuzzFeed Celeb interview video, where the actor also discusses everyone's obsession with Joe, the most recent Gossip Girl cast member he texted, which You scene was the most gruesome to film, and more:
Walter White Is The One Who Snacks
Now, here's a look an extended look inside the PopCorners multiverse as Walt & Jesse look to get their recipe out on the street- and that means having to make a deal with Tuco Salamanca (Raymond Cruz). And let's just say that Tuco's just as "passionate" about snack chips as he is about crystal meth. And following that, check out the news this week that Breaking Bad will be going the K-Drama route:
And here's a look back at how Cranston got back into his iconic role one more time for the Super Bowl ad:
Breaking Bad: The K-Drama
In an exclusive report from Hankyeoreh (and reported by Yahoo! News), South Korean production company JP E&M Producer Park Bum-Hoon revealed that a remake of the award-winning AMC series is on the way. Currently set for four seasons, director Lee Chang-Yeol (A Song for My Dear, Happy Together & Trick) is set to helm the first season (which has already been written). Reports are that casting is currently underway, with the series expected to hit screens sometime in 2024.