"Brooklyn Nine-Nine" Season 7: Check Out First 99 Seconds of Season Premiere "Manhunter" Here! [VIDEO]
Standing as one of the best moves by a network, NBC saved the series (and renewed it for an eighth season) – and then last week, Brooklyn Nine-Nine dropped its Season 7 trailer and it's looking bodaciously rad. Staged with a 1980's vibe, all that was missing were leg warmers and big hair. Jake Peralta (Andy Samberg) and recently demoted to beat cop Captain Holt (Andre Braugher) are back with a 'bad to the bone' swagger – taking criminals off the streets one "big bad" at a time.
https://youtu.be/QuJ1ih5srzw
An assassination attempt, Halt in blue, and Peralta making convoluted jokes that no one quite understands, except possibly Boyle (Joe Lo Truglio) – finally, my end of the day comedic detox show is less than two weeks away.
Now we're getting a look at the first 99 seconds of premiere episode "Manhunter", and the team is back in full swing: discussing random comedic nonsense, giving us hilarious anecdotes, and getting me to ponder the motion of the ocean – or rather Boyle's pelvis.
"Brooklyn Nine-Nine" season 7, episode 1 "Manhunter": Jake leads a manhunt after an assassination attempt on a city councilor. Holt adjusts to his new position as a uniformed officer.

"Brooklyn Nine-Nine" season 7, episode 2 "Captain Kim": A new captain at the Nine-Nine attempts to ingratiate herself with Jake and the squad by inviting them over to her house for a dinner party.
We are introduced to Halt's new partner, Officer Fogel (Vanessa Bayer) – and clearly Halt is not cutting it as a beat cop although he looks damn fine in uniform. With Peralta taking charge of the manhunt, how will Halt handle his subordinate position and his new partner?
Hyped to veg out, kick back, and enjoy the new season of NBC's Brooklyn Nine-Nine – stay tuned for our season-long reviews, starting with the series' return on Thursday, February 6th!
As the sixth season begins, "Brooklyn Nine-Nine" continues to follow the exploits of hilarious Det. Jake Peralta (Andy Samberg), his diverse, lovable colleagues and their more-serious-than-a-hunk-of-actual-granite boss, Capt. Holt (Andre Braugher), as they police the NYPD's 99th precinct. The new season will also dive into the marital life of Jake and his new bride, the extremely type-A Sgt. Amy Santiago (Melissa Fumero), who were married in the season five finale.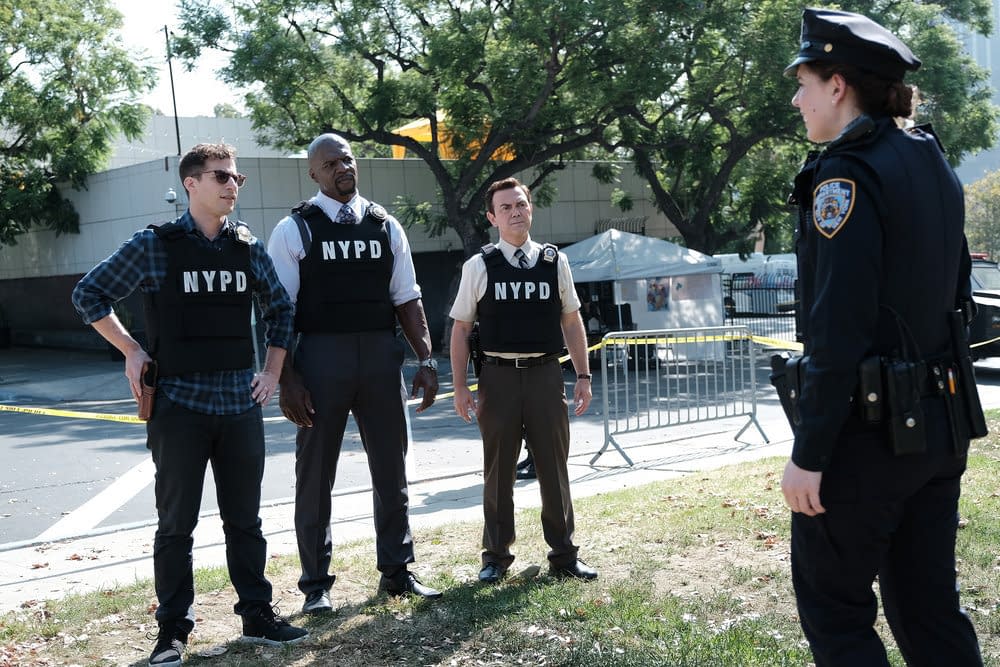 Rounding out the ensemble are Holt's next-in-command, Sgt. Terry Jeffords (Terry Crews), a muscle-bound human mountain who loves nothing more than his three little daughters, except for a fresh carton of full-fat yogurt. The man loves yogurt. Jake's fellow detectives include his best friend and human puppy dog, Det. Charles Boyle (Joe Lo Truglio), and the incredibly secretive, tough-as-nails Det. Rosa Diaz (Stephanie Beatriz). Holt's civilian assistant is Gina Linetti (Chelsea Peretti), the living embodiment of the "100" emoji. Also part of the Nine-Nine are veteran officers Det. Scully (Joel McKinnon Miller) and Det. Hitchcock (Dirk Blocker), whose only skill as police officers is their ability to make a passable pot of coffee.