"Brooklyn Nine-Nine" Season 7 "Manhunter"/"Captain Kim": Welcome Return Doesn't Miss a Beat [SPOILER REVIEW]
The crew of NBC's Brooklyn Nine-Nine are finally back to entertain us with words of wisdom, teach us important life lessons, and make us laugh hysterically at the sheer idiosity of bizarre yet successful police tactics, hilarious yet cryptic one liners follow suit, and… well then there's 'boyhunter' Boyle (Joe Lo Truglio).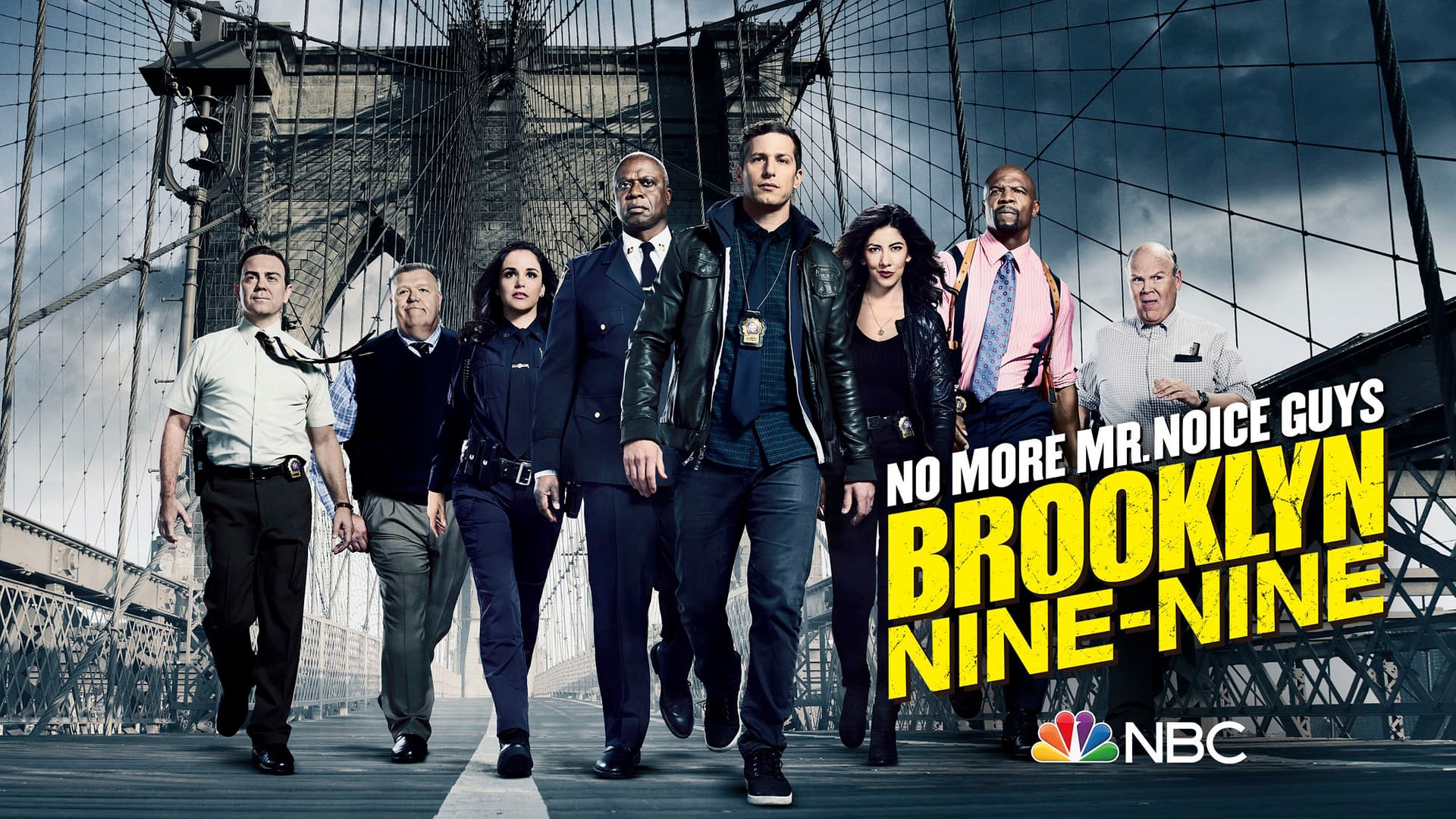 Last season left off with the '99 down a captain: Holt (Andre Braugher) demoted to beat cop for a year after word got out that he never actually completed his street duty. In his absence, or rather while he is cleaning up cones, and getting his steps in hovering around police tape, Sergeant Terry (Terry Crews) is running the show – that is until Captain Kim (Nicole Blderback) is assigned for a lengthy 48hrs before being harassed, traumatized, and transferring out.
[rwp_box id="0"]
"Brooklyn Nine-Nine" s07e01 "Manhunter"
"Manhunter" kicks off with an attempted assassination, and the team lead by Peralta (Andy Samberg) have five hours to find the culprit. At the scene, the civilians have stomped all over potential evidence as the result of one man: Holt (looking absolutely dashing in uniform, I might add). Peralta does his best to establish his dominance and order a castrated and demoralized Halt to secure the scene. In a battle of power, and a push-and-pull between what can be perceived as the healthiest father/son dynamic Peralta has ever had, he fails miserably.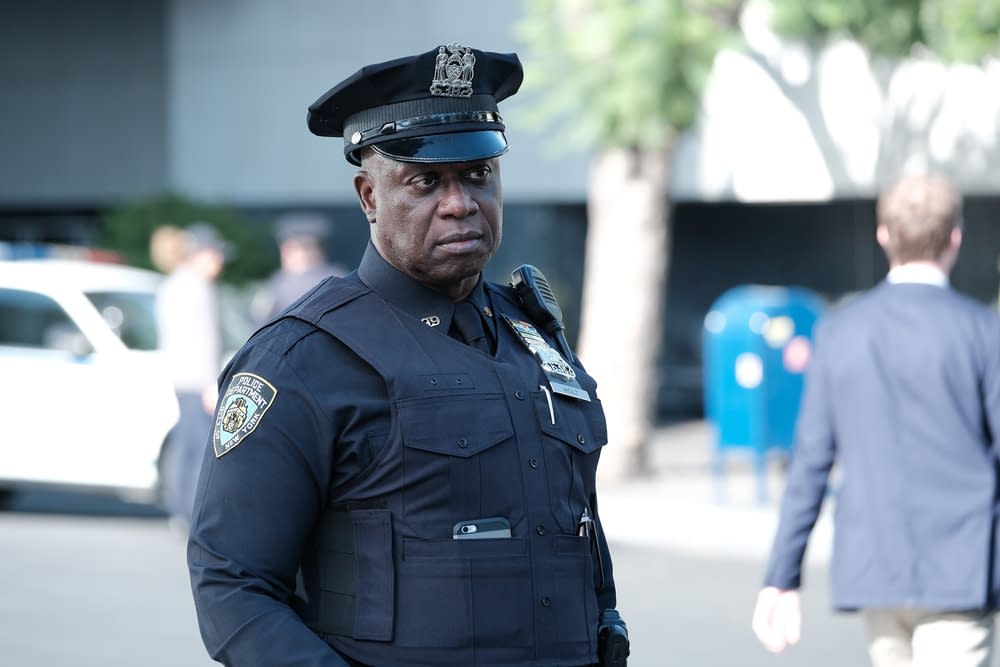 Which brings us to Fogle (Vanessa Bayer), Halt's new partner and a guru of wisdom and invisibility; inevitably the complete antithesis of Holt. While he does everything he can to take over the investigation, undermine Peralta, not listen to orders, and go rogue, Fogle just wants to blend in to her surroundings, and be on cone duty. Unfortunately, day one in this beautiful relationship leads to the duo being held at gunpoint when tracking down the assassin.
While Peralta chases a lead, Santiago (Melissa Fumero) is freaking out over possibly being pregnant, Rosa (Stephanie Beatriz) is there to aggressively scare the pee out of her, through nature sounds, breathing exercises, and 6 or 7 bottles of water, Rosa just can't get Amy to pee. Terry displays some serious unresolved issues and paranoias over their secret huddle together ("you two are talking about me").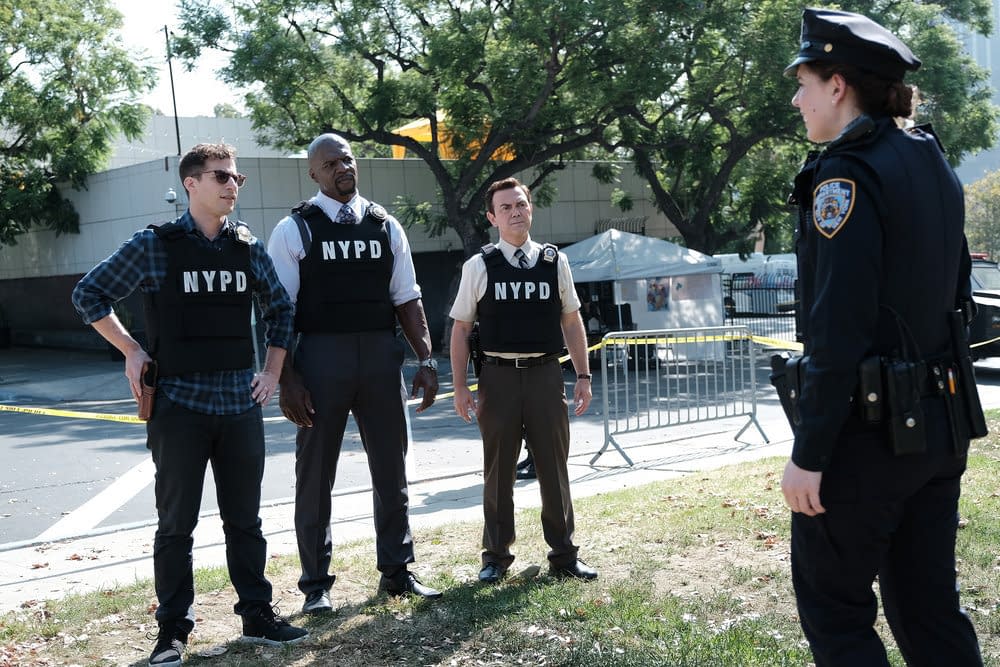 In the end, both assassins are caught – thanks to "wiener warriors" Hitchock (Dirk Blocker) and Scully (Joel McKinnon Miller), who assist with the hotdog truck location. Peralta and Santiago decide to try to have a baby, and Holt will clearly continue to undermine and take over every investigation he is part off.
Important Life Lessons:
● Life is about foot care and not getting pooped on by a pigeon.
● Grocery stores are not to be trusted when purchasing pregnancy tests.
● Don't have kids.
● Kick something to make yourself pee.

"Brooklyn Nine-Nine" s07e02 "Captain Kim"
Holt's new partner may be a pigeon? The team takes down a perp at a storage facility. What did he do? Doesn't matter, because this episode is about the new captain and Boyle being a "bad-ass" (you rock that borderline feminine sexy leather jacket). While his magic jacket build his confidence and gets him digits, Captain Kim arrives with pleasantries, love, and manipulation (according to Peralta and Holt) to the '99.
The pill popper (according to Holt) is not to be trusted, and the team is instructed by Peralta to find out why she is really here, is she a spy? Unfortunately, she's so sweet, that everyone is smitten with her and investigates nothing, except for Jake and Holt: "I'm gonna find that butt and drill down in to it". – not sure what the relevance of that quote is, but it's damn right hysterical.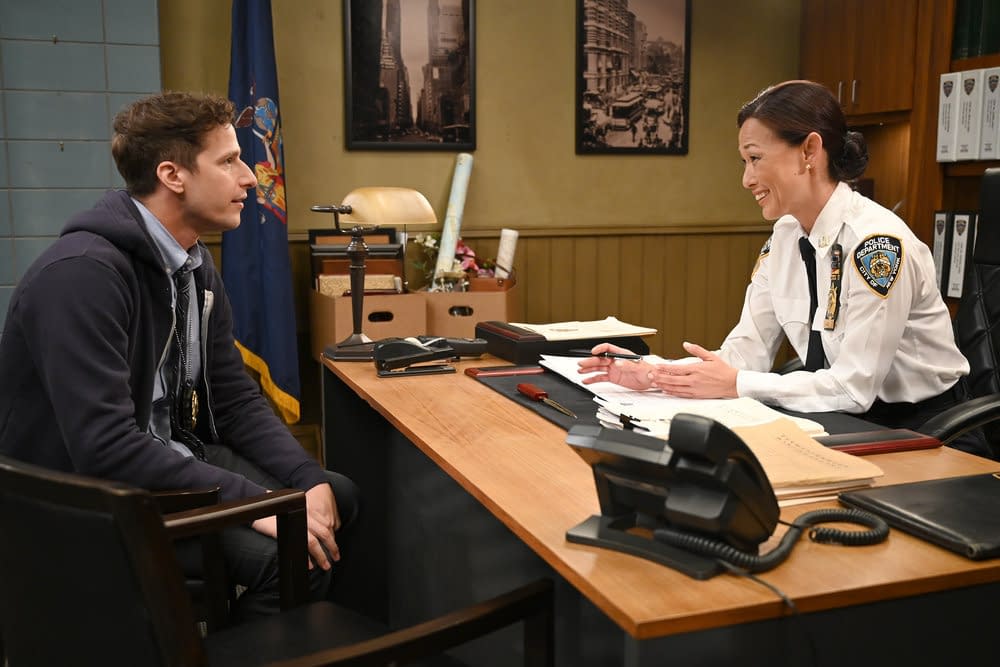 The entire '99 attends the new captain's house party, Holt even puts on his sneakers – you know, so he can "sneak" around. Santiago acts like a chaperone on steroids, dead-set on making sure Holt and Peralta don't snoop – that is, until she is distracted by organization. Jake and Holt create a distraction to retrieve a key in Captain Kim's pocket, how? After a few failed attempts, Holt throws himself down a flight of stairs – yep… nailed it! What they find is that the secret room under lock and key is housing an anxiety-driven large rescue dog who rushes down the stairs and destroys the party.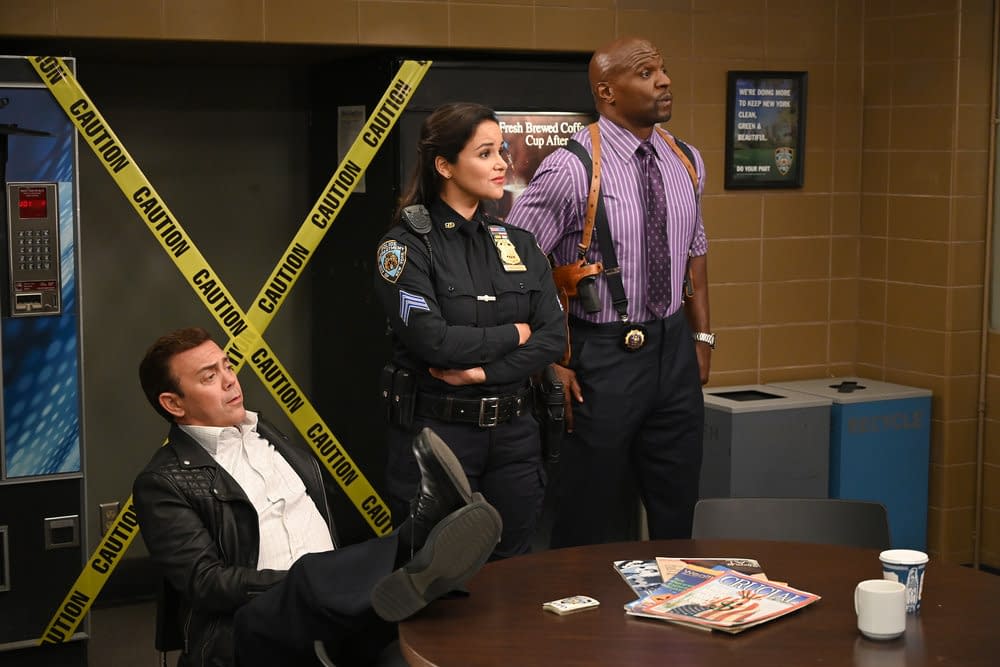 Boyle – enjoying being the "cool tough guy" and actually pulling it off pretty well – gives up his leather jacket (rather Rosa's) to a mirror image of himself – so sweet. The team admits that Captain Kim is legit and should stay at the '99 after finding out that she was warned by Commissioner Madeline Wuntch (Kyra Minturn Sedgwick) to not take the job – but because Holt is/was her hero and idle, she wanted to be closer to him. Unfortunately, clearly the '99 is a such a "shit show" that even the sweetest, most noble captain couldn't stand to be around this freak show – on to the next one!
Important Life Lessons:
● Strength comes from within.
● Be yourself, if you can't, buy a cool leather jacket.
● Throwing oneself down the stairs is an excellent distraction; raising your voice by 9% is not.