Buffy Fans Reax Thoughts & The One Question We Would Ask Joss Whedon
Over the New Year's Eve/Day weekend, I shared my thoughts on how Joss Whedon needs to find a way to do the decent thing. And that "decent thing" was to make whatever deal it is he would have to make, collect a payout, and walk away from the Buffy the Vampire Slayer universe so that the franchise could find new life as a streaming series reboot, revival, revisit, or sequel series (the tags get confusing sometimes). As much as I was expecting it to get a reaction/response, I will readily admit that I'm still a little jaw-dropped over how it was received. So much so that I felt the need to pen a follow-up addressing a few things I've noticed from the reactions of "Buffy" fans (whose opinions on the topic range greatly) as well as the Whedon apologists who have a very skewed understanding of the way television productions and on-set life work. In addition, I'm finally answering a question that was posed to me over the weekend after the editorial hit that really stuck with me. If we had Whedon on the witness stand and could ask him only one question, what would it be?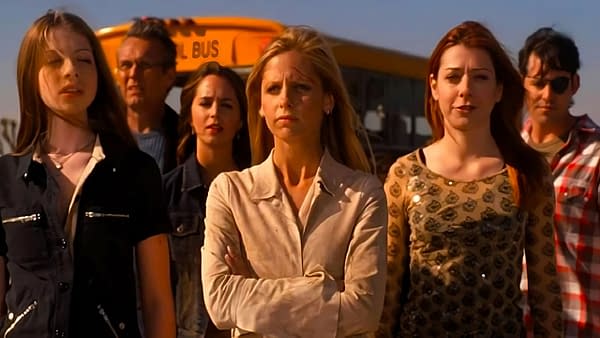 "Buffy" Fans Want a Show Revival… One That's Been Exorcized of Whedon: It's obvious by how well the franchise does in other areas (comics, novels, streaming & overall merchandising) that "Buffy" fans aren't looking to abandon the franchise that they're loved for years. But as I mentioned, a series is a commitment line-crosser that most don't want to broach without assurances that Whedon isn't collecting a check off of it or in a position to speak of it in any way. The show's themes resonate now more than ever, running ahead of its time in such a way that the show deserves to be honored by building upon the universe in new & meaningful ways. But Whedon's name attached to any series (other than a "Originally created by…" line) is a no-starter for a lot of folks.
Still Way Too Many Whedon Apologists: Though definitely not the majority, there are still a few too many folks still buying into the "Whedon Is My Master" mentality and looking to defend him. Look, I'm not here to rehash a case against Whedon because we've done a pretty decent job of mapping it out in the past. But folks need to remember that Whedon was the one who wielded the power on the set… it was his set. And with that power comes the responsibility of making sure your production "family" feels safe & secure enough to perform their craft to the best of their ability. Whedon was also overseeing a cast of young actors in age, experience, or both, requiring an added layer of responsibility. And yet, some out there still want to put the responsibility on the cast, forgetting that (for example) Sarah Michelle Gellar wasn't SARAH MICHELLE GELLAR when she started "Buffy." And even when you are a known name, you still have to be at a special level to be able to impact a set's culture over the will of a director, showrunner, or series creator. Whatever went down over the seasons while making "Buffy" (and I don't want to leave out Angel), the fallout that we've seen from it over the years screams like the result of a dysfunctional, abusive family dynamic (for what that's worth coming from your non-psychiatry degree-holding Bleeding Cool TV editor).
The One Question We Would Ask Joss Whedon: Not long after my initial editorial hit, I was going back and forth on the topic with a friend of mine when she asked if I would ever be interested in interviewing Whedon. Weighing the pros and cons, I said I would take the offer but that I didn't believe my terms would ever be accepted because a minimum of two layers of follow-up to any response would be mandatory. And then it turned into one of those A Few Good Men deals where I would get the opportunity to ask Whedon one question while he's on the witness stand (short of an obvious upfront confession). And let me tell you… that s**t stuck with me for f*****g days! But after looking over what we've covered over the past two years, it finally clicked into place.
If you offered as best a set as you could for your actors & crew, then why would a number of them, on both sides of the camera (including the actor in question), reference an "unwritten rule" that you could no longer be in a room alone with this actor?
For the sake of not pulling innocent individuals into conversations or debates that didn't ask to be a part of, I've left out the actor's name, but it's an issue that's been covered previously. I would love the opportunity to see a response to that play out live & in person, especially the body language.