"Carnival Row": Oddly Paced But Promising Fantasy Series Saved by Orlando Bloom-Cara Delevigne Magic [SPOILER REVIEW]
One evening… that is all it took for me to burn through the 8-episodes of Amazon Prime's Carnival Row, starring Orlando Bloom (Rycroft Philostrate) and Cara Delevigne (Vignette Stonemoss). I created an account just to watch the show, and while I had some issues with pacing and a few bumps here and there, I was definitely not disappointed. It was a good set-up for what seems to be a bigger story coming, which I will be looking forward to. I loved how haunting and magical it was – it kept me screaming at the screen for the whole evening (at times the story, at times at some charactes). Darn it, Amazon Prime! This year you have killed it: You did it with Good Omens, The Boys, and now you try my heart once again with Carnival Row.
It took me a bit to write this review for two reasons: I couldn't get over the feeling that I still had more episodes to go, and while I loved it I was still torn on how I felt about certain things. Bloom and Delevigne were amazing—I loved their chemistry and my favorite episode was their background story. The storyline was fun with predictable moments and at time sprinkles of little clichés and cheesiness that just worked wonderfully in its favor giving it vibes of a stage play. The visuals were beautifully dark all throughout.
I really enjoyed the character development of most character and getting to know them; for other characters, I saw them coming a mile away. The storyline with Philo and Portia was as disappointing as I expected. The moment Vignette mentioned a secret, I figured out Philo was probably a mix of fae and human… Same with Philo figuring out who his mother really was. Although I did like that Philo seemed to be such a troubled character having difficulties accepting his heritage.
All the answers to every question came fast though, which leads to my ongoing issue with the pacing—the show felt long and fast at the same time. I felt like everything kept happening fast and being solved fast; or at least some clue would come fast enough. However, there were some things brought up that we never really got to get a feel for like the Black Ravens. It was mentioned how dangerous they were, but some of their scenes fell short to me after having seen Vignette selling tickets on the street—once again having gotten acquainted with the job and the city so fast. It really did not feel like more that 5-7 days passed since she got to the Burgue.
Same with her trying to find out who the real snitch for the Black Ravens really was, now this whole part I truly had an issue finding believable mostly because of one thing: if Philo was really a good inspector, would he have told Tourmaline who was the person feeding him information from the inside? Granted, I know about his past with Vignette, but I had issue with Philo having said it so fast and without a thought plus everything that happened after. While I had problems with it I still found it pleasing though. I wonder how prominent the Black Ravens will be in the second season.
There were some really enjoyable characters along the way with fascinating stories. I truly was surprised with Imogen Spurnrose- while it dragged a bit at some points; she had one of the most fun arcs in the show. Tourmaline was another character I loved and hope we can see more of in the future, along with more back-story on her free fairy days and her relationship with Vignette. Chancellor Absalom Breakspear ended up being a better character than expected with quite a redeeming ending. His son Jonah, as well—I was surprised I ended up liking him and Sophie Longerbane, their arc development was also very fun.
However, another that gave the impression of more time having gone by than it actually did. Piety Breakspear, though, was a predictable character. What I did not see coming was the mastermind behind it, Sophie. It was a fun twist; but at the same time I was not pleased that jealousy was the whole motivation for Mrs. Breakspear's craze. At the same time, it does set up a lovely tone for the next season: I am quite curious to know how the prophecy will be fulfilled.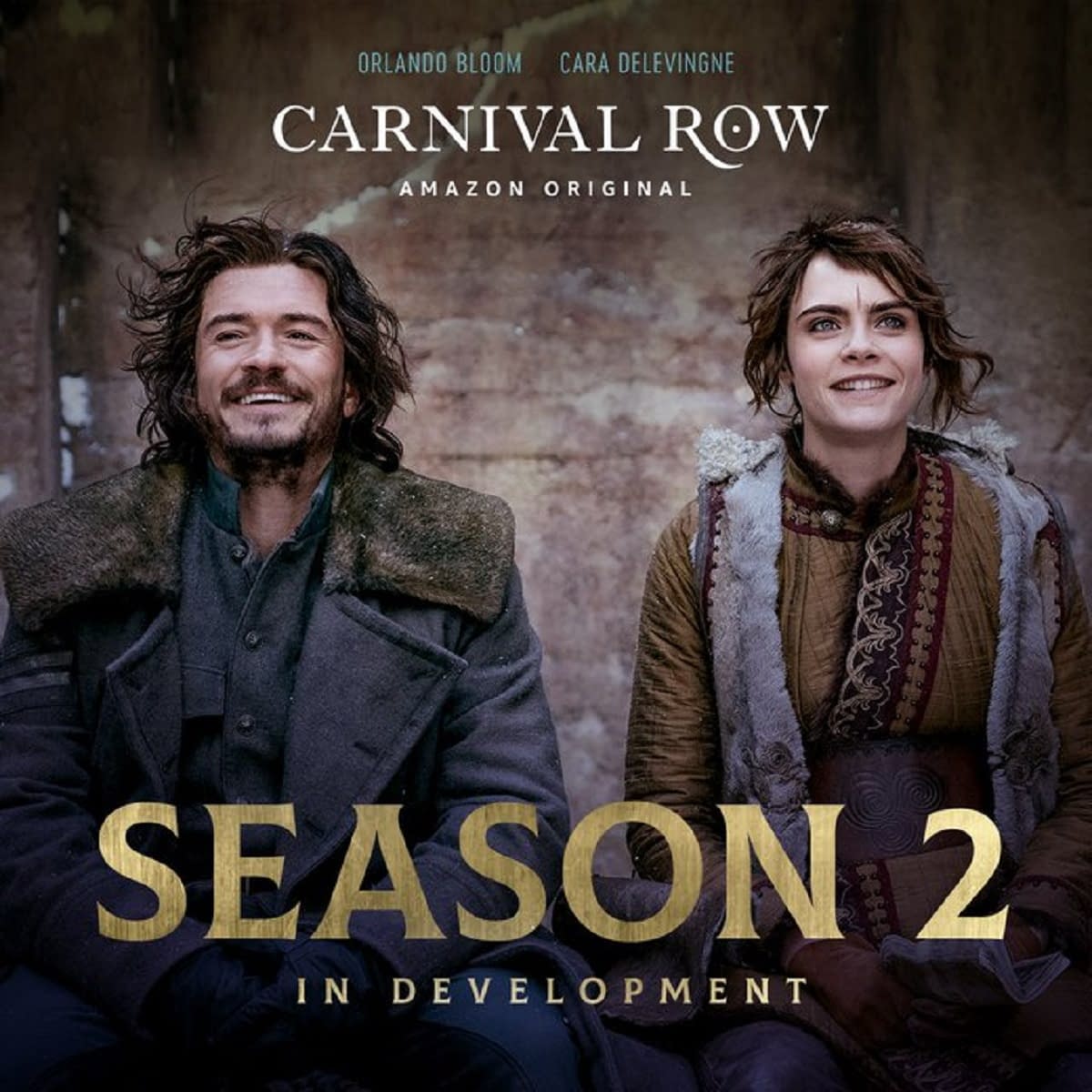 Though I must add, the ending of Carnival Row was the best part – setting a strong tone for the next season. The city goes into chaos, thanks to Sophie and Jonah. Philo, however, in the midst of the chaos finds himself in some sort of way and accept what he is. We see him telling an officer he is a "critch" and goes into the Row to be with Vignette as segregation within the Burgue starts. It was a great season finale that has me very excited and anxiously waiting for the next.