Carol Burnett: NBC Special Will Celebrate Comedy Icon's 90th Birthday
NBC will celebrate comedy icon Carol Burnett in a two-hour special for her 90th birthday, featuring an all-star lineup of special guests.
---
Paying tribute to a beloved national icon for her birthday, NBC will celebrate Carol Burnett's illustrious career with Carol Burnett: 90 Years of Laughter + Love. The two-hour special will air Wednesday, April 26, at 8 p.m. ET/PT and will also stream the next day on Peacock. The special will be filmed at Avalon Hollywood in Los Angeles.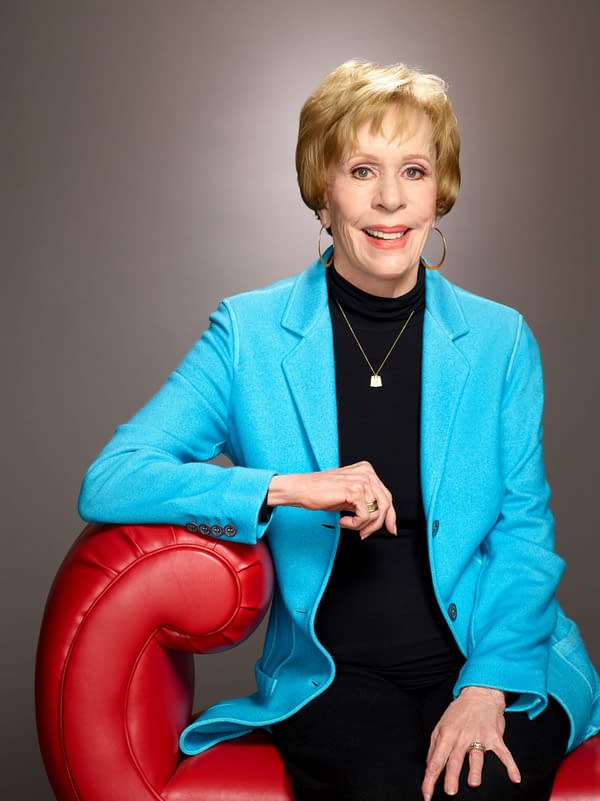 The star-studded event will feature an A-list lineup of musical performances and special guests who will come together to share their love for one of the most cherished comediennes in television history. The evening will include musical performances from Bernadette Peters, Billy Porter, Jane Lynch, Katy Perry, Kristin Chenoweth, and more.
The musical tributes will pay homage to Carol's renowned career performances, including: "Old Friends," dedicated to Carol's 60-year friendship with Julie Andrews; "Only an Octave Apart," which Carol sang alongside Beverly Sills in the 1976 television special Sills and Burnett at the Met; Carol's memorable songs from the hit film Annie; and a tribute to her classic theme song, "I'm So Glad We Had This Time Together" from The Carol Burnett Show.
Special guests attending this once-in-a-lifetime party include Aileen Quinn, Amy Poehler, Bill Hader, Bob Mackie, Cher, Ellen DeGeneres, Julie Andrews, Kristen Wiig, Laura Dern, Lily Tomlin, Marisa Tomei, Sofia Vergara, Steve Carell, Susan Lucci, Tracee Ellis Ross, Vicki Lawrence, and many more. "I'm so excited NBC decided to throw me a birthday party and invited all of my closest friends," Burnett said. "I can't wait to look back at so many wonderful moments throughout my career, I feel so lucky to share this night with everyone."
"It's hard to imagine anyone in television more beloved than Carol Burnett," said Jen Neal, Executive Vice President, Live Events and Specials, NBCUniversal Television and Streaming. "To throw this wonderful birthday celebration is clearly our honor, and we can't wait to share the love that we all have for her with all her adoring fans."
"This special is going to be the best party ever," said Mark Bracco, executive producer and president of Silent House Productions. "It will be an evening of music, comedy, and dozens of big stars paying tribute to the one and only Carol Burnett. We look forward to everyone at home celebrating right along with us."
@findingyourroots

PART 1: #CarolBurnett shares howa generous stranger changed her life and accelerated her iconic career. If you missed this week's episode of FindingYourRoots, stream the episode now using the @PBS app or go to pbs.org/findingyourroots.
The special will share some of the funniest and most memorable moments of Burnett's legendary career. From her Broadway debut in "Once Upon a Mattress," her early appearances on "The Garry Moore Show," her hit films "The Four Seasons," "A Wedding," "Pete 'n' Tillie," her iconic role as Miss Hannigan in "Annie," to her acclaimed sketch comedy series "The Carol Burnett Show," which ran for 11 seasons on CBS and played an instrumental role in the evolution of comedy. Burnett's variety show co-star Vicki Lawrence will be in attendance, along with costume designer Bob Mackie. "The Carol Burnett Show" continues to make people laugh more than 40 years later with its incredibly funny sketches, including, most notably, the hysterical Gone with the Wind satire.
Carol Burnett: 90 Years of Laughter + Love is executive produced by Burnett, Brian Miller, Steve Sauer, Paul Miller, and Baz Halpin, Mark Bracco & Linda Gierahn of Silent House Productions. The special will premiere on NBC on Wednesday, April 26th at 8 p.m. ET/PT and will also stream the next day on Peacock.