Chris Wood Wears a More Comic Book Accurate Mon-El Costume
The CW has released a new "mid-season" trailer for all their shows and while it's nice to see so many of the Arrowverse characters represented in the piece… the biggest shock has to be seeing Mon-El (Chris Wood) in a much more comic book accurate costume. We just got him in the black Legion of Super-Heroes outfit this week, but the clip below and the screen shot shows the Daxamite in the more traditional red with blue trim. And if you look very close, it looks like he has the Superman/Supergirl emblem on his chest.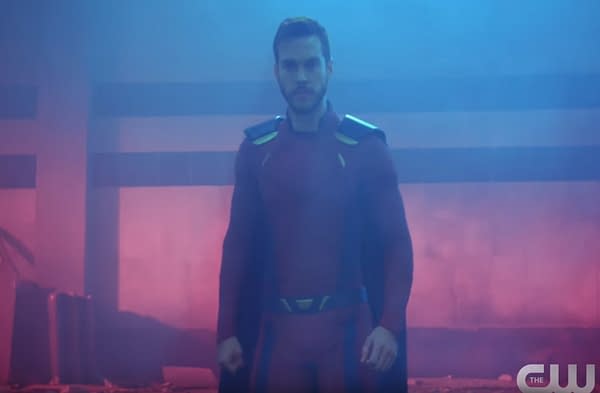 This might be something he takes on this season or it might be an outfit he wore during his seven years in the future. He used Supergirl's memory to build the ideals and hope. It would make sense for him to wear her logo at the time. Either way, it is quite shocking to see after the other costume reveal just last week. They did a pretty nice job on the costume it seems, ditching this usually 'tails' look for something a bit more streamlined. This should cause a few comic fans to be very happy when they see it.
Supergirl airs Mondays at 8 PM on the CW.
https://youtu.be/vXX9Kc6gh2g