Dark Side of the Ring: Chris Jericho on Chris Benoit, Martha Hart/AEW
Vice TV's second season of Dark Side of the Ring bookended its critically-acclaimed ratings hit with two of the most tragic and controversial subjects in pro wrestling history. The two-part opener focused on the lives and tragic deaths of Chris Benoit, Nancy Benoit, and their son, Daniel; wrapping up with a look at the shocking death of Owen Hart at a then-WWF pay-per-view event and the subsequent legal battles between the wrestling organization and the Hart family. With producers Evan Husney and Jason Eisener already looking ahead to the third season and spinoff projects, docuseries narrator and AEW wrestler Chris Jericho offered his perspective on the two episodes to tie up the second season.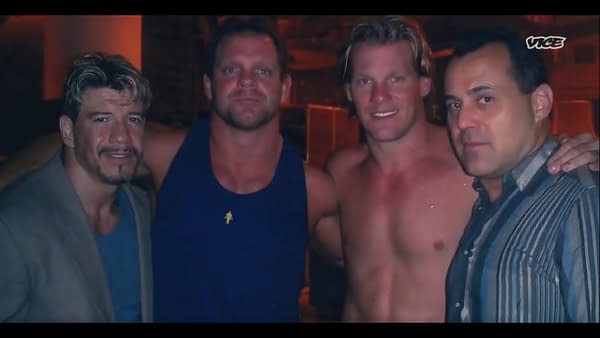 Speaking recently with Digital Spy, Jericho explained that it was Husney and Eisener's choice of topics and approach that got him involved with the season: "I thought the stories were very interesting. I thought they did a great job with putting them all together and kind of dredging up some of these tales that I'd always heard rumors about but never heard the whole story." The Benoit two-parter also features Jericho in front of the camera, making the decision to take part after learning Chris Benoit's son David, Nancy Benoit's sister Sandra Toffoloni, and wrestlers Dean Malenko and Chavo Guerrero would also be involved. "I knew that they had the right people talking about it from the right aspects," Jericho said. "They did a really good job of getting people involved that had never talked about it before and when I heard about that I was like, 'well I'd really like to be involved with this as well'."
For Jericho, the examination done by Dark Side of the Ring should be seen as the "final word" on the tragedy. But it was a story that needed to be told in its entirety: "There's no reason for any of us to ever really talk about it again. Once you get something like that with the right people and it's done the right way. It's like, okay, we've said our piece and now we can all move forward. I think [the episode] was very cathartic for a lot of people, very informative for others, very sad, obviously, but it's all there. If there's anybody that ever has any questions in the future about what went down you can go watch that episode."
Having Owen Hart's Family on Dark Side of the Ring Was Key
For the series' look at the life and death of Owen Hart, Jericho says it was the involvement of the late wrestler's wife Martha Hart and family that gave the episode heart: "I think it added a lot of humanity to the story and once again it shows how unique and how special 'Dark Side of the Ring' is. The fact that they had the respect and the accolades that were given to them from the first seasons to be able to approach Martha Hart. She's not going to go on camera for anybody and she did." Jericho sees the look back at Owen's life as giving wrestling fans a chance to have a better appreciation for how talented he was, both inside the ring and out: "I think (the episode) is causing a little bit of a resurgence for Owen Hart, who he was as a performer and as a person. I think people want to see that and want to know that, so I'm glad that she was involved."
As for the continued debate over Martha Hart's continued opposition to Owen Hart's induction into the WWE Hall of Fame, it's a decision Jericho supports and he believes the episode was able to properly convey Martha Hart's perspective: "I never thought Owen should go in the Hall of Fame it's just not right. I think anybody who had any problems with that should watch it and will understand where the family's coming from. His influence doesn't go away and it shouldn't be minimized, but if she doesn't want to do that through the WWE system I totally get that."
As Jericho sees it, the family understands that Owen Hart's career can be immortalized in more places than just Vince McMahon's company. "I think the best part of it all is, I think the family realizes there's other places to go other than WWE, there's a lot of other Halls of Fame and a lot of other places where Owen could get some of the accolades that he deserves, 21 years later," Jericho explained. One of those places could be New Japan Pro Wrestling, where Owen Hart wrestled in the late '80s. The other place is one Jericho is very familiar with: AEW. "I'd love to see (Martha) do something with AEW. I think the spirit of Owen Hart lives on in AEW for sure." Jericho has spoken before about the impact Owen Hart's career had on his own so for him, it's about giving the late wrestling the respect and recognition he deserves: "I'm a huge disciple of him. I'm very much influenced by Owen Hart so I think that whether it's New Japan or AEW I think it's important for Owen to be remembered by his fans and by the people that he influenced, myself included."