Black Lightning Season 3: When Will Thunder Suit Up?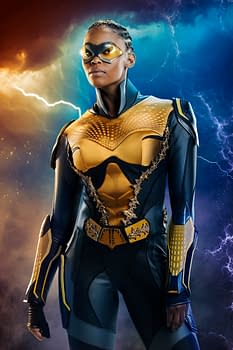 Fans were a bit surprised how early one we got to see the costume for Thunder, the alter ego of Anissa Pierce (Nafessa Williams) on the new CW series Black Lightning. Both daughters of Jefferson Pierce (Cress Williams) end up getting super powers in the comics, but no one expected that would happen so quickly in the series. But Anissa showed the first signs of her strength in the last few minutes of the pilot and the CW Released this photo of what she'd look like in her full costume.
But rarely do the CW heroes start out in their full costume, the end up with a beta version first. Green Arrow, Flash, Elongated Man all had early versions of the suits they wear now, so it would make sense that Anissa will have a beta suit as well. And last week we saw her taking on some bad guys who were trying to hurt her friend Grace (Chantal Thuy). How long before she full embraces her abilities and takes to the streets?
According to TVLine, the answer to that starts tonight. Her first choice for an outfit turns out to be a bad choice, but when she is properly outfitted by a helpful clerk, she gets a pretty good beta suit. Which we should see tonight. Now, how long until Gambi (James Remar) hooks her up?