'Deadly Class' Season 1, Episode 5 "Saudade" Takes One Helluva Trip [SPOILER REVIEW]
Deadly Class co-creator Rick Remender has been urging people to tune in to fifth episode "Saudade" for weeks now – and with good reason: this week's episode of SYFY's hit series may be one of the most original and intense episodes of any television series – ever.
The episode starts with Marcus (Benjamin Wadsworth) sitting in an office, being interrogated by a security guard. Marcus is on a lot of LSD, and his hands are covered in blood. Wadsworth plays the scene paranoid/cool, eyes frantic, skin pallid and damp. Marcus is in way over his head.
That's just the opening.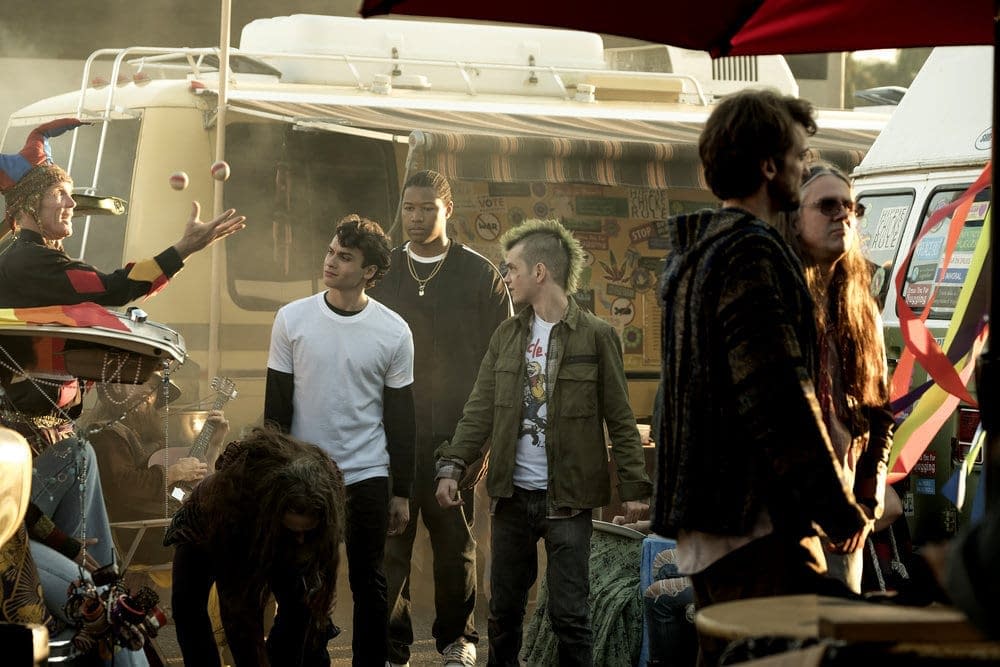 Flashback to the Kings Dominion kids, on the road to Las Vegas to kill Billy's (Liam James) father. Saya (Lana Condor) and Maria (Maria Gabriela de Faria) came along to escape their own problems at Kings, while Willie (Luke Tennie) joined the ride for fun.
Little do they know that Chico (Michel Duval) is following, loaded with guns and ammunition.
They stop to score some drugs at a hippie gathering, and Marcus takes way too much LSD, thinking that it's fake. This sets off a chain of terrifying events, most of which would be horrific without the drugs, that changes the dynamic on Deadly Class forever.
The cast is phenomenal across the board: everyone brought their A-game to this episode, which must have been a blast to shoot. Still, there are some extraordinarily emotional scenes that hit like a boot to the head. James plays Billy as such a likable, fragile person – you don't want anything bad to happen to him, ever. James steals this episode, and considering how good everyone else is, that saying something.
This week's soundtrack included "Our House" from Madness, "Let's Spend the Night Together" from David Bowie, "Holiday in Cambodia" from the Dead Kennedys (!), "To Have and to Hold" from Depeche Mode, "Brother Wolf and Sister Moon" from The Cult, and "Saudade" from Love and Rockets – which may have been the best use of music to date.
Let's jump to spoilers, since this whole episode is impossible to dissect without going there! "Saudade" was shot almost entirely on "Acid Vision": undulating auras, pulsating light coronas, and animated neon nightmares wandering through the character's field of vision. Saya and Maria are like acid sages to Marcus, revealing cryptic clues about neon mountains and conspiracies he's too far gone to grasp. The entirety of the drug experience is unlike anything we've ever seen on television.
Take the drug-fueled nightmare of Las Vegas, and add the very real menace of Chico and Chester "F**kface" Wilson (Tom Stevens), and you have a recipe for disaster.
Chester wants to be famous, and decides to leave Marcus alive so that he can see him on Donahue. What is Chester going to do to warrant such fame? Do we want to know?
Chico is all rage and violence, and Duval is terrifyingly grounded in his performance. Chico isn't some action movie killer: he's very much a creation of our world. Chico's showdown with the rest of the kids (after curb stomping Marcus near to death) is chilling – and the scene gives each and every player a chance to shine.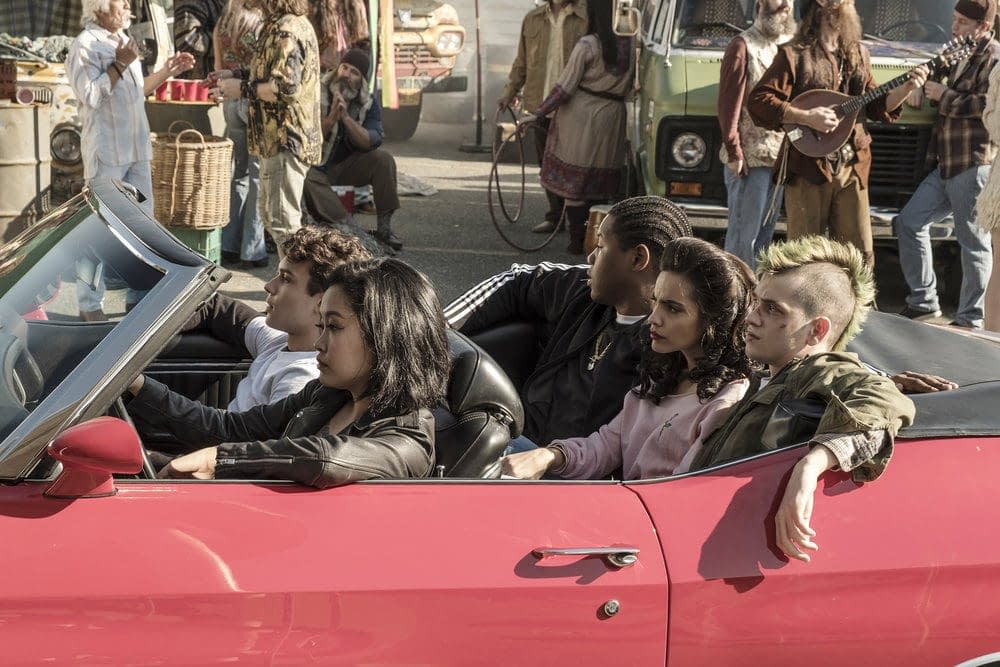 Oh, that ending…
Deadly Class was already one of our favorite new shows of the year, and "Saudade" just cemented that for me. Well done! Next up is the thankfully Maria-focused "Stygmata Martyr," set to air Wednesday, February 20 on SYFY:
From Sony Pictures Television and Universal Cable Productions, Deadly Class was adapted for television by original comic book series writer Rick Remender and Miles Orion Feldsott, who will serve as executive producers alongside Joe Russo and Anthony Russo (Avengers: Infinity War, Captain America: Civil War), Mike Larocca (Spy) and Mick Betancourt (USA's The Purge, Shots Fired). Remender, Feldsott, and Betancourt will also share showrunner duties on the series.