"Deathstroke: Knights & Dragons" – Do People Still Think It's Smart to Double-Cross Slade Wilson? [TRAILER]
Looks like fans just can't get enough Slade Wilson. With DC Comics' deadliest assassin tearing up the second season of DC Universe's Titans, the CW announced during its 2019 May Upfronts presentation that an animated Deathstroke was on the way. In the tradition of Vixen and The Ray, CW President Mark Pedowitz revealed that the project would debut through the CW Seed service.
Now that "project" has a name: Deathstroke: Knights & Dragons, a 12-episode original series with Primetime Emmy Award winner Michael Chiklis (The Shield, American Horror Story: Freak Show) that's set to debut in early 2020 – but viewers don't have to wait that long for a tease of what's to come:
Ten years ago, Slade Wilson—aka the super-assassin called Deathstroke—made a tragic mistake and his wife and son paid a terrible price. Now, a decade later, Wilson's family is threatened once again by the murderous Jackal and the terrorists of H.IV.E. Can Deathstroke atone for the sins of the past—or will his family pay the ultimate price?
Deathstroke: Knights & Dragons also stars Sasha Alexander (Dawson's Creek, Rizzoli & Isles) as Addie, Chris Jai Alex (Thundercats Roar) as Jackal and Faye Mata (Lego Friends: Girls On A Mission) as Rose, Griffin Puatu as Jericho, Asher Bishop as Young Joseph, Colin Salmon as Wintergreen, Delbert Hunt as Tiger, Panta Mosleh as Lady Shiva, Imari Williams as President/Hive Pilot, Minae Noji as Secretary of State, Noshir Dalal as Kapoor, and Castulo Guerra as General Suarez
Written by J.M. DeMatteis (Constantine: City of Demons) and directed by Sung Jin Ahn (Niko and the Sword of Light), Deathstroke: Knights & Dragons is an animated DC series from Blue Ribbon Content and executive produced by Sam Register (DC Super Hero Girls, Mike Tyson Mysteries), Greg Berlanti (Arrow, The Flash) and Sarah Schechter (Supergirl, Blindspot).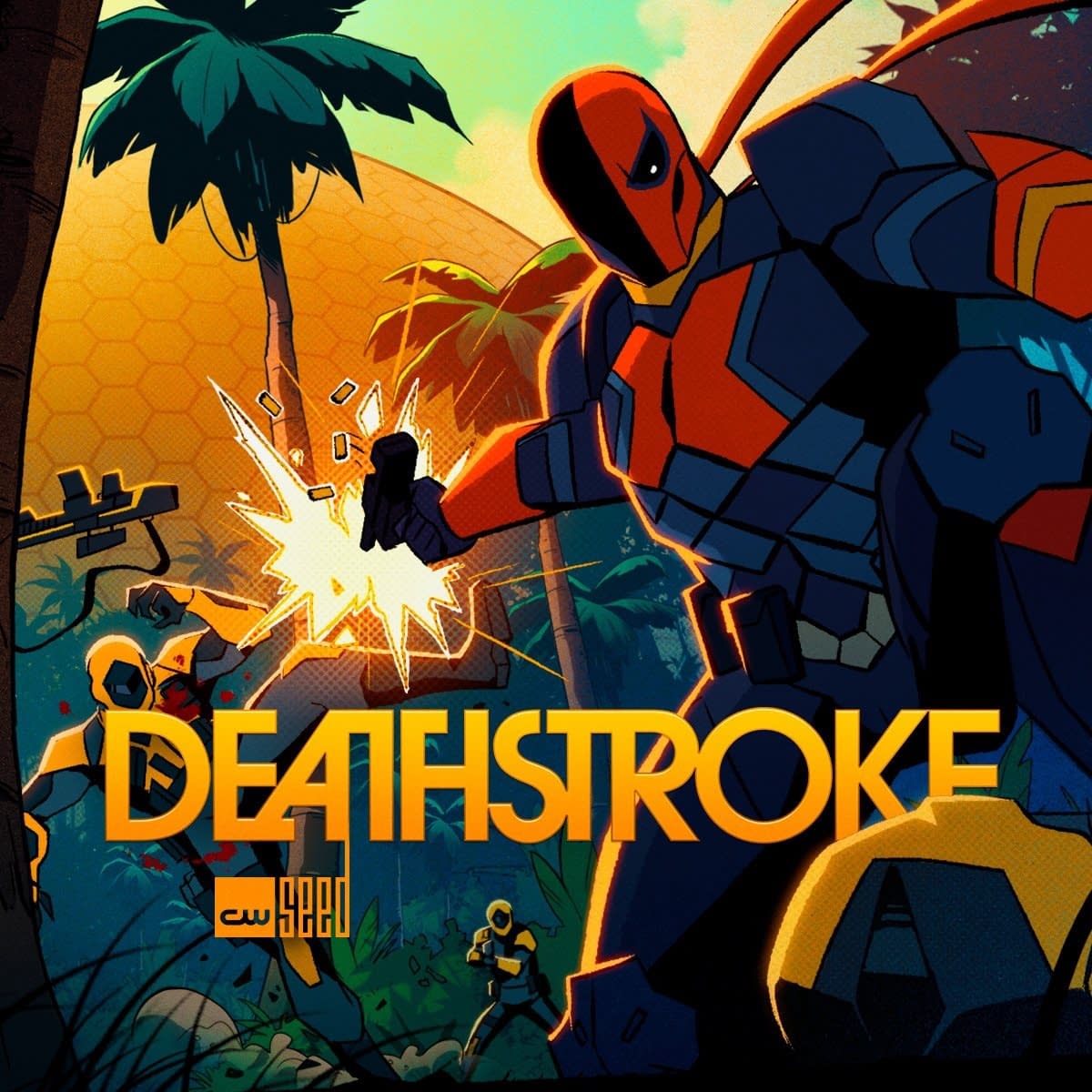 While serving his country, Slade became an elite soldier before government testing enhanced his physiology to near superhuman levels, putting him on a path of darkness and revenge. To his family, Slade is a father and husband, but to the rest of the world, he is feared by many as the infamous Deathstroke; selling his services to the highest bidder as the ruthless assassin that never gives up and never misses.
Daughter of the deadly assassin Deathstroke, Rose Wilson was forced to undergo the same procedure that granted her father nearly superhuman abilities, becoming a weapon known as Ravager. Mute after his father failed to rescue him from having his vocal cords severed by assassins, Jericho has the unique ability to possess anyone just by making eye contact.