Derek Zoolander Extends His Pepsi/Super Bowl 15 Minutes Of Fame
Outshining Steve Martin & Ben Stiller in their own Super Bowl ad, Derek Zoolander is going solo in new ads to promote Pepsi Zero Sugar.
---
Look, as great as it was to see Steve Martin and Ben Stiller promoting Pepsi Zero Sugar during last month's Super Bowl LVII as part of their "Great Acting or Great Taste?" campaign, it was clear that it was one person who captured the hearts & minds of not just a grateful nation but a loving world. That's right, three-time Male Model of the Year and focus of the Paramount Pictures "documentary" named after him, Derek Zoolander, is going solo with his love for Pepsi Zero Sugar in a new ad campaign that takes fans behind the scenes to get to know the real Derek Zoolander.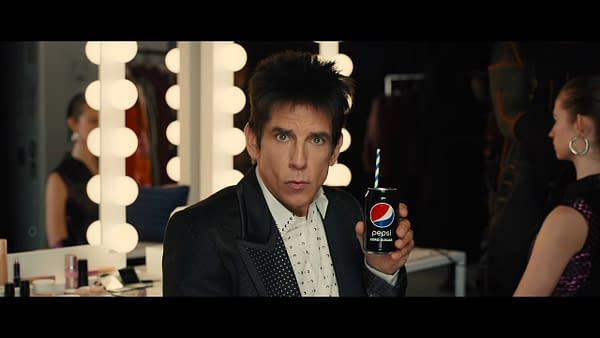 In the clips below, Zoolander urges us to try Pepsi Zero Sugar for ourselves so we can know for sure that we love the beverage for how it tastes and not just being seduced by his one-of-a-kind modeling/acting super powers – take a look:
And here's a look back to Zoolander's return to the main stage during last month's Super Bowl LVII:
"We have an advantaged product with the new and improved taste of Pepsi Zero Sugar, so we couldn't be more excited that people everywhere are trying it for themselves in response to our recent 'Great Acting or Great Taste?' campaign we ran on the Super Bowl," said Todd Kaplan, Chief Marketing Officer – Pepsi. "Derek Zoolander has seen a cultural resurgence, with his newfound Tik Tok fame that has been amplified by his role in our Super Bowl campaign, so it is only fitting that we extend this campaign to give America's favorite 'model-slash-actor' his own commercial. With this next group of ads, Derek, along with Ben and Steve, continue to take this campaign to new heights, driving home the simple consumer truth that the best way to find out if you like a product is to try it yourself – which is what we hope people will do with Pepsi Zero Sugar." For his part, Zoolander added, "Who am I?"