Did Ryan Murphy Just Talk Himself Into Shooting A New Glee Pilot?
Maybe it's the long hours and multiple projects he has spinning at the same time, but we can't help this feeling we have that The Politician's Payton Hobart may be having some unexpected influence over writer, showrunner, and executive producer Ryan Murphy'. To be honest, we're not sure that's a bad thing considering the idea he posted early Friday for what he calls a "do over pilot" for Glee. While showing Lea Michele, Ben Platt, and Beanie Feldstein some well-deserved love and respect, Murphy sets up a series outline that had our eyebrow arched with interest. Just in case Murphy is taking an unofficial vote, count us in as a major "YES" when it comes to that. The next part is where the "fun" begins: speculating over who should be cast, and if it should exist in the Glee universe ("Glee-verse"? "Glee-niverse"?)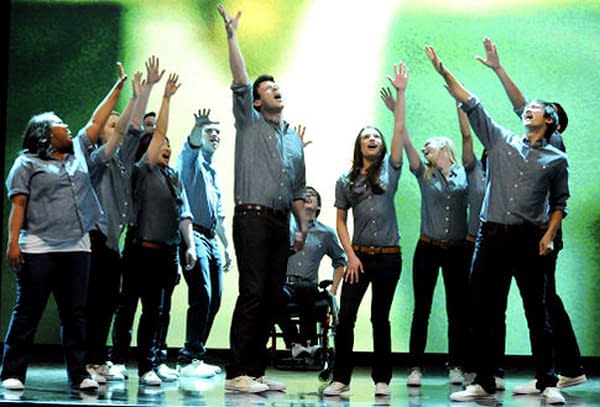 Imagine it's 2009, and I lived in a world where I knew Lea Michele, Ben Platt and Beanie Feldstein (Ben and Beanie, I believe, were in high school then…and I think they dressed up as Glee characters once for Halloween?) If I had access to that talent, here's the new pilot: Lea and Ben are frenemies who fight for the heart and soul of Glee Club. Ben is also on the football team, and pretty much sleeps with the entire school and is the heartthrob of McKinley. Beanie is their mutual best friend, and torn. Suddenly, Beanie joins forces with Sue Sylvester, joins Glee Club and becomes the main soloist and the ruthless star of the club. Lea and Ben have to then join forces to dethrone her. I WANT TO SHOOT THIS DO OVER PILOT. Maybe I will?
Set to hit the campaign trail on Friday, June 19, here's your look at the second season of The Politician, starring Ben Platt (Payton Hobart), Theo Germaine (James), Laura Dreyfuss (McAfee), Rahne Jones (Skye), Julia Schlaepfer (Alice), Lucy Boynton (Astrid), Judith Light (Dede Standish), Bette Midler (Hadassah Gold), Gwyneth Paltrow (Georgina Hobart), Zoey Deutch (Infinity), Bob Balaban (Keaton Hobart), David Corenswet (River Barkley), Jessica Lange (Dusty Jackson), and Benjamin Barrett (Ricardo). The series is produced by Fox 21 TV Studios in conjunction with 20th Century Fox TV. Murphy executive-produces alongside writers Brad Falchuk and Ian Brennan.
In the second season of Netflix's The Politician, Payton (Ben Platt) looks to unseat Dede Standish (Judith Light) in the New York State Senate race. As a long-time incumbent and greatly admired Senate Majority Leader with no-nonsense Chief of Staff, Hadassah Gold (Bette Midler) at her side, Dede's re-election was supposed to be easy, but Payton — who sees this as the next step on his path to the presidency — must decide what kind of politician he ultimately wants to be in order to succeed, even if that means exposing secrets, lies, and a throuple.