This is one of those times when listening to a podcast reminds you of something you half-remember watching- in this case, an episode of Jon Favreau's AWESOME series, Dinner For Five. Specifically, if you give a listen to Kevin Smith's recent Fatman Beyond podcast (recorded live at Scum and Villainy Cantina in Los Angeles), the filmmaker waxes poetic about the late great Stan Lee with cohost Mark Bernardin.
One of the stories that Smith tells is about the time he stepped in to host Dinner For Five for Favreau, and picking his panel of dining companions. The episode in question included Mallrats star Jason Leigh, Star Wars Legend Mark Hamill, the young producer behind Alias and LOST JJ Abrams, and Stan "The Man" Lee.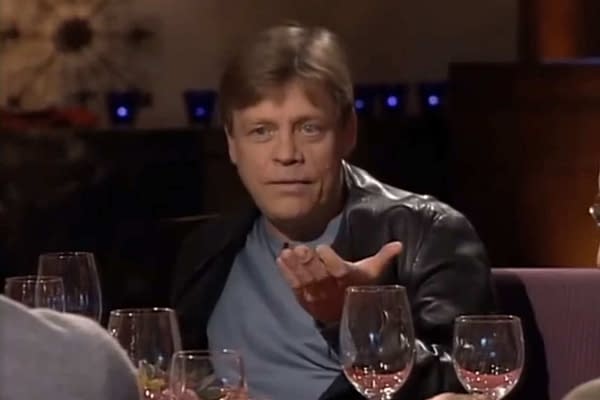 The episode (season 4 episode 9) was in 2005, in an era when there was zero Star Wars on the horizon. But here's JJ, listening to freaking Mark Hamill talk about what HE thinks Luke Skywalker got up to following Return of the Jedi. The wheels start turning, and you can see some of those little ideas get planted.
Sorry for the quality, it's almost impossible to find any of the episodes of the series in good working audio/visual order, which is a shame. [Editor's note: thanks, helpful commenters, we DO know the DVD box set is available, we own it. What we mean is- readily available for streaming.]
https://youtu.be/wmj-ouMMJfc
Sure, it's been long enough that more than likely EVERYONE has made this connection (especially with Favreau currently running the first live-action Star Wars series for Disney+, The Mandalorian), but sometimes it's fun to dust off these ol' chestnuts.
Enjoyed this article? Share it!