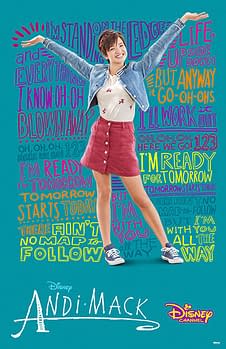 The Disney Channel has announced that their hit 'tween' series Andi Mack will be back for season 3. The cast of the series, Peyton Elizabeth Lee, Lilian Bowden, Joshua Rush, Sofia Wylie and Asher Angel, were given the news this morning while on ABC's Good Morning America. The 12-episode second season will begin in June with the third season kicking off later this year.
The series, created by executive producer Terri Minsky (Lizzie McGuire) tells what is described as a heartwarming and diverse coming-of-age story focused on family, friends and self discovery. Andi Mack marks a first for the Disney Channel when the second season premiere featured the 13-year-old Cyrus Goodman (Rush) coming out to his friend after he realized he was gay. This is the first depiction of a coming-out journey on the network.
But the series already had a unique twist that president and chief creative officer Gary Marsh spoke of in the announcement:
A series about a girl discovering that her sister is really her mother was new territory for Disney Channel, but Terri's honest, authentic storytelling allowed our audience to connect deeply to these characters and their journeys of self-discovery. What she has crafted stands as a high-water benchmark for kids and family storytelling around the world.
The series will begin filming season three in Salt Lake City soon.
Enjoyed this article? Share it!