Ava DuVernay is having a pretty good run of things creatively, including critically-acclaimed Netflix limited series When They See Us scoring big at the Emmy Awards (though getting royally screwed by the Golden Globes) and a turn behind the camera that puts her at the helm of an adaptation of Jack Kirby's New Gods. DuVernay is extending her stay in the DC Comics universe – this time, on the streaming side – with the Academy Award nominee overseeing and direct the pilot for HBO Max's upcoming series adaptation of Brian Wood's Vertigo comic DMZ.
Now we're learning that former Comics Alliance Editor-in-Chief Laura Hudson has been working on the writing team for the streaming service adaptation. Just before the clock struck 2020, Hudson shared that she was working as a staff writer on the project for the past eight weeks. Hudson followed up by walking us through how her hiring came to be – specifically, she explains how her "#MeToo story from a few months back" that involved sexual assault accusations against Wood by Hudson turned into something positive.
For a look at Bleeding Cool's past coverage of Hudson/Woods, visit: Rich Johnston's interview with Hudson; news of Dark Horse cancelling Wood's Aliens: Colonial Marines: Rising Threat and no longer pursuing new comic book projects with him; and the social media backlash faced by comics creator Tess Fowler when she also came forward with accusations against Wood.
This may sound odd to those of you who remember my #MeToo story from a few months back, where I talked about my experiences with the original writer of the DMZ comic. They happened many years ago when I was a nobody working at a comic bookstore.

— Laura Hudson (@laura_hudson) December 31, 2019
What you don't know is that while sharing my story in 2019 was very unpleasant, it had an unexpected side effect: It put my body of work in the sightline of @Ava DuVernay, the director of DMZ. She loved it. She found my number, called me, and offered me the staff writer position.

— Laura Hudson (@laura_hudson) December 31, 2019
A few weeks later, I was sitting in the DMZ writers' room in LA. I've wanted to make the jump to creative for a while, and this was the perfect opportunity. Ava is amazing, the people I work with every day in that room are incredible, and I'm the happiest I've been in a long time

— Laura Hudson (@laura_hudson) December 31, 2019
(That doesn't mean I'm never going to do any journalism again, but ideally I'd like to focus on writing things, whether it's for TV, games, or comics)

— Laura Hudson (@laura_hudson) December 31, 2019
As @ava suggested to me once, there's also another lesson here too: no matter how powerful you are or how powerless someone else seems, you should treat those around you with respect. Not only bc it's the right thing to do, but bc you never know who someone is going to become. pic.twitter.com/BXasCu3iHX

— Laura Hudson (@laura_hudson) December 31, 2019
I can't remember a time where sharing a #MeToo story has ended so positively, and I wanted all of you to know not only that it did but that it can. @ava did this for me. People like her exist; they lift people up; they give stories different endings. It's something to aspire to.

— Laura Hudson (@laura_hudson) December 31, 2019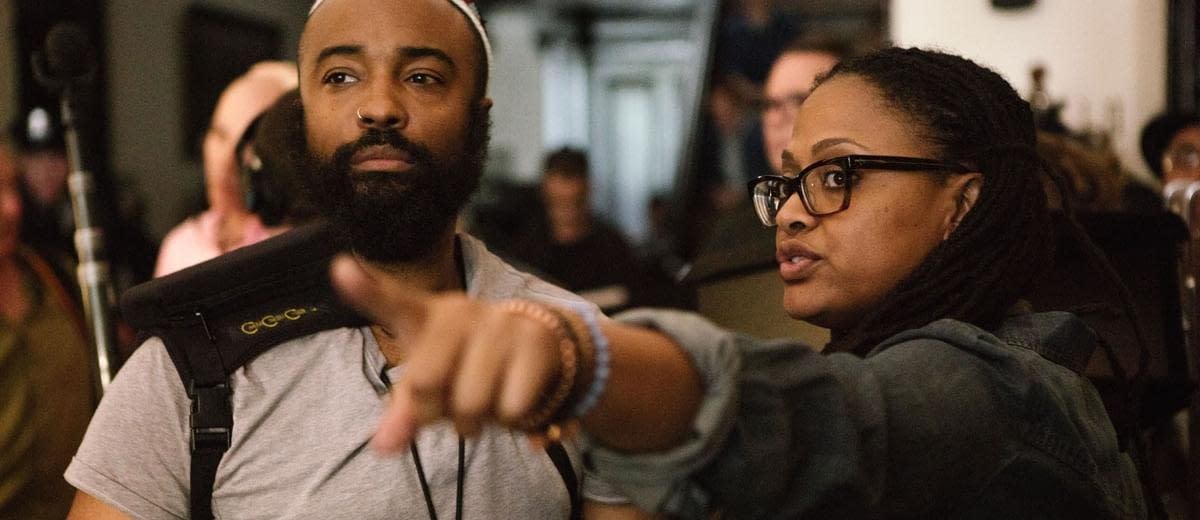 "DMZ is a special project to me as it marks a key collaboration with my company ARRAY Filmworks, the excellent team at Warner Bros TV and the dynamo Roberto Patino. We've all worked diligently on this material and I've witnessed Roberto in action. He's insanely talented and cares about telling stories with maximum impact and imagination. I'm eager to share this one with DC fans."
With series showrunner and executive producer Roberto Patino set to write the adaptation of the Vertigo imprint title, here's a look at DMZ:
During the Second American Civil War, rookie photographer Matty Roth gets himself embedded in the conflict's infamous no-man's-land: Manhattan Island aka the DMZ. Instead of embracing a once-in-a-lifetime opportunity to document the city under siege with a classic journalist's objectivity, Roth blurs the lines to the point of no return, threatening to fall in with politicians and opportunists, warlords and mercenaries.
One major thing that both DuVernay and Patino have in common? Both signed overall creative and production deals with Warner Bros Television towards the end of 2018. Production on the adaptation's pilot is expected to begin in early 2020, ahead of WarnerMedia's launch of new streamer HBO Max.
Enjoyed this article? Share it!