"Doctor Who" Series 12: BBC Complaints Would Like You to Know The Doctor Did NOT Blow Off Graham's Cancer Concerns
If you're like us, you are righteously impressed with Doctor Who Series 12 (and if you're not like us, well… you're wrong). Not saying it's been perfect, but Chris Chibnall has definitely kept his pre-season promise of this being a big season. So with a red-hot season comes a ton of episode examining by the fans – and in the case of episode "Can You Hear Me?", there's a moment between the Doctor (Jodie Whittaker) and Graham (Bradley Walsh) that many feel portrayed the Doctor as dismissive or insensitive.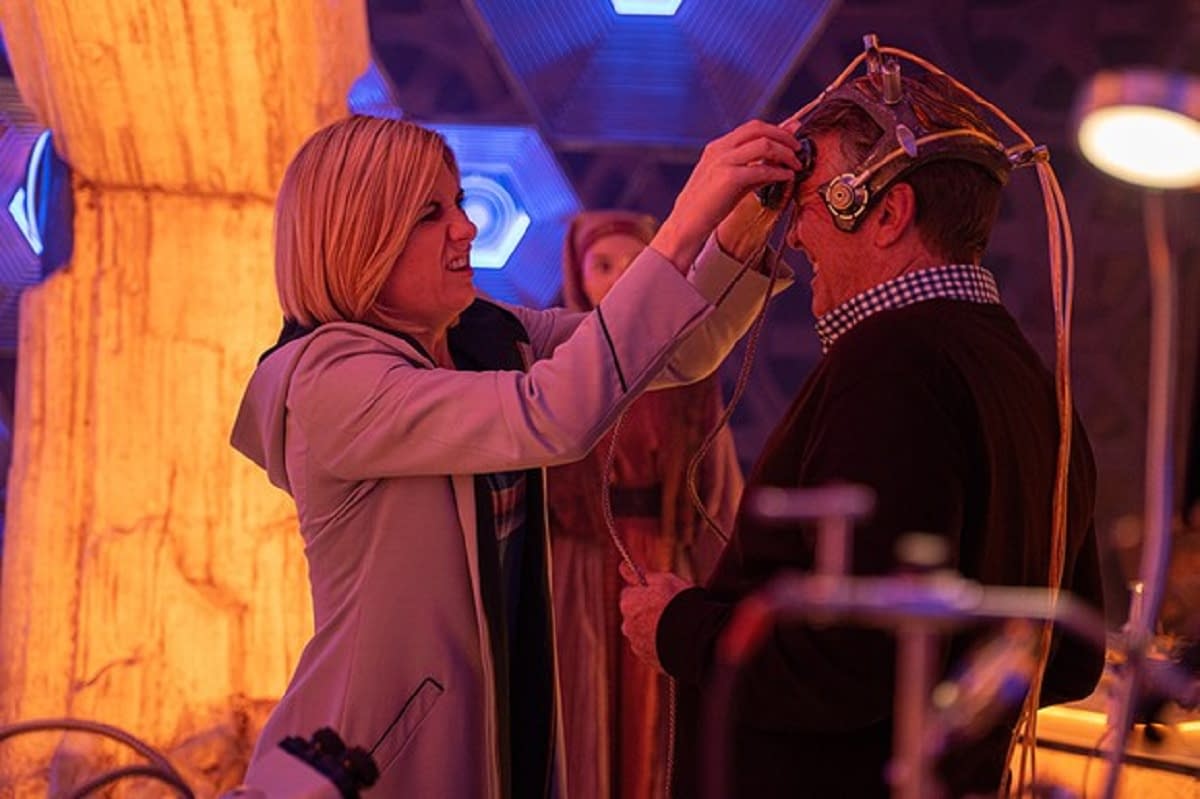 The scene in question comes when Graham opens up to the Doctor about his fears of his cancer returning. Unable to respond, the Doctor defaults to her social awkwardness as her reason for not being able to respond. Some viewers believed that her reaction fit with her persona, while others believed it ran counter to the message of both the episode and the season overall.
So now we have an official statement from BBC Complaints (Do we have that here in the U.S.? "BBC Complaints" could be more British than if it was drinking tea, wearing a monacle, and living at 221B Baker Street) to settle the matter – one that asks viewers to look at the scene in a different light… to step into the Doctor's shoes:
"Thank you for contacting us about Doctor Who: Can You Hear Me? with your feedback that it was insensitive for the Doctor to dismiss Graham's cancer concerns

We never set out to upset our viewers with what we show and this episode tackled some sensitive themes. The episode used dreams and nightmares to explore the inner lives of the companions. Thanks to Zellin's nightmare powers, Ryan, Yaz, and Graham were forced to confront their worst fears, many of which relate to the way traveling with the Doctor has changed their lives.

When Graham opened up to the Doctor about his fear of his cancer returning her response was never meant to be dismissive. The Doctor's friend was scared, and we see her struggling to deal with the severity of the situation.

The intention of the scene was to acknowledge how hard it can be to deal with conversations on this subject matter. When faced with these situations, people don't always have the right words to say at the right time, and this can often lead to feelings of guilt. By showing the Doctor struggling to find the right words, the intention was to sympathise with all those who may have found themselves in a similar position.

We hope this has helped to address your concerns, but please be assured your feedback has been raised with the programme's Executive Producer."
As evident by the title "The Haunting of Villa Diodati", the next episode of Doctor Who takes place in 1816 at the Villa Diodati in Geneva, during that (in)famous night of ghost story-telling by Mary Shelley, Lord Byron, Percy Shelley, and others that would lead to Mary Shelley writing Frankenstein… or so we hope:
"Doctor Who" series 12, episode 8 "The Haunting of Villa Diodati": Lake Geneva. 1816. Lord Byron and the Shelleys plot a night telling ghost stories. But as the Doctor and friends arrive, the Villa proves to have ghostly presences of its own.