Doctor Who writer Paul Cornell kicked off the global rewatch and live-tweet of "Human Nature" and "Family of Blood" by penning and posting a new introduction to the two-part adventure entitled "Shadow of a Doubt" that also brought back Lisa Bowerman's Bernice Summerfield. From there, Cornell joined Doctor Who Magazine writer and BBC Radio producer Emily Cook as well as director Charles Palmer and actor Lucy Cartwright to offer viewers a behind-the-scenes perspective on how the episodes came to be (including some great looks at Cornell's pitch and script notes). But Cornell wasn't willing to just let the story end with the final credits, penning and posting a new epilogue, "The Shadow in the Mirror." Starring Cartwright and featuring an appearance from the 13th Doctor (though not Jodie Whittaker's voice, sorry), the story brings a sense of closure in a number of ways. You can check out both the new intro and coda for the two-parter for yourselves below.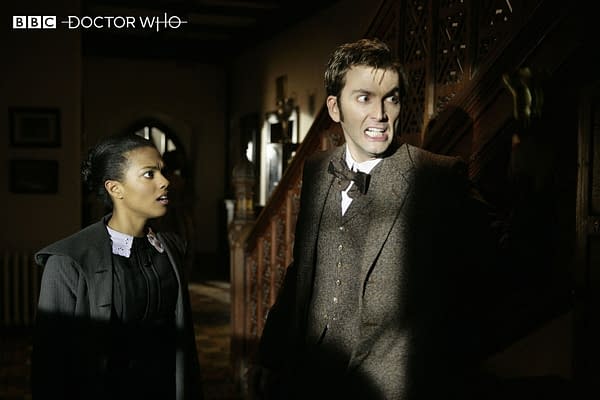 On Thursday night during The Big Night In, a special message recorded by Tom Baker, Peter Davison, Colin Baker, Sylvester McCoy, Paul McGann, David Tennant, Matt Smith, Peter Capaldi, Jodie Whittaker, and Jo Martin was aired to honor the health care workers on the frontlines as well as offer a message of hope in what is an unprecedented reunion for the long-running series. In honor of the event and for the first time, BBC Children in Need and Comic Relief have teamed up through The Big Night In to celebrate kindness, humor, and spirit of hope and resilience that is keeping the nation going during the coronavirus pandemic and home lockdown. The goal of the event is to celebrate and reward those going the extra mile to support their communities in these troubling times and raise awareness (and funding) for causes that aid those in need during these very times.
Enjoyed this article? Share it!