Huh? Decoding The Not Ready for White House Player's SNL Tweet [SATIRE]
On the lucky 13th episode of NBC's Saturday Night Live's 44th season (let that sink in for a second), viewers were treated to host Don Cheadle (Black Monday), and musical guest Gary Clark Jr. belting out "Pearl Cadillac" and "This Land." That host/musical combo act alone would be enough to make for a great episode – but throw in the return of Alec Baldwin for yet another satiric ride around the tragic carousel that is the Donald Trump administration?
Pure magic! Dark and wonderfully venomous magic… but magic nonetheless!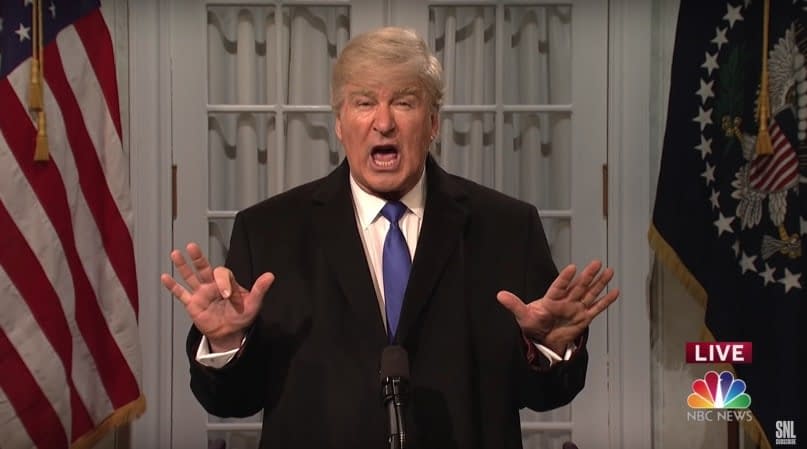 One person who wasn't a fan of Baldwin's performance? Wait for it… wait for it…
Yup. El Presidente Trump, who took to Twitter Sunday morning to express his "yugely" objective opinion on not just how much he disliked last night's episode – but also on how the overall quality of the long-running sketch comedy series has gotten "tired" over the years: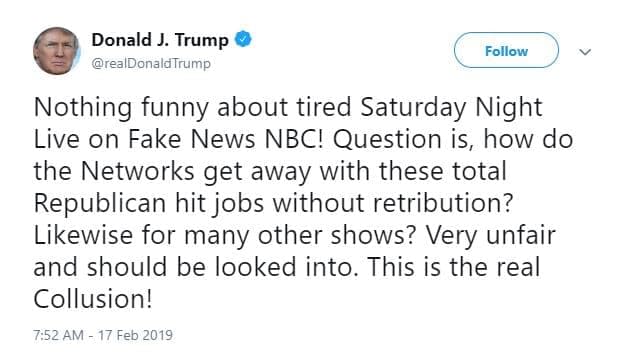 Not exactly what we'd call a "deep read" or the kind of writing that would keep critics at Rolling Stone or Entertainment Weekly awake at night out of fear for their jobs once Trump's gone bye-bye from The White House. But since the guy in The White House decided to stray back into "TV land" with a tweet that's probably as confusing to you as it was to many of us, your friends at Bleeding Cool's TV division are here to decode, deciper, and translate that social media mess for you:
● "7:52 AM – 17 Feb 2019"
It's important we put this into context, beginning with when the tweet was sent: about 48 hours after the POtuS declared a "national crisis" at the southern border so he could pick-pocket other departments for the cash to build his over-compensation project – which he admitted he was only doing because he didn't want to bother waiting for Congress to change their minds…
after ten minutes into a rambling Rose Garden speech…
…and after weeks of threatening to declare a "crisis" if he didn't get what he wants…
…and after two years of controlling both houses of Congress and still not getting his wall.
So basically, "The Art of the Deal" is actually a really bad crayon drawing Mom slaps a fridge magnet on – more out of love than it actually being good.
But still… running the Constitution through the paper shredder is exhausting, people! Why do you think he jetted to Florida after declaring a "national crisis"? What did you think he was going to do? Stay in The White House?!?!? But even in the middle of what we're assuming was an early morning bone spur treatment, he sacrificed time and energy to share his thoughts.
That's gotta' mean something, folks! We're just not sure what…
● "Nothing funny about tired Saturday Night Live on Fake News NBC!"
As a bit of a student of SNL's history, I know the argument can be made that the sketch-comedy series lost its way in the early-to-mid '80s – then again, as a student of pop culture I could also make the same case for Trump. So the two cancel each other out.
But just in case Trump needs a refresher on real humor, here's a cheat sheet of what's funny and what's not funny.
Funny:
Not Funny:
Funny:
Not Funny:
● "Question is, how do the Networks get away with these total Republican hit jobs without retribution?"
Do you mean "total Republican hit jobs" like this:
Or like this:
We also need a little clarity when it comes to "retribution," since based on Trump's past track record (no, not his past tax record) when it comes to handling "bad guys" he could choose to go full pardon – or rip families apart and throw the kids into makeshift prisons with a pretty decent chance the kids will never be returned to their families. Can never tell.
Though he does get points warning us that a question was coming right from the start – the question mark at the end can cause confusion sometimes.
● "Likewise for many other shows?"
If someone could tell me what the hell that means in context to what came before or after it, that would be righteously appreciated – because there's some serious word abuse going on here.
● "Very unfair and should be looked into."
Aside from Trump's verbal cosplay as an 8-year-old throwing a tantrum at the beginning, someone should introduce him to his government – starting with that "little engine that could" we call the Federal Communications Commission (FCC). I'm thinking one of these people might be able to help…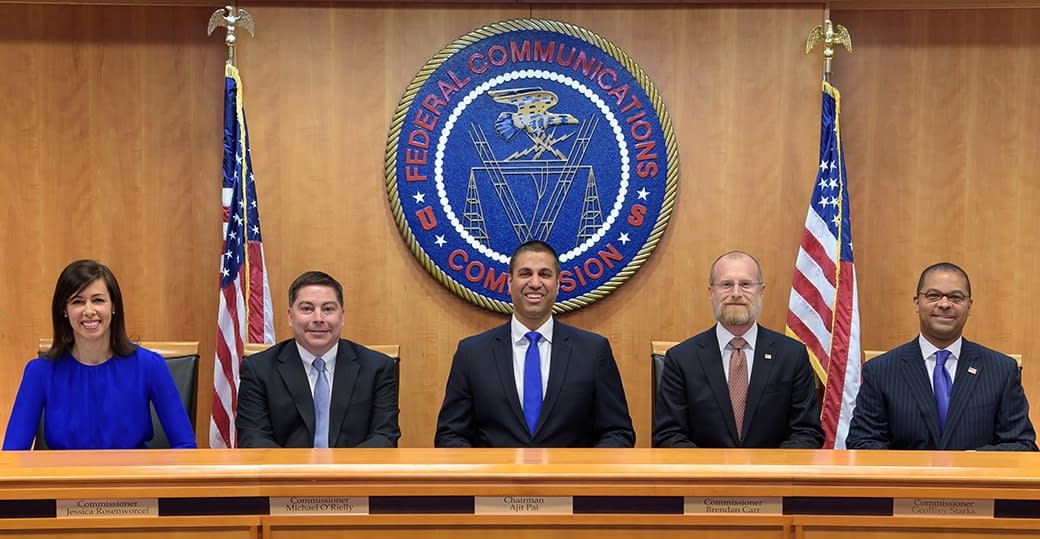 ● "This is the real Collusion!"
In the end, Trump makes the choice to end his tweet on a positive note by giving props to Georgia's very own classic rock and modern country music cover band. Didn't see that coming, but points for promoting local Georgia businesses.
Ladies and gentlemen! We present…
https://www.youtube.com/watch?v=T9n7SXoJEPc
https://www.youtube.com/watch?v=pjJzTrjRWec
I agree, Donny: they truly are the real Collusion.
So while that may have been a bit wordy, some "gems" require a little more digging.
Because otherwise, we would be left believing that The President of the United States of America is advocating for the government to shut down those things he doesn't like.
And there's nothing "funny" or "fake" about that.