Double the Devil? I See What You're Doing There, Lucifer. I Like It
Well, hello. The long-awaited trailer for the fifth season of Netflix's Lucifer dropped yesterday and… wow. I still have my jaw wide open and probably watched it about seven times already. After having to wait more than a year for its return, feels like the wait was more than worth it. When the series set to return on August 21, I will not leave my house until I've binged it at least three times. Lucifer (Tom Ellis) looks damn fine naked: not my only take away from the trailer, but it's up there. We are in store for great cases, lots of attitude, and hopefully many naked endeavors between Lucifer and Chloe (Lauren German), although by the looks of it, Chloe and Michael.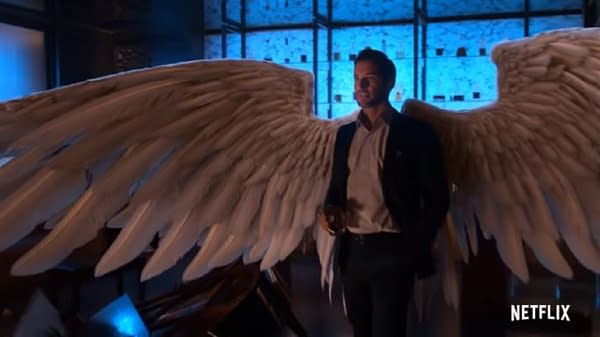 After an intense season finale finds Chloe finally expressing her true feeling for Lucifer only for him to devastate her by returning to rule Hell to save all of humanity. Chloe takes the break-up pretty much as well as anyone would: she parties, drinks, and drown herself in work. Having a demon by her side doesn't exactly help the situation. Maziken (Lesley-Ann Brandt) is mourning as well: how dare Lucifer not take her to hell with him. I'm expecting her to make him pay dearly for it, hopefully with a great a fight scene.
Typical of Lucifer to make his appearance randomly on a case shocking Chloe, but there is clearly something very different about him. Yes, he has spent a long time in hell and working out by the looks of it, but is it really Lucifer? Shockingly, no it's not: it's his twin brother Michael has decided to come to earth and take over his brothers' life. I appreciated the fact that the trailer didn't hesitate to get right to the heart of what the "big bad" theme will be for at least the first half of the season. Does Lucifer have any family members who are not trying to destroy him? Will Chloe be able to tell that it's not Lucifer before things get raunchy? Will the havoc on earth between two brothers cause God (Dennis Hasbert) to stage a little fatherly intervention? Will we ever stop loving the writers for finding a fun way to give us double-the-Ellis this season without going with the "I just want to destroy his life" cliche? Those questions and more will hopefully be answered when Lucifer returns next month, so starting that countdown clock now.