Welcome back to another episode of The Pit Stop for All Stars 5 where this week, host Bob The Drag Queen sits down with season 3 winner Raja and chats about Friday's episode of Drag Race. I want to jump right into it, so blah blah spoilers inside, something about expectations – okay, now we're back into it and girl, Raja looks good. I mean, she always looks good, but she is serving up trendy Dua Lipa/Billie Eilish/Bebe Rexha vibes and I am absolutely gagged, even if she does act like an elderly drag grandmother at times, shaking her cane and telling these young'ns to get up off her lawn.
This week was a ball challenge, but not just any ball – a Charles family BBQ ball. The first look required the queens to walk the backyard – er, runway – as a member of RuPaul's family, complete with character backstory via recorded monologue that played as they walked the runway. The next look was a very Project Runway found-fashion challenge: they had to create an outdoor eleganza look using the BBQ items provided…which were condiments, sports equipment, picnic blankets, table cloths… even a kiddie pool.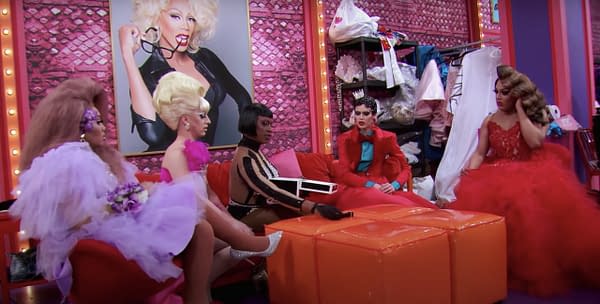 Miz Cracker won with a "shuttlecock" dress, though I'm with Shea Coulee and Bob and Raja in that maybe it's a Southern thing, we didn't call them by that "scandalous suggestive name." You played badminton with a birdie. But that's beside the point. Dirty name or not, her dress was cute and adorable and her character was trashy and funny. Jujubee is of course always amazing (especially with her ginormous harm, which will always be perfection). Girl, can I borrow that for the beach? And of course, professionally trained costumer Shea was helping all the girls sew and still served up some great looks herself this week.
Now, as for the bottom looks this week, Bob has some opinions: "I understand that I have been harsh on Blair practically every episode; I feel like I'm being unbiased. I genuinely feel like I'm just sticking to what I'm seeing. With that in mind, I just did not like this."
Hard agree, Bob. Blair St. Clair has consistently been a miss for me this season and had it not been for India Ferrah's stupid drama last week that bled over into this week, I think Alexis Mateo would not have been voted off and Blair would have rightfully gone home. Raja brings up the excellent point of her age – she's super young and relies on that fashion queen "I look good, so I don't have to try as hard" thing and it sucks. It sucks to see, it sucks to compete against, and worst of all, it's boring. I'll even go as far as to say All Stars should have a minimum age limit because it's all about perfecting your craft, and that comes with a certain level of maturity. At 24, you just aren't polished and on the same level as more established queens who are older and have been doing this for decades. It's still not RuPaul's school for girls; come back when you're old enough to see over the steering wheel and then try this race again, dearie.
At least Alexis took risks because she can't just drape a table cloth around a dress form and call it a day. Alexis knows what looks good on her body and with her style and serves us fully planned and realized looks week after week, season after season. I mean, bitch made a full trumpet gown and fascinator and Bore St. Clair did what, a leotard with some fabric hot glued to it and a slicked back bob wig on her head? Ugh.
Also, Bob educating Mama Raja on receipts vs report cards is life and I am here for it. It's almost like a passing of the torch from past Pit Stop host to current and future Pit Stop host. Bless! But etymology aside, Miz Cracker is the winner of this week's challenge, so she gets to initiate the discussion on who's in the bottom two based on looks and report card and that's Blair and Alexis. Fair assessment, but based on past performance, Blair should be voted off. So what happened? The ghost of India Ferrah's shady ass antics came back to haunt the competition. I'm over it, thank you very much.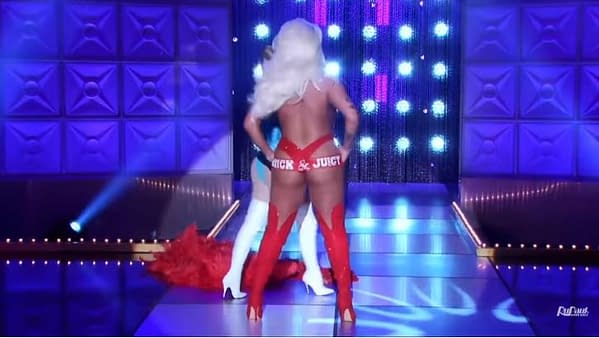 Unfortunately, Cracker did not stand a chance against this week's Lip Sync ASSassin, Miss Roxxxy "Thick & Juicy" Andrews herself. Don't get me wrong, Cracker is great…but Roxxxy is just the name on everybody's lips. She's absolutely stunning with continual costume reveals and the best reveal of them all: dat ass. It is both thick and juicy and that very moment just confirmed there was no way she wasn't winning. Sadly, just like there was no way Roxxxy wasn't winning the lip sync, there was no way Alexis wasn't eliminated; all the girls, as well as Cracker herself, chose Alexis' lipstick. It was lose-lose lip sync for her, but at least we got a great show with some great queens. I mean, Bob has more than a few opinions about this elimination: "I'm not gonna lie, I'm mad. I'm angry at the cast for choosing her, I think she should have won last week's challenge, and I think she did a good job this week."
Truth, sis! Yes, I will stay salty about this elimination, but I'm in good company because both Bob and Raja are right there with me. But mark my words, I bet Blair goes home next week, barring any crazy twists. And you know there are certain to be twists – it is Drag Race All-Stars 5 after all, and Ru has plenty of tricks up his sleeves. Time to wait for next week to find out what those twists are and see how long it takes for Shea to lock-up this competition.
Enjoyed this article? Share it!