Drawing The Line Review: Fine Political Theatre Remains Relevant
This week's free play from the Hampstead Theatre in London is Drawing the Line by Howard Brenton. You have until Sunday, April 19th to stream the play. Brenton's play tackles the partition of Indian in 1947. Schools in the West barely teach exactly how it happened. Millions died, and the consequences are still playing out today. It became the subject of series 11 of Doctor Who. Brenton's 2013 play delves deep into the bungled actions of Britain that brought it all about. Prime Minister Clement Atlee plucked Judge Cyril Radcliffe (Tom Reade) from criminal court in London to draw the line in India. Radcliffe knew nothing about India or maps, yet he was tasked with dividing the subcontinent into India and Pakistan. And he only had five weeks to do it.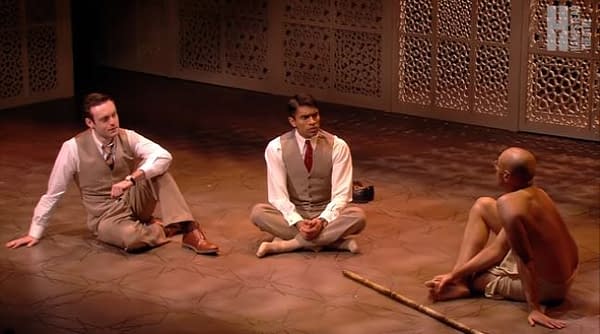 Bad Faith and Political Farce Are Major Factors
The deadline may have been imposed by the Viceroy Lord Mountbatten (Andrew Havill) to get his wife (Lucy Black) away from her lover Nehru (Silas Carson). The charming, wily Nehru would become India's first prime minister once independence is declared. He and Gandhi (Tanveer Ghani) created the circumstances leading to independence but split when Gandhi refused to support partition. Nehru, a consummate politician, plays Radcliffe to achieve independence for India, even if Gandhi calls Radcliffe's line a "vivisection".
Then there's Muhammad Ali Jinnah (Paul Bazeley), head of the Muslim League, who wants a fair shake for the subcontinent's Muslims. Jinnah is a hated figure in India now, but he's portrayed sympathetically as an activist who reluctantly accepts the bad hand of partition to make the best of it. Radcliffe, beset by dysentery and frustrated by factionalism and his own ignorance, realizes he's seriously out of his depth. With over 2,000 ethnic groups, sectarian violence threatening to erupt and Mountbatten breathing down his neck, Radcliffe cracks. This is a situation where British pluck and good intentions do not win the day. No matter what he does, millions of people will kill each other, and he would light the fuse.
Drawing The Line is a Political Drama by a Master Playwright
Brenton is one of Britain's top political playwrights. His plays come without compromise, without the interference of TV executives, with a laser-sharp eye and dry wit. He wrote most of the first season of the hit spy series Spooks (MI-5 to Americans). He also indirectly gave the world Anthony Hopkins' Hannibal Lector in his 1980s play Pravda, which he wrote with David Hare. Hopkins played a monstrous newspaper mogul inspired by Rupert Murdoch with an animalistic, predatory gait he would replicate years later in Silence of the Lambs. This is the best play I've seen for years. Brenton's heightened dialogue and sardonic wit expose the awful arrogance of the British Empire and its racism and bad faith. This is what you get when the Empire pulls out, he says, a bloody great mess and millions of people picking up the pieces.
https://youtu.be/PrvSjOa6rnM