"El Camino: A Breaking Bad Movie": Can Jesse Outrun His Past? [TRAILER]
After months of rumors, mindless speculation, and several instances of serious misdirection, Breaking Bad fans finally received the news they were waiting for: Vince Gilligan is returning to tell one more (???) tale with El Camino: A Breaking Bad Movie. Written and directed by Gilligan and set to premiere on Netflix on October 11 (and in select movie theaters, with AMC airing the film at a later date), the film focuses on what happened to Jesse Pinkman (Aaron Paul) after the credits rolled on "Felina" and asks an important question: will Jesse be a victim of the past, or can he carve out a new future for himself?

After all of the rumors, double-speak, social media "homework," and teasers, fans of Breaking Bad are finally getting the first trailer for the next chapter in Jesse's life:
The Netflix Television Event EL CAMINO: A BREAKING BAD MOVIE reunites fans with Jesse Pinkman (Emmy-winner Aaron Paul). In the wake of his dramatic escape from captivity, Jesse must come to terms with his past in order to forge some kind of future.

This gripping thriller is written and directed by Vince Gilligan, the creator of Breaking Bad. The movie is produced by Mark Johnson, Melissa Bernstein, Charles Newirth, Diane Mercer and Aaron Paul, in association with Sony Pictures Television.

Last week, Netflix gave fans a look behind the scenes at Paul and Gilligan on set with an image that we're sure Breaking Bad fans will appreciate: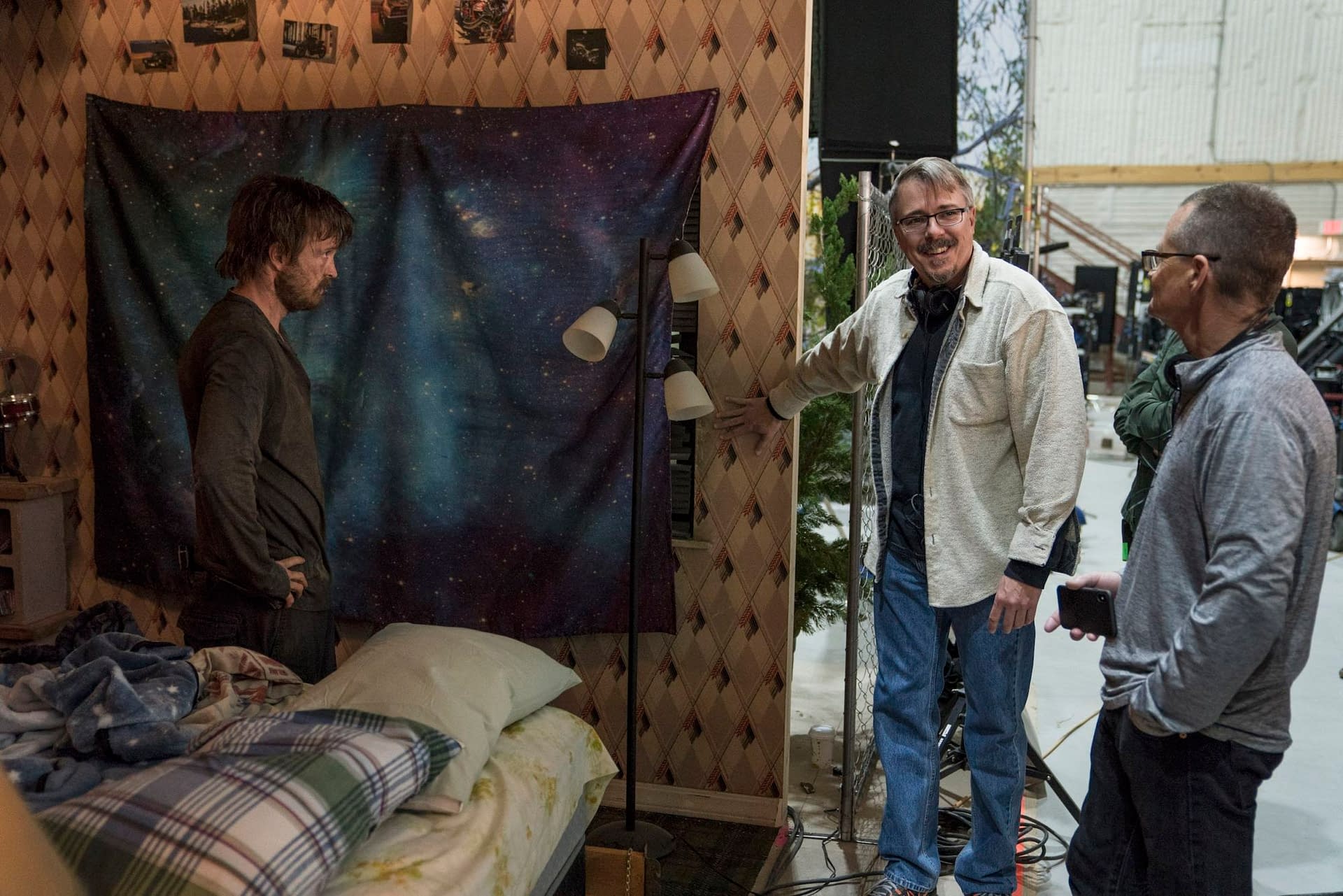 Pretty safe to say we've seen Jesse's look somewhere before…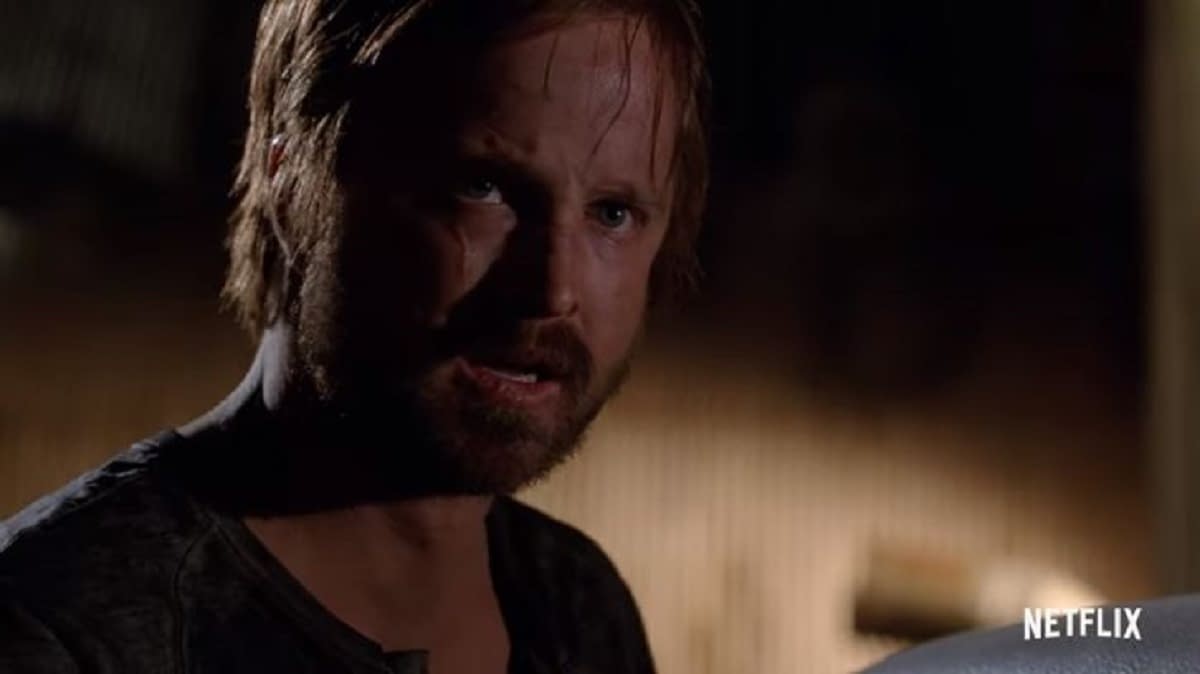 With less than a month to go before the sequel film's premiere – and only days before the release of the official trailer during the Emmy Awards on September 22 – Gilligan and Paul set down with The Hollywood Reporter to talk all things El Camino.
Here are some of our takeaways – make sure to check out the entire article here:
● Gilligan is featuring more than 10 characters from the Breaking Bad universe that viewers will know – with Skinny Pete (Charles Baker) and Badger (Matt L. Jones) the two that we know of – so far…
● The seeds of El Camino began even before Breaking Bad ended its run, beginning with the basic question that would serve as the foundation for the project:
"I didn't really tell anybody about it, because I wasn't sure I would ever do anything with it. But I started thinking to myself, 'What happened to Jesse?' You see him driving away. And to my mind, he went off to a happy ending. But as the years progressed, I thought, 'What did that ending — let's just call it an ending, neither happy, nor sad — what did it look like?'"
● If you're new to Breaking Bad, then you better start binging now to be ready for when the movie drops on October 11. Gilligan wants to make it clear that the film if for the fans who've been along for the ride – there won't be a lot of "teachable moments" to explain the action:
"If, after 12 years, you haven't watched Breaking Bad, you're probably not going to start now. If you do, I hope that this movie would still be engaging on some level, but there's no doubt in my mind that you won't get as much enjoyment out of it. We don't slow down to explain things to a non-Breaking Bad audience. I thought early on in the writing of the script, 'Maybe there's a way to have my cake and eat it too. Maybe there's a way to explain things to the audience.' If there was a way to do that, it eluded me."
● Having a bigger budget to work with meant Gilligan and Better Caul Saul DP Marshall Adam got to film on an ARRI Alexa 65, the same camera used for The Revenant – and in a 2.39 wide-screen format. While most of the film's 50-day shoot was spent as some very familiar Albuquerque stomping grounds, the crew was also able to take advantage of some out-of-state locations.
● Paul appreciated what the role of Jesse Pinkman and the series overall did for him personally and profesionally – and he also appreciated being able to finally say goodbye to such a heavy character. So why did he decide to come back – especially after feeling satisfied with the way the series wrapped? Simple: "In Vince He Trusts"…
"I'm like everybody else on the planet — I think Vince and the rest of the writers really nailed the landing with the ending of Breaking Bad, and why mess with that? But it's Vince we're talking about. I would follow Vince into a fire. That's how much I trust the man. I would do anything that he asked me to."
● So did it take long for Paul to get back into the zone? Let's just say it sounds like it took longer for you to read this sentence…
"It was so easy for me to just jump into where Jesse's at mentally, emotionally, because I lived and breathed everything he went through and then some, and so, honestly, it felt like a part of me had gone through that as well. All I had to do was just memorize these words and then play them out when they yelled 'action.'"
● Gilligan offered a surprising clue about his professional future: he plans to develop another series after Better Call Saul – just don't ask him what it's about:
"Personally, I'd love to figure out something different, which at this point would be, God, not another antihero. Is there something else I can do? Is there another story I can tell? But I've got to tell you, it's harder to write a really engaging good guy than it is a really engaging bad guy."

With a little more than two weeks to go before the series sequel-film makes its way to the streaming service (on October 11th), Paul, Gilligan, and online fundraising site Omaze are giving you a chance to attend the sequel film's premiere and meet the star and Breaking Bad creator – and help out some worthy causes in the process: Geffen Playhouse and the Kind Campaign (though no donation or payment is necessary to either enter or win the sweepstakes ).
Until September 29, 2019 (at 11:59 p.m. PT), you can head on over to the fundrasier's home page to find out everything you need to know to win a chance for you and a friend to hit the red carpet with Paul and Gilligan, grab a few selfies, and be one of the first to screen El Camino – hotel and flight included.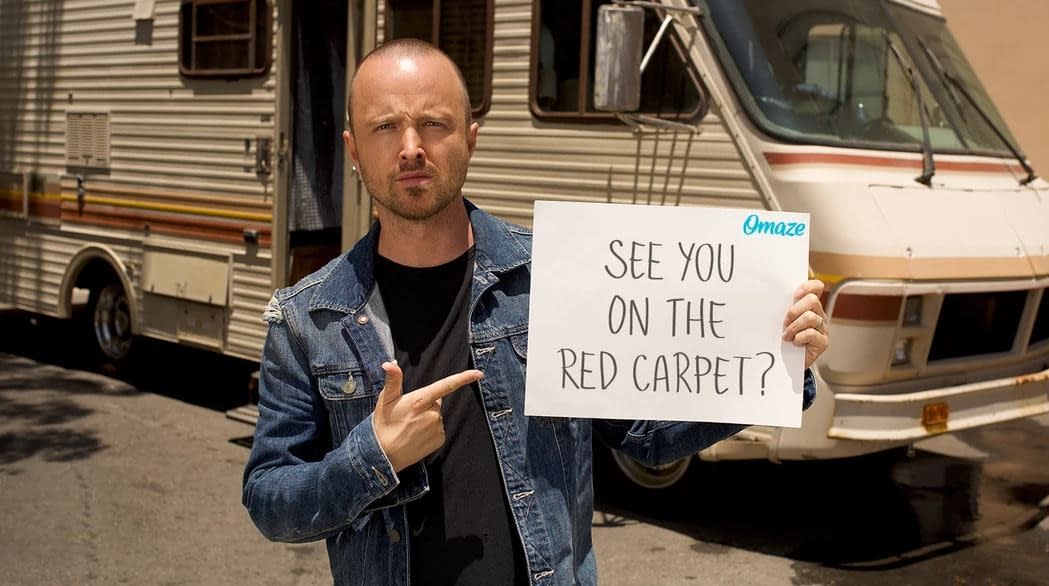 Breaking Bad is back, b*tch! Grab a friend/enemy/science teacher and your favorite beanie, because you're off to Los Angeles for the world premiere of El Camino: A Breaking Bad Movie. But that's not all! You're going to meet Aaron Paul and brilliant Breaking Bad creator Vince Gilligan on the red carpet. You'll snap some pics and ask Aaron and Vince all the burning questions you've cooked up since the show ended six years ago. Then, head inside the theater to find out what happened to Jesse Pinkman after he escaped, screaming into the night, in an El Camino. Flights and hotel included.

Late last month, Paul assigned fans "homework" in the form of a clip from Breaking Bad he posted on social media via Screenplayed. As Paul puts it, it's "a moment from Breaking Bad to slowly prepare you all for what's to come." From "One Minute" (season 3, episode 7), here's the moment when Jesse turns down Walter's (Bryan Cranston) offer – and Walter:
https://twitter.com/aaronpaul_8/status/1165686413918167040
Here's a better look at Screenplayed's presentation of the scene: