Umbrella Academy's Ellen Page On Trump, Pence and Hateful Leadership: "This Needs to F***ing Stop" [VIDEO]
"Sorry, I'm like really fired up tonight…"
We're not sure what Stephen Colbert was expecting from The Umbrella Academy's Ellen Page when she visited Thursday night's The Late Show with Stephen Colbert. Page has never been one to shy away from expressing her views on politics and social issues, using the platforms afforded her through her acting to campaign for a wide variety of causes important to her – from LGBTQ rights and climate change to female representation in Hollywood and the important of free speech/free press.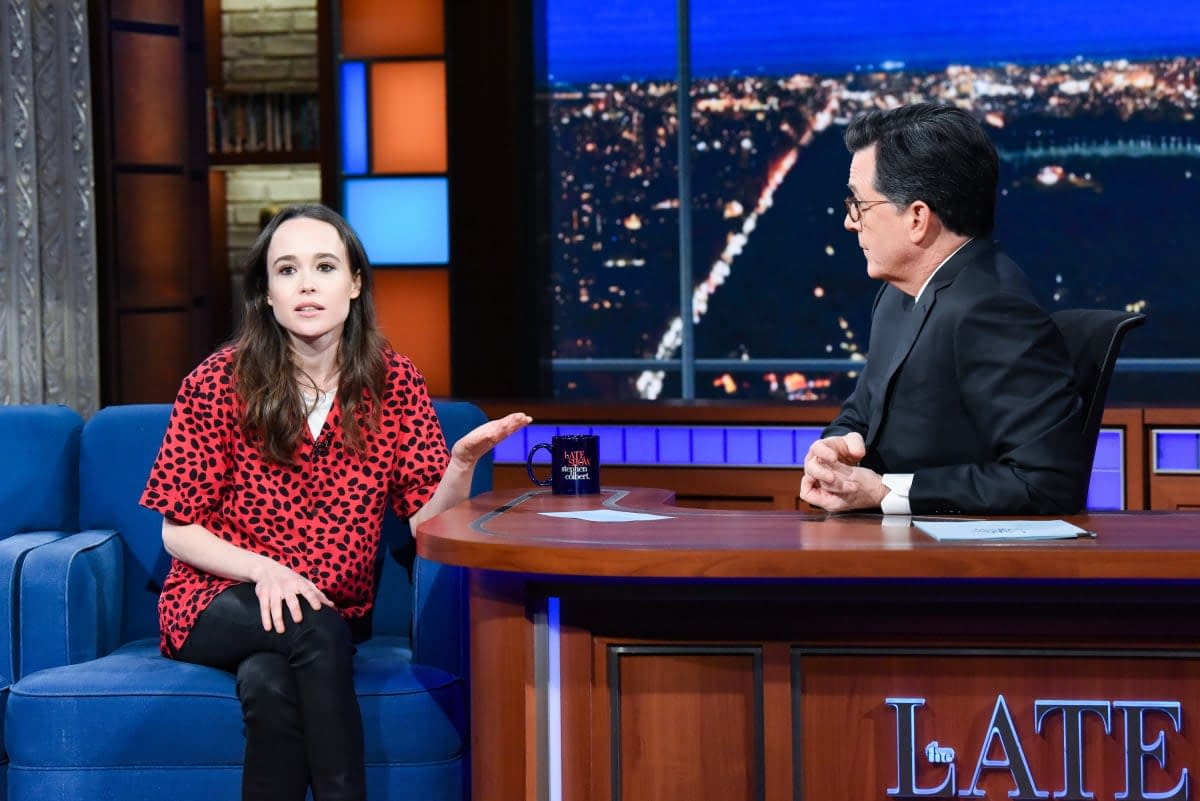 Still, the "standard late-night playbook" usually means a guest comes on and spends 15% of their time talking "serious," 35% of their time on a "pleasant personal or on-set anecdote," and 50% of their time plugging their project like there's no tomorrow. That last figure shifts to 45% if they're on The Tonight Show, with 5% going to some "wacky, goofy stunt" Jimmy Fallon has them go through in place of a deep, thought-provoking interview.
Yeah… Page wasn't having any of that, unleashing a series of powerful, intense, and heartfelt remarks aimed at President Donald Trump's White House – particularly Vice President Mike Pence – and the wave of hateful leadership seeping into the fabric of the nation.
While Colbert is no stranger to supporting a number of the points Page raised during her interview, make note of his facial expressions and body language after he has to follow Page's words with a plug for The Umbrella Academy – we're pretty sure even Netflix would've cringed a little at that segue:
● On LGBTQ rights: "Sorry, I'm like really fired up tonight, but it feels impossible not to feel this way right now, with the president and the vice president, Mike Pence, who, like, wishes I couldn't be married."
After a photo of Page and her wife was shown, the actress/activist continued:
"Let's just be clear: The vice president of America wishes I didn't have the love with my wife. He wanted to ban that in Indiana, he believes in 'conversion therapy,' he has hurt LGBTQ people so badly as the [governor] of Indiana."
● On the impact hateful rhetoric and the "politics of division" are having on our nation – in particular, younger generations:
"If you are in a position of power and you hate people, and you want to cause suffering to them, you go through the trouble, you spend your career trying to cause suffering, what do you think is going to happen? Kids are going to be abused and they're gonna kill themselves, and people are going to be beaten on the street. … This needs to f***ing stop."
● Believing climate change to be no more debatable an issue than the recent attack (an alleged hate crime) on Empire star Jussie Smollett, Page wants to know where the big screen urgency is on the issue:
"We've been told, as we know it, that by 2030, the world as we know it, that's it. That's it. If it was a movie, we'd have Bruce Willis in a suit, like talking about something — please cast me. Please, Amy Adams, save us."
On the same day in 1989, forty-three infants are inexplicably born to random, unconnected women who showed no signs of pregnancy the day before. Seven are adopted by Sir Reginald Hargreeves, a billionaire industrialist, who creates The Umbrella Academy and prepares his "children" to save the world.

But not everything went according to plan.

In their teenage years, the family fractured and the team disbanded. Now, the six surviving thirty-something members reunite upon the news of Hargreeves' passing. Luther, Diego, Allison, Klaus, Vanya and Number Five work together to solve a mystery surrounding their father's death. But the estranged family once again begins to come apart due to their divergent personalities and abilities, not to mention the imminent threat of a global apocalypse.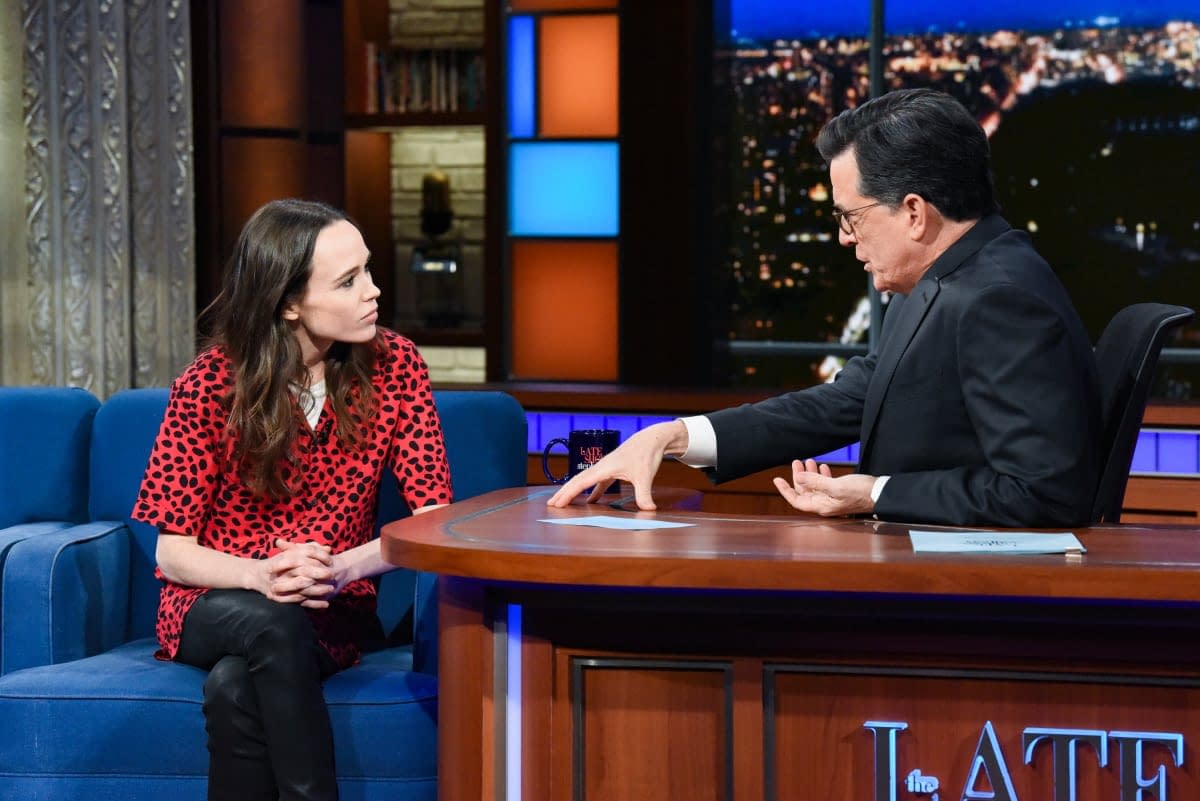 Netflix's version of the Hargreeves family includes: Ellen Page (X-Men: Days of Future Past) as sister Vanya, who appears to manifest no super powers but has an amazingly strong interest in music; Tom Hopper (Game of Thrones) as Luther/Spaceboy, leader of The Umbrella Academy; Robert Sheehan (Bad Reputation) as shoeless speaker-with-the-dead Klaus Hargreeves/The Séance; Emmy Raver-Lampman (Wicked) as Allison/The Rumor, who can alter reality with her lies; David Castaneda (Blindspot) as Diego/The Kraken, the reckless and rebellious member of the family; Aidan Gallagher (Nicky, Ricky, Dicky & Dawn) as Number Five/The Boy, the family's time-travelling, perpetually young brain; Colm Feore (House of Cards) as world-renowned billionaire industrialist and eccentric inventor Sir Reginald Hargreeves; and Adam Godley (Breaking Bad) as Pogo, a genetically engineered, tweed jacket-wearing, talking chimpanzee and family advisor/mentor.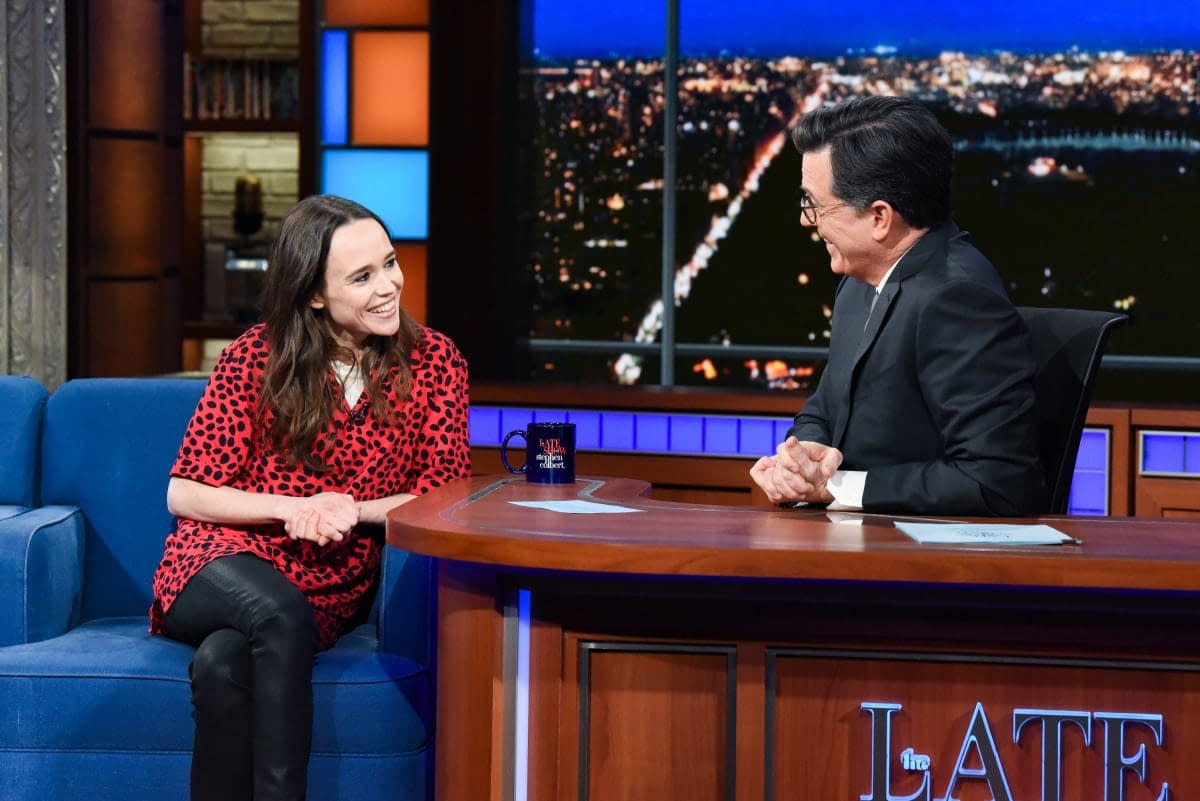 The Umbrella Academy also stars award-winning singer/actress Mary J. Blige (Mudbound) as ruthless, time traveling hitwoman Cha-Cha; Cameron Britton (Mindhunter) as her deadly efficient partner Hazel; Ashley Madekwe (Revenge) as Detective Patch, a driven, fast riser within the police department investigating a series of murders – and The Academy; John Magaro (The Big Short) as Leonard Peabody, who begins to take music lessons from Vanya and sees something special in this constantly dismissed wallflower and Kate Walsh (Grey's Anatomy) as The Handler, a composed and confident leader of a mysterious, bureaucratic company.
Netflix's The Umbrella Academy leaps the streaming service in a single bound come February 15th.