Posted in: Opinion, streaming, TV, TV, YouTube | Tagged: elon musk, lgbtqia, opinion, twitter
---
Elon Musk Kicks Off Pride Month Retweeting Hate; Ironic Twitter Exit
Shortly after learning that Twitter's head of Trust & Safety had resigned, Elon Musk's retweets may have offered some insights into why...
---
Wondering why Twitter's Head of Trust & Safety, Ella Irwin, resigned from the social media cesspool on Thursday – as she revealed to Reuters? Wondering why the European Union is looking to take action against Elon Musk's personal propaganda machine for blowing back open the doors of disinformation since he began devaluing the service back in October? Well, look no further than what the D-List James Bond villain wannabe tweeted out earlier today (still waiting to see how Twitter CEO Linda Yaccarino is gonna sell premium ads when her boss is back to promoting whackjob nonsense). But first, a little background…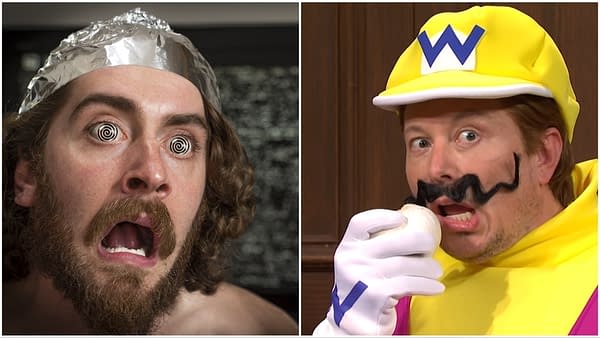 When it comes to Irwin, let's be honest. Based on Musk's erratic behavior over the past eight months, was there any way anyone with the title "trust & safety" was going to be able to last if they took their job seriously? Like, if you wake up with any speck of a soul or self-respect remaining, how long can you put up with a dude who promoted Paul Pelosi conspiracy crap? How do you "moderate" that and still look yourself in the mirror? But maybe it's just me. It's not like it's a job that two people resigned from in only… oh, it is? First, it was Yoel Roth, and now Irwin? Nevermind. I guess it is a thankless job.
As for the issue with the European Union (EU), the social media service also… wait for it… withdrew from a voluntary agreement with the EU to take on disinformation! DING! DING! DING! DING! While promising to play nice with what the EU is looking for, Twitter has decided that it can do a much better job putting its disinformation policy into play. And what's that policy, you ask? Well, based on what Musk was tweeting out today? It looks like Musk (and Musk alone) will be the one who determines what "disinformation is" – and apparently promoting whackjob anti-transgender nonsense from the Daily Wire and Twitter users who've apparently stocked up on their Reynold's Wrap for the month.
Apparently, this is Musk's attempt to make nice-nice with the Daily Wire's propaganda minister – and to do that, Musk threw "his people" under the bus for rightfully tagging clips from the propaganda reel as "hateful conduct." But that clearly wasn't good enough because Musk personally spewed out the Daily Wire's ode to Riefenstahl on his personal Twitter account (which we're not going to post here because we did wake up today with a speck of a soul & self-respect remaining), along with this precious little gem that we screencapped below.
Now, to be fair? It's quite possible that Musk is actually having a moment of clarity, realizing he's pimping hateful nonsense and admitting to the world that he's "insane." Or, maybe he's rightfully calling out the "person" below for their nonsense by calling them "insane." And yet, based on his track record? We can't help feeling like this is the latest "hot issue" that he has a take on only because he gets fed a bunch of bad "boogeyman" propaganda, so it doesn't require a lot of deep-dive thinking.
But to put this into a "bigger picture" context? It's a pretty weird way for Musk & Twitter to kick off Pride Month…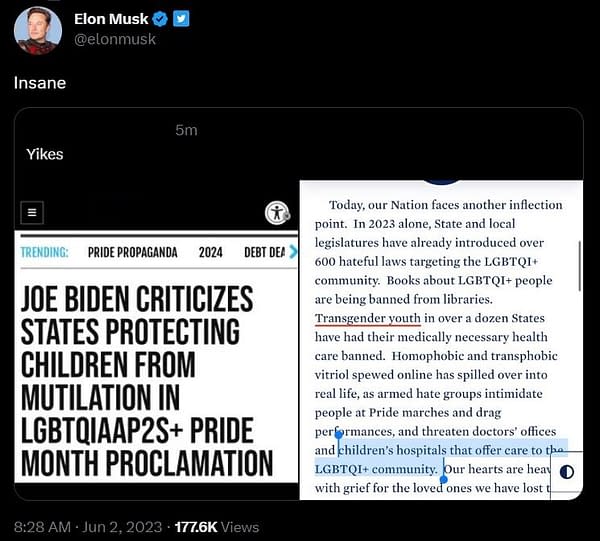 ---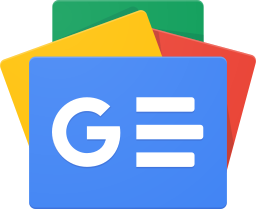 Stay up-to-date and support the site by following Bleeding Cool on Google News today!