The Emmy-nominated star of Netflix's series GLOW Betty Gilpin has once again penned a powerful op-ed, this time tackling the ins and outs of "fame".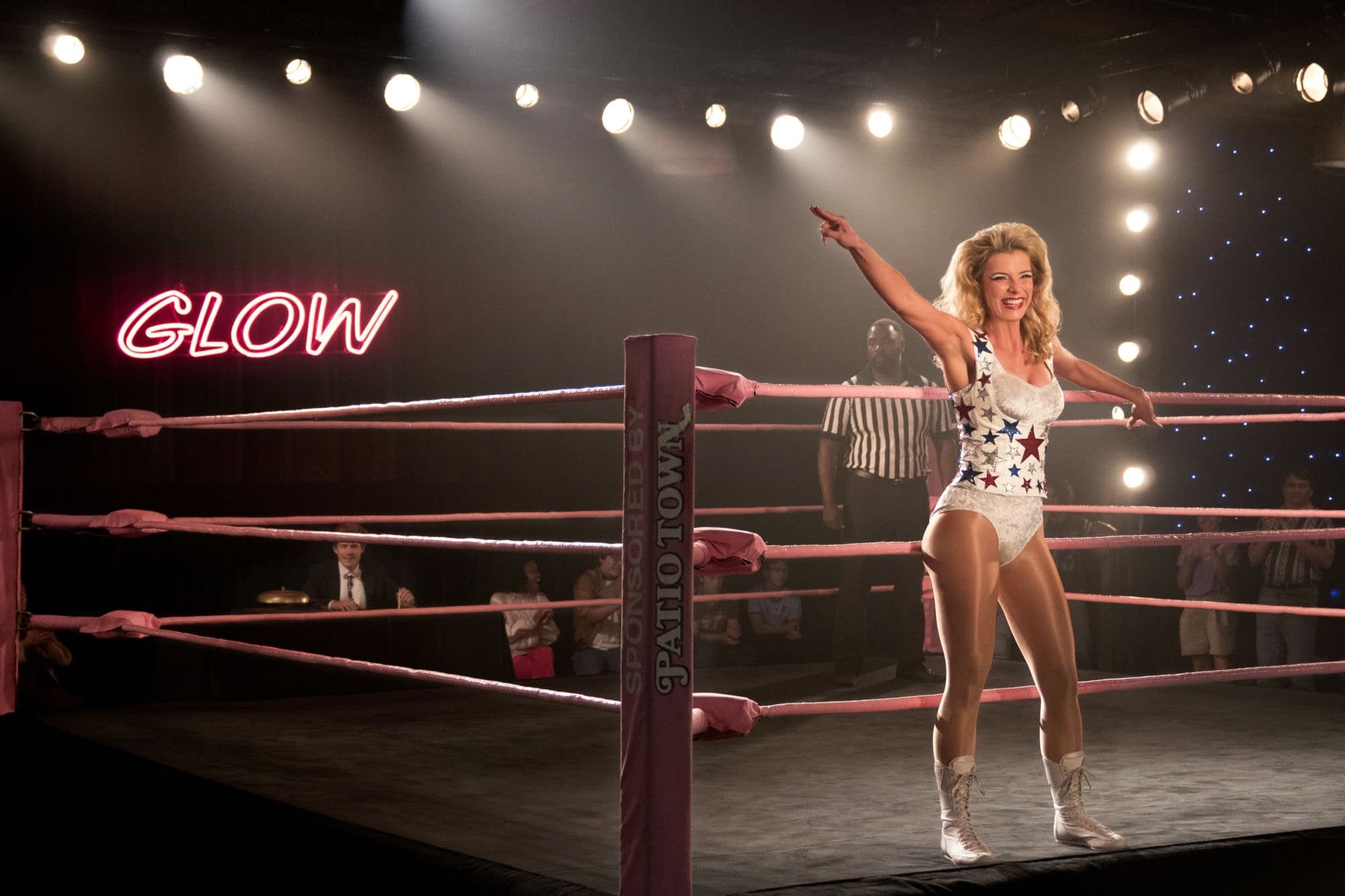 She likens doing press for the series to "ego fellatio on a Ferris wheel", something we assume would take a certain amount of dexterity and mental wherewithal to complete successfully.
Gilpin's piece, which originally ran on The Hollywood Reporter, speaks to actors of all types:
So here's why all the actors you know are — I say this in a loving Montessori indoor voice — insane. Being an actor feels like your ego is on a violent pendulum swing between a field of cashmere and a casual tub of knives. Depending on how the industry is treating you that hour, you either feel like a Mariah Carey sultan or a near-dead irrelevant possum, flashing people for change on the 405. Spend too long on either side, and you're a terrible lunch partner.

If you are working, it can be easy to start to confuse the concept 
of being a replaceable flesh puppet with being a member of the royal family. When 10 PAs are whisper-panicking that you haven't gotten your oatmeal yet and have to pee, you forget that it's because you're the deranged toddler they're supposed to keep alive. Instead, perhaps they are concerned about you not because if you wandered into traffic it would be expensive, but because you are… extremely important. You are a movie star. Sure, you're doing one episode of The Mysteries of Laura, but someone just announced on his earpiece that you're walking. 
Her majesty is walking. Because a film set is designed to make sure the actor doesn't put his or her fingers in an electrical socket, we often mistake it for status.

And forget the ego fellatio on a Ferris wheel that is doing press. When you say what you thought was the world's stupidest joke, the reporter visiting from www.ihateyourmovie.com catapults his or her head back in laughter as if you are Wanda Sykes. You are asked about your morning routine as if you are a matcha-sipping mogul millionaire. You lie and say you drink kefir and meditate. (You've been meaning to start!) Award-winning artists Renaissance-paint your face until you're a stranger. You're gorgeous!

Then there is the ever-rare, ghost-in-the-room feeling when a scene is going well. For a few perfect moments, you are Meryl Brando, holding time by the throat, transporting you and your scene partner to the exact dream bubble you furiously journaled about the night before. After work, you get into your car and maniacally punch the air like you're Jerry Maguire. You own the universe.

And then there's the next day.
We adore you, Betty Gilpin. Please never change.
Seasons 1 and 2 of GLOW are currently available on Netflix, and we'll let you know when the word comes down about a yay or nay on season 3.
Enjoyed this article? Share it!