One day after ESPN reporter Adrian Wojnarowski was suspended without pay by the sports network for a two-word response he sent to US Senator Josh Hawley: "F*ck you," a number of NBA stars have taken to social media to show their support for the journalist. Under the hashtag #FreeWoj, LeBron James, Lou Williams, Patrick Beverley, and others have asked that Wojnarowski's suspension be lifted. As of now, the reporter will miss the restart of the COVID-19-shortened season.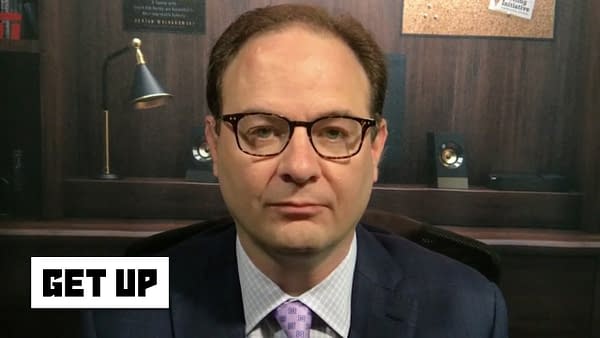 Full details of ESPN's disciplinary actions against, including the length of the suspension, will not be made public. The network had this to say about Wojnarowski's actions: "This is completely unacceptable behavior and we do not condone it. It is inexcusable for anyone working for ESPN to respond in the way Adrian did to Senator Hawley. We are addressing it directly with Adrian and specifics of those conversations will remain internal."
Wojnarowski's "F*ck you" was in response to a tweet from Hawley, which called out the NBA for not allowing players to put phrases such as "Free Hong Kong," "Support Our Troops," "Back The Blue," and other conservative-leaning statements on their uniforms. The NBA and the NBA Players Association previously approved 29 social justice statements that could appear on players' shirts, including, "Black Lives Matter," "Say Their Names," "I Can't Breathe," and more.
While viewers are still in the dark over what drove Wojnarowski to such a blunt, direct response, the NBA reporter di issues a statement apologizing for his response: "I was disrespectful and I made a regrettable mistake. I'm sorry for the way I handled myself and I am reaching out immediately to Senator Hawley to apologize directly. I also need to apologize to my ESPN colleagues because I know my actions were unacceptable and should not reflect on any of them." Here's a look at some of the social media posts that have come out in support of #FreeWoj:
#FreeWOJ!! 🤜🏻🤛🏾

— LeBron James (@KingJames) July 12, 2020
Aye #Freewoj man 😂😂

— Lou Williams (@TeamLou23) July 12, 2020
Till it's backwards 🙏🏾🙏🏾 https://t.co/AwP0IqUHW6

— Patrick Beverley (@patbev21) July 12, 2020
😭😭😭 #freewoj tho https://t.co/TpARz2cLIa

— Myles Turner (@Original_Turner) July 12, 2020
— Jamal Murray (@BeMore27) July 12, 2020
Enjoyed this article? Share it!